Are you looking for some fun and educational activities to do with your preschoolers? There are lots of fun, easy ways to teach your 3-to-5-year-old children! Whether you're looking for things to do over the summer to keep your little ones happy and busy (in a constructive way!), or if you're getting ready to homeschool your preschooler and help him or her get ready for kindergarten, you'll find some great ideas and activities here.
Keep reading to find resources to help you teach math, language arts, fine motor skills, life skills, and more!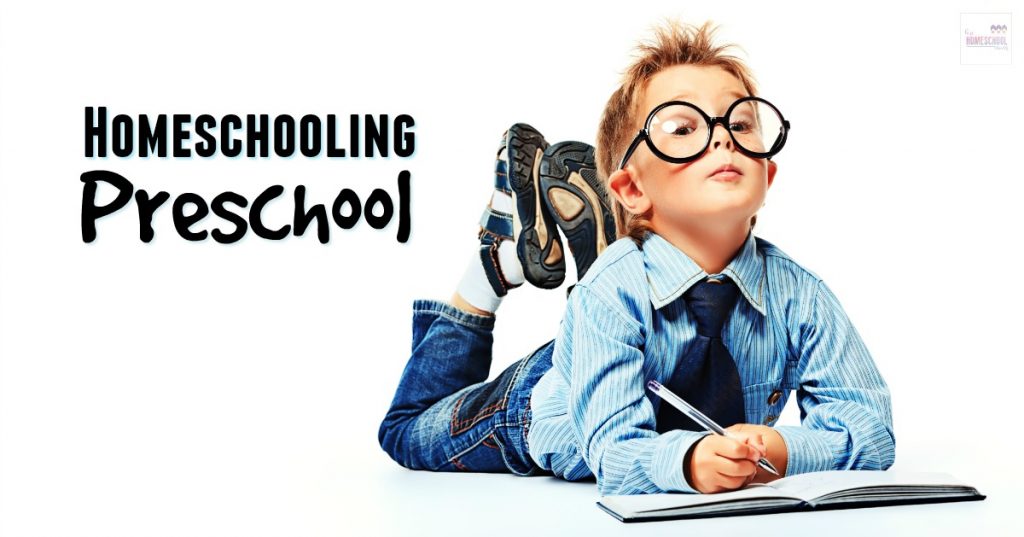 Tot School and Preschool Resources
One of the hardest things many moms of preschoolers (and lower-elementary students) face is teaching your students while taking care of toddlers. In our article, How to Care for Toddlers While Homeschooling, you'll find some ideas for dealing with this situation!
Another thing that can make a big difference in your homeschool is how your homeschool room is organized (if you have a homeschool room). In 10 Tips for Organizing Your Homeschool Room for Preschoolers, you'll find tips and ideas for getting your room organized. Even if you don't have a separate room dedicated to homeschooling, you will still find these ideas handy!
One thing that most preschoolers really enjoy doing at the beginning of each school day is calendar time! Whether you have a separate room or not, you can use this easy DIY Portable Calendar Board to teach your preschoolers the days of the week, months of the year, seasons, weather, counting, and skip counting!
For those who are just beginning to homeschool, it can be nerve wracking thinking about that first day of school! In this article, First Day, you can read about one mom's experience getting ready to homeschool her young child and how she introduced the idea of homeschooling to him.
Are you worried about trying to teach a preschooler who has trouble sitting still and paying attention? While we don't advocate having very young children spend much time sitting at a desk and being still, we know there are times now and then that your young child needs to be able to sit quietly for a few minutes. And it's a good idea to work with children to build this skill as they get older. In our article called Teaching Kids with Fidgets and Wiggles, you'll find some tips and information for doing this!
And if you'd like a little bit of inspiration from a homeschooling nanny, you might enjoy this article: 5 Things Nanny Homeschooling Has Taught Me.
Preschool Math
If you'd like some simple ways to teach early math concepts, Preschool Leaf Math will help you do that! This article shares six easy and inexpensive ways to use leaves to match and teach number correspondence.
If you have counting bears and would like some simple and fun activities to do with them in your preschool homeschool, you'll enjoy Preschool Math with Counting Bears!
Fun with Preschool Math is another great article for gathering fun and easy math-related activities to do with your preschooler. You can use blocks, counting bears, counting chips, or other objects you have around the house to do these activities.
Another article you may enjoy is How I Taught My 4-Year-Old Number ID 0-100 in a Day! Keep in mind, however, that not all 4-year-old children will be ready to learn this concept! (My daughter, now age 14, certainly wasn't! It took her several more years to be ready for this.)
Preschool Language
Great books for preschoolers are a wonderful way to get your children excited about reading and learning! Owl Moon is a book that most preschoolers (and parents!) will love. Here we share Owl Moon Inspired Preschool Printables for counting, coloring, matching, vocabulary, and more!
The preschool years are a great time to introduce your children to early reading concepts and information that will help them get ready to read later on. This article, Teaching Kids to Read Without Really Teaching, shares some easy ideas for doing just that!
Another article, Teach Your Child to Read in Just 5 Minutes a Day!, was written for us by Blue Manor. They share some tips and tricks for helping your young children get ready to learn to read and learn early reading skills, and they also tell us about their 5-Minute Phonics books.
Our next article is called 5 Ways to Help Your Kids Love Read Alouds. I've heard from many moms who want to read aloud with their children but aren't sure how or when to do it. Other moms say that their children don't enjoy read alouds, and these moms want to know how to make it enjoyable for everyone in the family. If you'd like to read more about how and when to incorporate reading aloud into your homeschool, take a look at this article.
And you don't have to be inside at a desk to teach your preschoolers about their ABCs! You can easily Get Outdoors and Enjoy an ABC Nature Walk! In fact, this activity is fun for preschoolers and older siblings too.
If you'd like suggestions for books to read with your preschoolers and lower elementary aged children, Books for Littles is a good place to start.
Many of us enjoy visiting the zoo with our children during the summer. Maybe you'll even be able to plan a trip to a city with a large zoo that you don't normally get to visit! Whether you plan to go to a small local zoo or much bigger one in another city or state, our Zoo Scavenger Hunt Printables and Book Lists may be just what you need to help make your trip more fun and educational.
Are you interested in Montessori-based learning? If so, take a look at our articles with Montessori resources and activities!
You can also find FREE printables related to preschool on many of the Printables for Homeschooling resource pages.
Sensory, Fine Motor, and Life Skills
Preschoolers often need help with fine motor skills. This article, DIY Fine Motor Skills for Preschoolers, suggest some simple and inexpensive ways to help them develop and practice these skills.
Another thing most young children need help with is learning to clean their rooms! Some children are just not motivated to keep their rooms clean, and it can be hard to get them to be motivated since it seems like a never-ending chore! In "I Can Clean My Room by Myself" Printable Chart, we share information about helping your children learn to use our free printable chart to know exactly what to do each day.
Most young children enjoy playing with playdough, and it's great for sensory and fine motor skills too! You and your children will love the Best Homemade Playdough Recipe. It's easy to make, inexpensive, and lots of fun! The article also shares some ideas and activities to do with your playdough once you've made it.
If it's fall, you can use this Capturing Autumn: Sensory Bags article for ideas and inspiration for some great fall-related sensory activities for your preschoolers! Even if it's another time of year for you right now, you can still use these ideas to come up with your own ideas related to whatever season it is for you right now!
Frog and Turtle Sensory Bin shares some fun sensory ideas and activities for bringing some science into your preschoolers' sensory play! And once again, you can tweak these ideas to make them work for toys and manipulatives you have on hand and for whatever season it is where you live.
And these Arctic Sensory Bin ideas might be fun for a hot summer day as well as a cold winter day! Just substitute ice (or ice shavings) for snow (or if you live in an area that doesn't get snow), and have fun!
Preschool Curriculum
If you want to use curriculum with your preschoolers, you may want to take a look at some of these. (However, it's not necessary to use actual curriculum with your preschoolers. Some moms like to use it just to help make planning and implementation easier, and it's great if you'd like to do that! But for those of you who'd rather keep it more natural and real-life-based, that's fine too! One of the best things about homeschooling is that we can each do what's best for our own family!)
Tapestry of Grace Primer is a lovely curriculum for young learners! It's great for non-readers, and it Biblical history in a chronological way using books and games.
Although the giveaway part of this article is done, you can still read about the Play Along Bible. It's a fun way to teach your preschoolers about the Bible and get them actively involved in learning!
We also love Reading Eggs for preschoolers! (And older children too, but we're talking about preschoolers here.) You can use Reading Eggs as a fun way to give your children some screen time that entertains and teaches! After all, many of our children are allowed to use the computer or iPad or cellphone for some amount of time each day, so they might as well be using that time to learn something, right?
Getting Ready for Kindergarten
For those of you who have preschoolers who are almost ready to start homeschool kindergarten, these next few articles are for you!
In The Case Against Full Day Kindergarten, Part 1 and The Case Against Full Day Kindergarten, Part 2, you'll hear from a homeschooling mom who used to be a kindergarten teacher. Part 1 discusses how kindergarten has changed from a playful learning atmosphere into an assessment-driven environment and how this negatively affects children. Part 2 explains how kindergarten expectations and academics are too rigorous for most children.
And for those who prefer a more relaxed approach to kindergarten, you'll love What We Do for Homeschool Kindergarten. While some moms prefer a more curriculum-centered kindergarten for their children, it's not necessary to take that approach–especially if you have a child who just isn't ready for much academic work yet. Again, one of the best things about homeschooling is being able to do what works best for your own family!
Do you have questions about homeschooling preschool? Are there ideas you'd like us to write about? Please let us know about your preschool and any questions you have in the comments below! We're here to help you!