I hope you and your family can use this Counting Bears Printable in your home. Math manipulatives are a valuable learning tool for children of preschool age on up through elementary and middle school!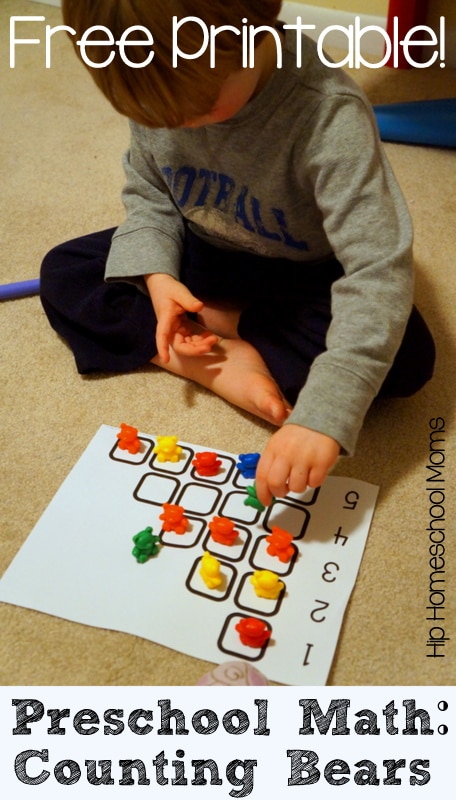 Number sense is a vital skill for young children to learn. They learn mathematics through counting, taking away, adding, and counting again. Touching objects with their hands helps them to connect the number they are counting with the amount of objects that they feel and see. Beginning work with math manipulatives such as counters, Legos, or counting bears will help a child develop number sense. Correlating objects with counting is a great start to math work in the home or preschool. This shows an understanding of place value while using manipulatives before written computations are even introduced. Asking probing questions can help a child learn during play as well: "Can you show me 5 bears?" "How do you know that is 8 bears?" "Could you count it and show me?" "Tell me about what you're building." How else can I use counting bears?
Create patterns: ABAB, AABB, AABAAB, ABC.
Separate by colors in buckets or on paper.
Put them in water and have your child fish them out with a net or other tool.
Add them to your play dough sensory time.
What other math manipulatives are useful at home?
rocks
Legos
berries, crackers, candies, anything edible can be fun too!
anything you can think of!


Children learn by doing! Simple as that. So I hope this Counting Bear Free Printable will be helpful to you and your family! All you need to do is print them out — tape the 6-10 number pages together — and begin playing and learning together!
Need more ideas for teaching mathematics at home? Check out Fun with Preschool Math!
What is your favorite way to teach children math? Do you use math manipulatives at home for learning?