Homeschooling Ideas for Toddlers
Toddlers are so much fun! They are active, curious, affectionate, and just plain fun! And while we don't recommend spending much sit-down-at-a-desk learning time for toddlers, it's still a great time to start teaching your little ones since toddlers are naturally curious and ready to learn and explore. If you'd like some great homeschooling ideas for toddlers, you've come to the right place! No matter what time of year it is, it's a great time for some fun, active, real-life learning for your toddler. We think you and your little ones will love these activities and ideas.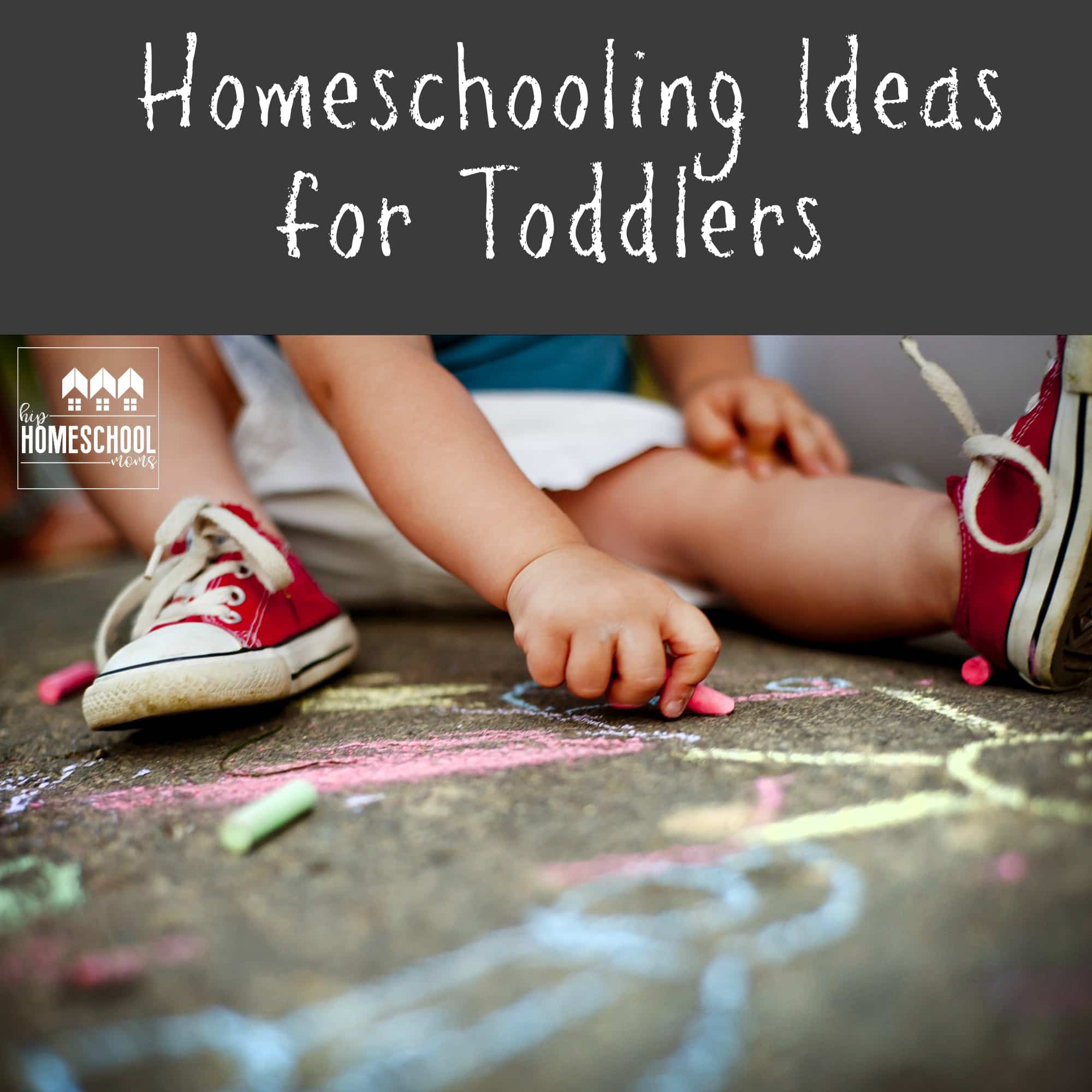 What Is Tot School?
Have you ever heard of tot school? Tot School is simply intentionally reading and playing with your child during the formative years of 1 to 3. Most young children enjoy sitting with a parent, older sibling, or friend to look at picture books or listen as books are read to them. This is a simple way to help young children enjoy reading and learning!
Playing is another great way to get children interested in learning. Young children love playing. They naturally enjoy exploring, creating, and experiencing new (and familiar!) activities and ideas.
What Is Tot School and How Can I Do It at Home? is a great article with lots of information about tot school. It explains what tot school is, provides information about what materials you might like to start out with, and gives you some easy-to-do activity ideas and information. Tot school really should be simple, and it shouldn't take much time each day. In fact, it can be done in a few minutes here and there as you have time each day. After all, your toddler probably loves it when you spend time with him or her, and this is a way to spend time together having fun and learning at the same time!
5 Tips for Establishing Tot School is another article just for those who are starting (or planning for starting) tot school. It includes information about gathering budget-friendly materials (because it's not necessary to spend a lot of money on tot schooling), staying organized, coming up with a plan, and even involving older siblings!
Something Important to Keep in Mind
Some of the preschool activities may need to be modified for toddlers, or they may need to be used with toddlers who are closer to 3 or 4 years old. One of the great things about homeschooling is being able to pick and choose what works for your child at each age and level, so don't feel pressured to use any of these ideas that don't work for your child right now. Set those aside to come back to later. Some children develop certain skills earlier or later than others, and that's ok!
My daughter (who's now 14 years old) wasn't ready for in-depth math until she was about 8 years old, but she learned to read very early. In other words, it's perfectly ok if your child is better at one skill/subject than another. In fact, it's perfectly normal. So as you keep reading, don't feel discouraged if your child isn't ready for a particular idea or activity yet. Just make a note to try it again later, and enjoy what your child is able to do and understand right now!
Math Activities and Ideas
Preschool Math with Counting Bears (Free Printable) will give you simple ideas for helping your little one learn 1:1 ratio, learn to equate a numeral with the number of objects it represents, learn patterns, and more! It also offers a free printable to help you get started. And if you don't have counting bears, there are other suggestions for objects that will work equally well. It even includes an idea or two for sensory play and motor skills activities.
Fun with Preschool Math is another great article for gathering some ideas for teaching (or introducing) math skills to your little ones. If some of these ideas are too difficult for your 1- to 3-year old, just skip those and use the easier activities for now. As your toddler builds math skills and understanding, you can re-read the article and start using some of the more challenging activities.
Preschool Leaf Math shares some great idea for older toddlers or preschoolers. You can use these ideas with leaves you find in your yard or with artificial leaves from the craft store. In either case, no matter what time of year it is, these ideas will be fun! If you have younger toddlers, you can even simplify the ideas presented in the article by using only the smaller numbers and giving your little one fewer choices. Use these ideas as a jumping-off point and modify them however works best for your little homeschooler!
Pre-Reading Activities and Ideas
Teaching Kids to Read Without Really Teaching shares some fun activities and ideas for helping your toddler or preschooler develop important pre-reading skills while playing! Your toddler will love spending time with you and playing with shaving cream, magnetic letters, and even popsicle sticks and cotton balls.
Read-Aloud Books the Whole Family Will Love includes a list of wonderful books for toddlers! While the list of chapter books may be too advanced for toddlers, the list of short books to read in one night will be perfect for them. The list includes picture books with lovely illustrations, sensory books, rhyming books, and classics.
Books for Littles is an article that includes book choices for toddlers through the lower elementary ages. These books are fun, colorful, and entertaining for toddlers and their older siblings too. In fact, you might even have older siblings read some of these books to their younger brothers and sisters as some fun reading practice. And there's no better way to get toddlers interested in reading than to see that it interests their older siblings.
Life Skills
I Can Clean My Room by Myself (Chart with Free Printable) is an article that provides information about teaching and training young children (toddlers included!) to clean their own rooms. We don't often think of life skills being important for toddlers, but now is a great time to teach them to handle basic chores and life skills! After all, if we don't teach them now, while they're interested in doing everything they see us doing as adults, we're wasting an opportunity to teach these skills while they actually want to learn them! I know it's faster and easier to handle these jobs ourselves, but if we want our toddlers to be able to handle these tasks for themselves as they get older, now is the perfect time to start teaching them.
Sensory Activities
Fall Sensory Bins for Preschool is the perfect article for information about sensory bins! Toddlers, preschoolers, and even older siblings love sensory bins! Sensory bins are great for not only developing and exploring the senses, but they also help develop eye-hand coordination, sharpen fine motor skills, encourage counting and classifying objects (in older toddlers and preschoolers), and help develop the ability to transfer objects from one hand to another (in younger toddlers). Besides all that, sensory bins are just plain fun and can help toddlers learn to play quietly on their own!
But your sensory bin doesn't have to relate to fall! You can make sensory bins for any time of year, any holiday, or even for a certain color or shape or sport, etc. Use this article as your jumping off point and create your own sensory bins related to what you and your toddlers enjoy and want to learn more about.
There are so many things young children can learn and enjoy during tot school! These articles and ideas will help you get started, but keep in mind that you can take what you learn here and adjust or expand it to fit your own family. And always remember that tot school should be a fun time of learning and exploration for your toddler! It should't be a sit-at-the-desk-and-be-quiet time. It should be used to encourage your little one to be active and to have fun playing, dancing, singing, coloring, splashing, counting, or whatever else you like to do together!