Sensory bins are a great way for kids to learn about the world around them through exploring the way things feel, smell and look. In my opinion, every household needs try making and using an awesome fall sensory tub at some point. In this post, we will share some amazing fall sensory bin ideas that you can easily make at home. Several of the materials in these bins are probably already in your home, so it makes it all the easier to put them together. Keep reading to get some ideas for sensory bins for toddlers, preschoolers and older children, too!
Fall Sensory Bins for Preschoolers
Preschoolers are such little sponges! They want to learn. Preschoolers want to explore the world. They are hungry for making sense of things, and they enjoy their experiences of discovery and investigation. Sensory bins are a perfect outlet for that. Many families create different sensory bins for their preschool-aged children regularly.
In making sensory bins for your preschooler, why not get inspired by the seasons? Toddlers and preschoolers love to learn about different holidays and celebrations through sensory play. We have made some fall sensory bins every year because it is our favorite season, and the they have been so much fun!
In making a fall sensory bin for preschoolers, consider hiding some small pumpkins or gourds in a large container filled with dry rice, lentils and beans. You can even use several different types and colors of rice and beans so that little ones can sort by color and shape! Below, you can see a simple sensory bin with white rice that we made with preschoolers in mind (there are several additional links to fall sensory bin ideas at the bottom of this post!)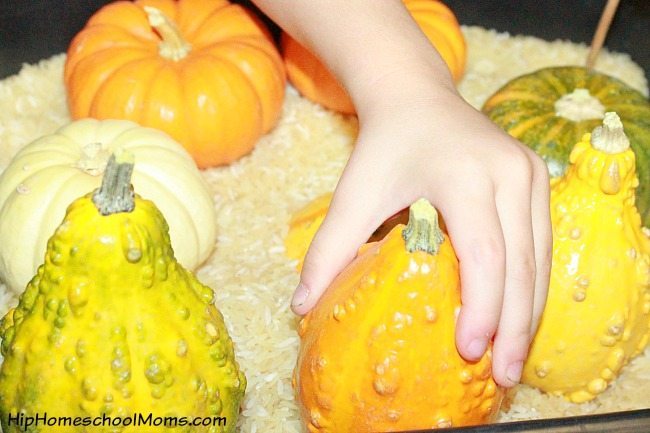 Adjusting for Toddlers
If you want to create an autumn sensory bin for toddlers, you'll obviously want to make sure that you avoid any choking hazards (so no dried rice, beans, etc).
For a toddler-safe fall sensory bin, here are some items you may want to use instead:
Cut-up flowers (mums or daisies)
Giants marshmallows (they have different fall colors)
Pieces of crinkled paper in fall colors
Cheerios
Cane sugar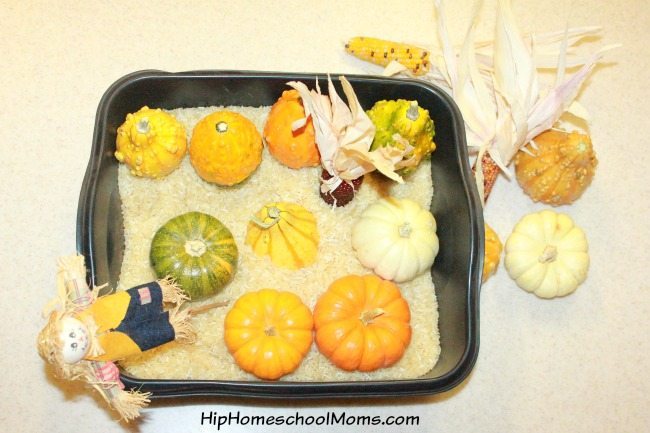 How to Play with a Fall Sensory Bin
Sensory bins for preschoolers can be as simple or as complex as you want them to be. I suggest having a designated place for the sensory bin. Find a place that's easy to sweep and keep a trash can nearby. If the sensory bin involves paint or other wet materials, I suggest considering doing it outside.
The sensory bin can go on a small table or on the floor (on a tablecloth). The children can sit or stand during play. Once the place is set up, it is time for the fun to begin.
Personally, I like to invite my children not come over and take a look. I let them explore while I sit back and observe. While they investigate, I pay attention to their conversations to see how much they know.I listen to their vocabulary to find out if they know the names of all the objects in the sensory bin. What do they pay attention to most? What is completely ignored?
Then I step in. I introduce new vocabulary and review the words they already know. I give equal attention to all materials and talk about them and let the children join in the conversation. We have fun digging in, burying objects, playing with different props, and then continuing with the fun.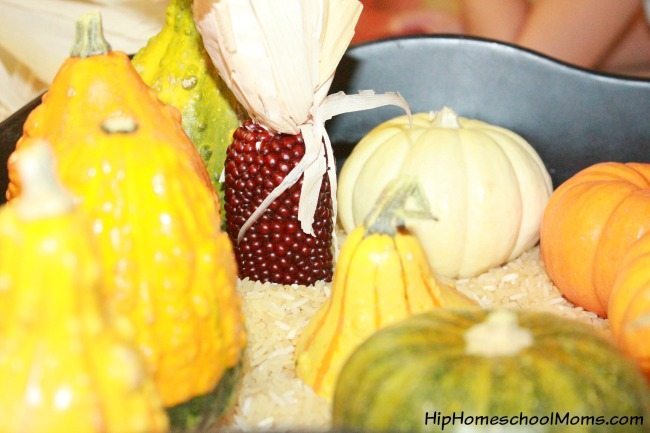 Do you make sensory bins for your children? What are your favorite materials to use in them? Please share your ideas in the comments!
More Awesome Fall Sensory Bins Ideas
Fall Sensory Preschool Activities
Fall Sensory Bin with Practical Life and Math Activites
Fall Cornmeal Sensory Box for Toddlers