Fun Fall Leaf Creatures Tutorial
The beautiful colors of autumn leaves are one of my favorite things about this season! This time of year also offers all kinds of creative inspiration for fun fall crafts. Recently, my daughter and I decided to create some fun little creatures out of the fall leaves in our area. The result? An easy-to-do fall craft that resulted in some adorable fall leaf creatures!
This fall craft is appropriate for all ages and is a great way to activate your imagination. Keep reading to learn how to make your own!
What You'll Need
Colored paper (or white copy paper) for the background
Colorful fallen leaves! (They don't have to be perfect and without blemish. More weathered leaves still look great and have natural charm!)
How to Make Them
First, go outside and explore! Go outside and gather as many newly fallen fall leaves as you can. You want a variety of sizes, shapes, and colors! Once you're satisfied that you've collected plenty for your creatures, you will flatten and dry your leaves by pressing them. (This makes them way easier to work with.)
To press our leaves, we did the following:
We put a beach towel on our counter and laid the leaves out on top of it, making sure that they didn't overlap at all. Next, we covered this with another towel and placed some heavy books on top. We let this sit overnight, and our leaves were perfectly pressed the next morning!
Tip: Don't wait longer than overnight (or the next day) to complete your project, as your leaves may be too dried out to work with. They also begin to lose their pretty fall colors as they dry out.
With our leaves pressed, we were ready to begin. Before we used any glue, we brainstormed about what kinds of animals/creatures we wanted to make. We took into consideration the kinds, colors, and shapes of the leaves we had to work with.
Once we decided what kind of creatures we wanted to make, we laid out our leaves on our papers just to get an idea of where they would need to go and how they would look. Physically playing around with the leaf shapes also gives you the chance to brainstorm some more and think about other creatures you might like to make. It's fun to see how the simple process of moving different shapes around on the page can get your imagination going as you start to think about what other kinds of animals you can create!
Once we were satisfied with our plans, we arranged our leaves the way we wanted them and then glued them into place. If needed, we used scissors to trim them.
Not sure what to do with the stems of the leaves? You don't have to throw them away! We used the stems of some of our leaves to make whiskers for the lion or antennae for the butterfly (as seen below). Just be creative!
While you can try to create the entire face for your leaf creature out of leaves, you can also use your Sharpie to help define the face. As you can see, we used the Sharpie to help create the lion's face, whereas the owl's face is made entirely out of leaves.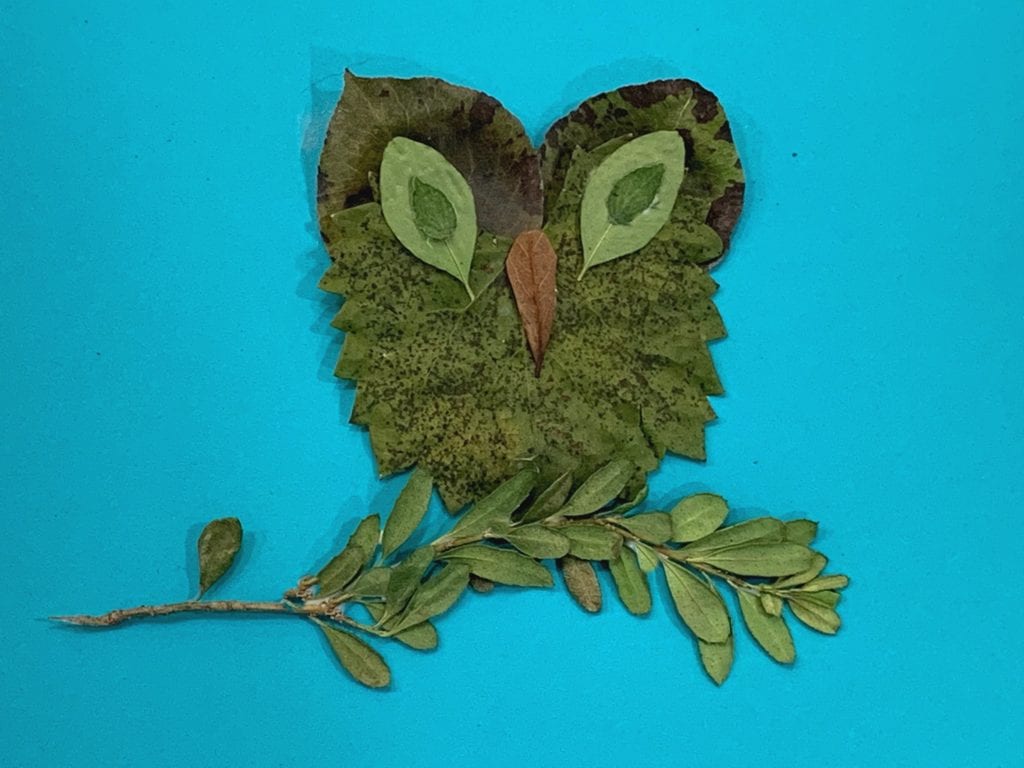 Once you've glued down all the pieces, simply allow your creatures to dry for at least 30 minutes. Then they are ready to enjoy!
(Don't worry if your leaves don't lay completely flat on the page! It gives the whole thing a rustic quality.)
This craft is great to do with kids of all ages, and it's so much fun to see what everyone comes up with! You can even gift your fall creatures to a friend or relative. Just be sure to do so within a few days of making them so that the colors stay vibrant.
Are you planning to make your own fall leaf creatures? If so, we'd love to see them! Drop them in a comment below or tag us in your social media post #hiphomeschoolmoms.
Looking for some more great ideas for fall? Here are three more activities related to fall leaves!
This article shares six fun ways to use fall leaves to teach your little ones simple math concepts!
Looking for a cool science experiment? This one uses some green leaves and some fall leaves to illustrate how and why leaves change color in the fall and why they become green again in the spring. If you're looking for a Bible lesson, this experiment can also be used as an object lesson to explain to children how God works through us in all phases of our lives.
If you'd like to enjoy some beautiful fall colors INSIDE your house, this Fall Yarn Leaf Magnets craft may be just what you need!