The Ultimate Collection of Valentine's Day Activities
If you're looking for some fun Valentine's Day activities to do with your kiddos this year, take a look at this collection of posts we've put together to share with you!
Whether your children enjoy play-doh, painting, cutting, crafting, drawing, coloring, sewing, counting, or even candle making, there are activities here for you! We hope you find some that you enjoy! If you and your children make some of these Valentine's crafts, be sure to share them with us using this form. Your photo(s) may be shared on the site for others to enjoy too!
From crafts to printables, activities to snacks, and even a few other posts to encourage you as well, here are 50+ articles to inspire you when creating those last minute valentines and party ideas, find printables, help you to teach your kids with themed activities.
As Christians, we should practice being Valentines all year! This Valentine's Day, we will use paper hearts to help students remember that love all year long.
These inkblot valentines are a bit messy but lots of fun to make–especially with students ages 7 and up!
These are easy to make, require few materials, are beautiful, and are cost effective! They're simple enough for children to make, and they are perfect for introducing sewing stitches.
These Valentine's Day cards are easy to make with supplies on-hand — and have a secret message for the recipient!
A fun Valentines themed pack that goes with There Was An Old Lady Who Swallowed a Rose.
With Valentine's day approaching, I thought of this 'I feel love when..' activity that we can do as a family and display as a reminder.
12 fun Valentines themed bookmarks that kids can use for the season
Make super cute needle felt hearts using a cookie cutter
Montessori Inspired Toddler Activities
This is what I did with my toddler. She loved helping…and eating!
Handmade Heart Candle – Beeswax sheet candle making for all ages. Fantastic fine motor, sensory and creative activity with results that are sure to impress. Great for Valentine's Day, Mother's Day, and just because you love someone.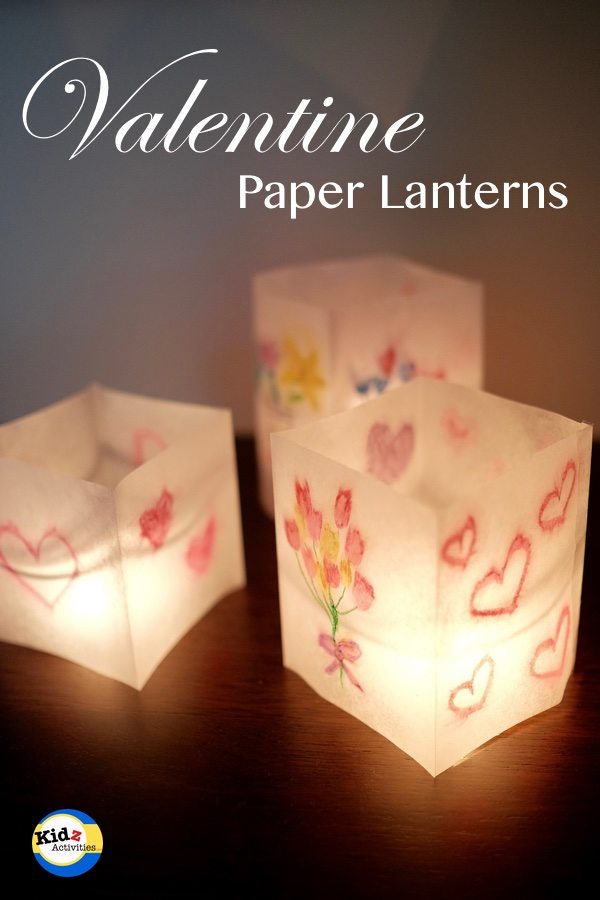 Simple Valentine Paper Lanterns craft for school aged kids. Kids design their own paper lantern, incorporating a Valentines theme into their design. The result: Beautiful paper lanterns or luminaries, perfect for Valentine decor.
Free Printable Valentine themed playdough mats that allows preschool kids to have fun with playdough (or playfoam) while exposing them to letters & their sounds, counting and number recognition as well.
A collection of Valentine Montessori activity ideas for preschoolers.
This Valentine's Day, we are playing cupid by placing arrows into valentine hearts. There's also color matching and fine motor skills incorporated into this activity, which makes it a great educational busy bag for your toddler!
I hope you enjoy these 10 fun ideas for toddlers for Valentine's Day.
Explore the concept of ice with our Simple Melting Hearts Preschool Science Experiment. A perfect indoor activity to do in the run up to Valentine's Day.
Today's Printable Valentine Coloring Book Pictures has 7 coloring pages with love bugs, dragons and bears (oh my!)
The Saint Valentine coloring page also comes with the story of Saint Valentine.
Printable lesson for explaining Salvation to your children this Valentine's Day!
As Valentine's Day approaches, we love being ready with some fun, themed learning activities! After the success of our counting bear addition cards, I just knew my kids would be thrilled to work on addition to 10 with these candy heart addition cards as well!
Valentine's Day is near, and while we mostly go about our business as usual when it comes to our classroom learning, I do enjoy incorporating the holiday into some of our learning activities! This Valentine heart alphabet match is perfect for preschoolers and kindergarteners to practice matching upper and lowercase letters – while working on fine motor too!
Hearts and monsters! This free printable pack combines two of our favorite themes! Use it for Valentine's day or any other day of the year, kids will love it!
With upcoming Valentine's day coming up, we have decided to make a red, sparkly, glittered slime for today's sensory play.
This is a collection of Valentine's Day activities. Enjoy!
This week we're having loads of fun celebrating Valentine's Day, but with a new twist. We're celebrating it in Paris–our continent of the month!
I hope you enjoy these fun Valentine's Day activities with your tots!
This is a collection of Valentine's Day ideas.
This is a super cute and fun Valentine to make with your children.
This is a fun and easy way to make a Valentine mailbox!
You ready for a Valentine's Day treat? These peanut butter and jelly Valentine sandwiches are such an easy and fun way to dress up a lunch for your little ones.