November is a great time to do Native American studies. Regardless of your children's ages, I think a few of these projects would easily lend themselves to a fun Friday homeschool afternoon!
5 Activities for Native American History
1. Read a Book Aloud Together
I highly recommend any of these books for a small unit on Native Americans. If you are looking for a Historical overview, read North American Indians. For an artistic picture book read The Legend of the Indian Paintbrush. If you want a book to go with Thanksgiving and to go into some detail, then a great early chapter book is Squanto: Friend of the Pilgrims by Clyde Robert Bulla. He has several other wonderful titles for history. For a wonderfully done read aloud in the 1500's choose Walk the World's Rim. It's better for middle school but can be done as a read aloud with elementary ages or even as a whole family.
Read more about these titles and how I used them in our homeschool.
2. Explore Native American Music and Dance
Doing this or even doing some dress up or imaginative play will certainly bring history alive for most children. They can be very inspired by seeing real Native American traditional dress or dance. If you aren't blessed enough to have a local tribe organization that performs, then it's always possible to find a video on the subject.
3. Cook a Native Recipe
Making food that goes with your study is the perfect way to add culture and lifestyle for the period you are studying. An easy thing we've done is make corn pancakes by just following the directions on the cornmeal bag or box. My son really liked cooking them himself, and it added emphasis to the part of our study on what the Powhatan Indians ate. You can take the easy route like me or follow a more authentic recipe. You can find lots of great recipes on nativetech.org but some popular choices might be pemmican or Indian popcorn. Maybe you could have Nasaump for breakfast or Turkey Sobaheg for dinner!
4. Go on a Field Trip to a Native American Museum or Park
Field trips are an amazing way to learn. Most every state has a wonderful museum or two that feature Native Americans in some way. The National Museum of the American Indian is a great place to start. There may be some virtual possibilities to explore as well. Perhaps make a Scrapbook Visit from Unschool Rules.
5. Explore Native American Arts and Crafts
Explore Native American history by learning about and possibly creating some Native American arts and crafts. There is such as rich history preserved in Native American Art. We have always had a great time making crafts inspired by the culture. From the ancient images in rock of the Anasazi ( Ancient Pueblo) to the Totem Poles of the Pacific Northwest Tribes, there is a vast amount of art to inspire. Another possibility is to study a famous figure such as Olympian Jim Thorpe.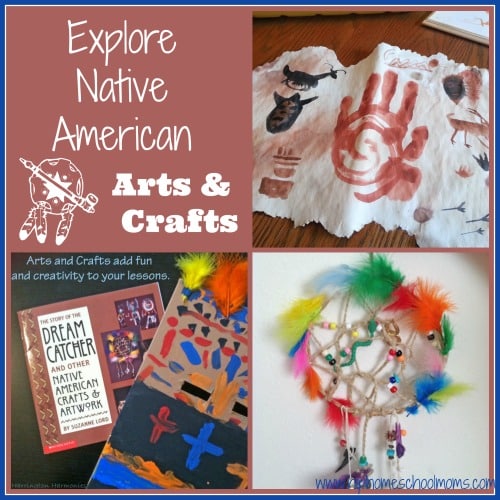 Related that might interest you:
Giving Thanks: A Native American Good Morning Message
Hands on History Ideas ( American History)
What kinds of activities for Native American History have you done or plan to do in your homeschool this year?