Legend of the Poinsettia Art Activity
Do you know where the poinsettia comes from? Have you heard the story of its legend? Tomie dePaola tells it beautifully in his book: The Legend of the Poinsettia
. We are excited to share this simple yet beautiful poinsettia art activity to go along with dePaola's book. Even though it's not complicated, the results are beautiful!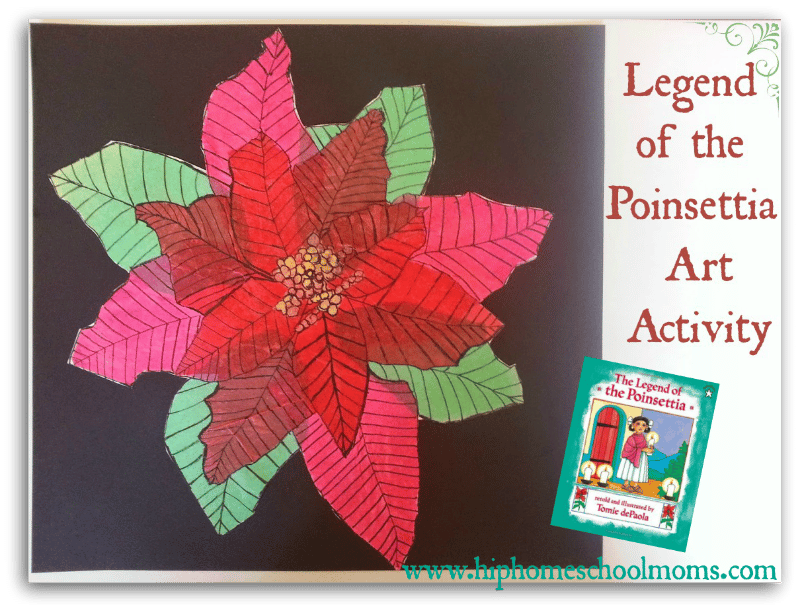 Poinsettia Art Activity
You can follow these step-by-step instructions for making tissue paper "painted" poinsettias. This activity is so easy and simple that no matter what your child's skill level is, beautiful flowers are created every time. These aren't what you may generally think of when tissue paper and flowers are used in the same sentence. These flowers are made from tissue paper, yes, but they are made by adding layers and glue for a petal-over-petal effect.
What You Need for this Poinsettia Art Activity
How to Make Tissue Paper Painted Poinsettias
This is a fabulous lesson in overlapping– the placement of objects, one over another, to create the illusion of depth. Have fun teaching your child how to make something flat look three dimensional by following these easy steps:
First, tear tissue paper into petal-shaped pieces, beginning with your green tissue paper for the back leaves. You may use up to eight pieces for the green leaves. In my example I only used four. If you choose to make eight, add more depth by using two different colors of green-four of each.
Next, add four pink or red tissue paper petals. Don't glue anything until all the petals are torn and arranged. This way you can decide exactly where you want to place them first.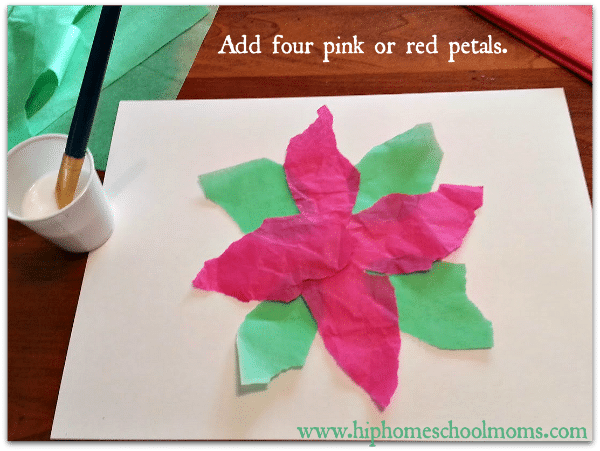 Repeat the process of tearing tissue paper to make petals for the poinsettia flower. Using a slightly different shade of pink or red will bring a layered effect. You also will want to make petals smaller as you move toward the top layer and center of the flower–with each layer from the back to the front of the poinsettia getting smaller.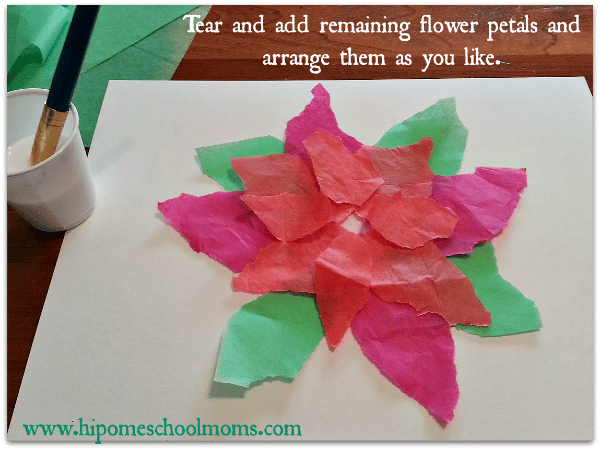 The last thing you'll need to do before you can glue is tear small squares of yellow or gold tissue paper for the inside of the flower. Using watered-down school glue, brush onto paper under where tissue petals will be. Lay them down gently, and brush over the top with glue, smoothing as you go. Last, add the yellow inside.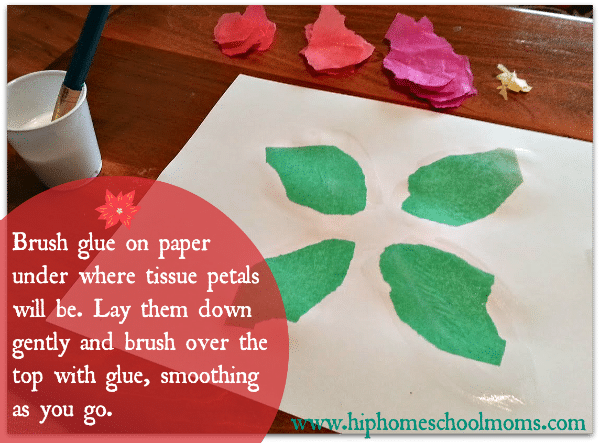 Once you have added all the layers and the flower has dried, it's time to begin adding details. Using a felt tip art pen, outline the flower petals one by one. It's important to follow the right lines when doing so. Because tissue paper will show through many layers it may be hard to know which petals to outline to show overlapping. It will be easiest to determine by starting in the center.
With the first leaves being the center leaves in front, gradually work your way out and to the back of the flower. Outlining in the right order will give you proper overlapping and make the flower appear 3D.
Keep adding more detail with the pen by adding all the veins for each leaf. Take your time. Start from the main vein line down the center of the leaf, and then draw lines for the veins branching out from the sides. Again, be sure to show overlapping and don't cross over your carefully outlined leaf. The effect is that leaves on the top will show, but parts of leaves behind will not–thus giving the illusion of depth.
10 Ways to Use Your Painted Tissue Paper Poinsettias
You can make several of these poinsettias in many shapes and colors. Cut them out and use them in multiple ways. The more you make the better! Here are a few ides:
Cut out and mount to make homemade Christmas cards.
Cut out, color back red, and hang from the ceiling of your homeschool room to decorate for December.
Decorate your Christmas tree with them.
Use them to label or decorate Christmas packages and presents.
They make lovely seating labels or place-settings for a Christmas dinner party.
Use them in a game for a Christmas Party.
Write names on the back and use them to draw names for a secret Santa exchange.
Read

The Legend of the Poinsettia

book and use them as a teaching tool: Put the legend of the poinsettia on back and hand out for a Sunday School Class or Children's Church.
Give them as Christmas gifts for teachers and coaches with a candy cane inserted through two slits.
Attach to ribbon around a bag containing a poinsettia Christmas cookie. It can be used as a label on which to write your Christmas wish.
Do you and your children enjoy doing art together? Do you have favorite Christmas-related art project or activity? Please tell us about it! Or do you have a child who would enjoy doing this poinsettia art activity?