How to Make Corn Husk Dolls (with Free Printable Instructions)
Corn husk dolls are one of the earliest known play items in the Americas. Native American children played with them long before the first pilgrims arrived on these shores. When early American colonists settled here, the Native Americans helped them survive by introducing them to corn and its many uses. Among these uses, colonial children also discovered that corn husks could be used to create these beautifully simple playthings.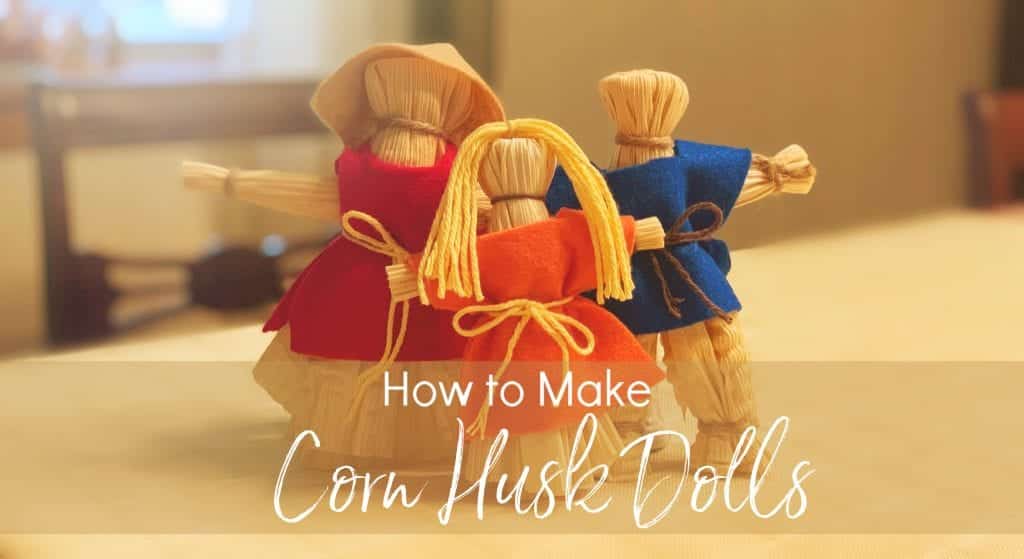 Today, you can make your own corn husk dolls with this fun and educational craft that's perfect for autumn! The finished products still make great fall decorations. We know sometimes instructions are confusing, so we added lots of pictures to help you along the way and even a printable you can print to give to each person making them with you.
NOTE: At the bottom of this article, you'll find links to some additional resources (related to corn and other fall topics) that you'll enjoy using in your homeschool.
I made these corn husk dolls with my daughter, Mary Grace, and nephew, Harlan. We had a blast, and we now have some wonderful corn husk dolls to show for it! Keep reading to find out how we made them so that you can recreate these historical toys at home!
Want to skip ahead and just print the instructions? Click here!
What You'll Need:
Corn Husks (6-8 for the larger, "adult" dolls and 2-4 for the "child-size" dolls)
A container with water
String, felt, or cloth for doll clothing and accessories
Scissors
(Optional) hot glue gun (for decorations)
How to Make Them:
The first thing you need to do when making your corn husk people is to soak the husks in water. This softens the husks so that you can shape them without cracking them. Ideally, let your husks soak for at least 10 minutes. I set a plate on top of mine to keep them submerged. After the husks have soaked, pull them out, lay them on a dry towel, and blot off the extra water.
Next, decide what kind of doll you want to make, which will determine how many corn husks you need. If you're making a full-sized (adult man or woman) doll, then you'll need 6-8 husks. If you plan to make a "mini" (child-sized doll) you should be able to replicate the same method below using only 2-4 husks. The instructions below are for the full-sized doll.
To get started, place 4 or 6 (you'll need an even number) corn husks on top of one another, making sure the tops of them are evenly lined up.
Then, you'll take your twine and tie a firm knot about an inch from the top of the corn husks.
At this point, stand your corn husk creation upright. Spread the husks out (in opposite directions) from the part you tied together (as shown below). There should be an even amount of the husks extending from each side.
Now, you will actually turn the whole thing upside down and fold the husks downward. This will conceal the knot you just made and give you a clean, bell-like shape.
After you've achieved the shape shown above, take a second piece of twine and tie it towards the top to form your doll's head. After it's securely tied, you can trim the excess twine.
Now it's time to make the arms. You'll only need one husk for this part.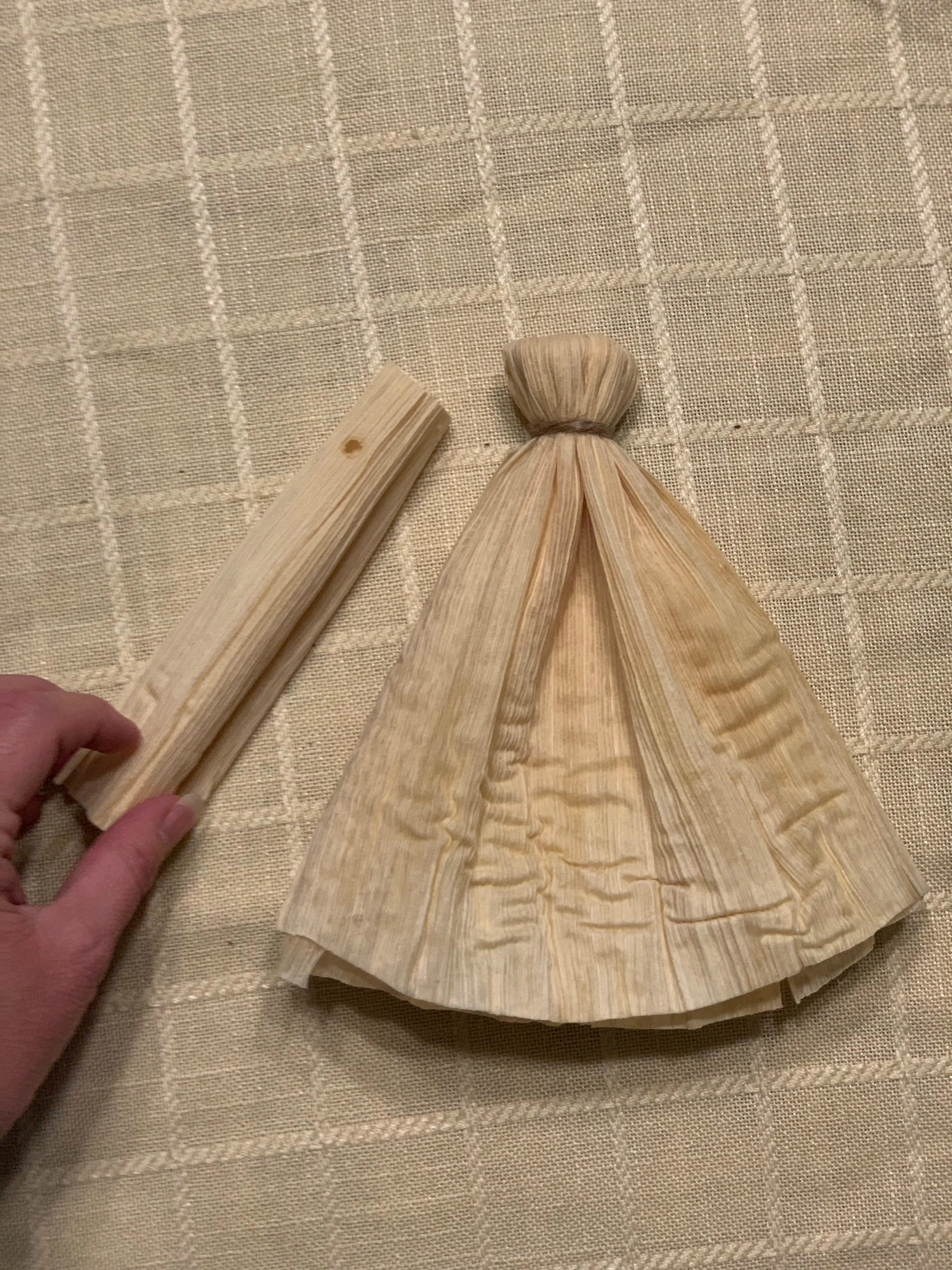 Roll the husk. Then tie each end with a bit of twine, as Mary Grace demonstrates below. You'll want to leave a little bit of excess on either side of both knots, as this creates the doll's "hands."
Your end result should look like one long arm with a hand on each side (as pictured below). That's because this part is going to fit in the middle of your doll's torso. If, considering this, your "arm piece" still looks too long, you can always trim it and readjust the twine.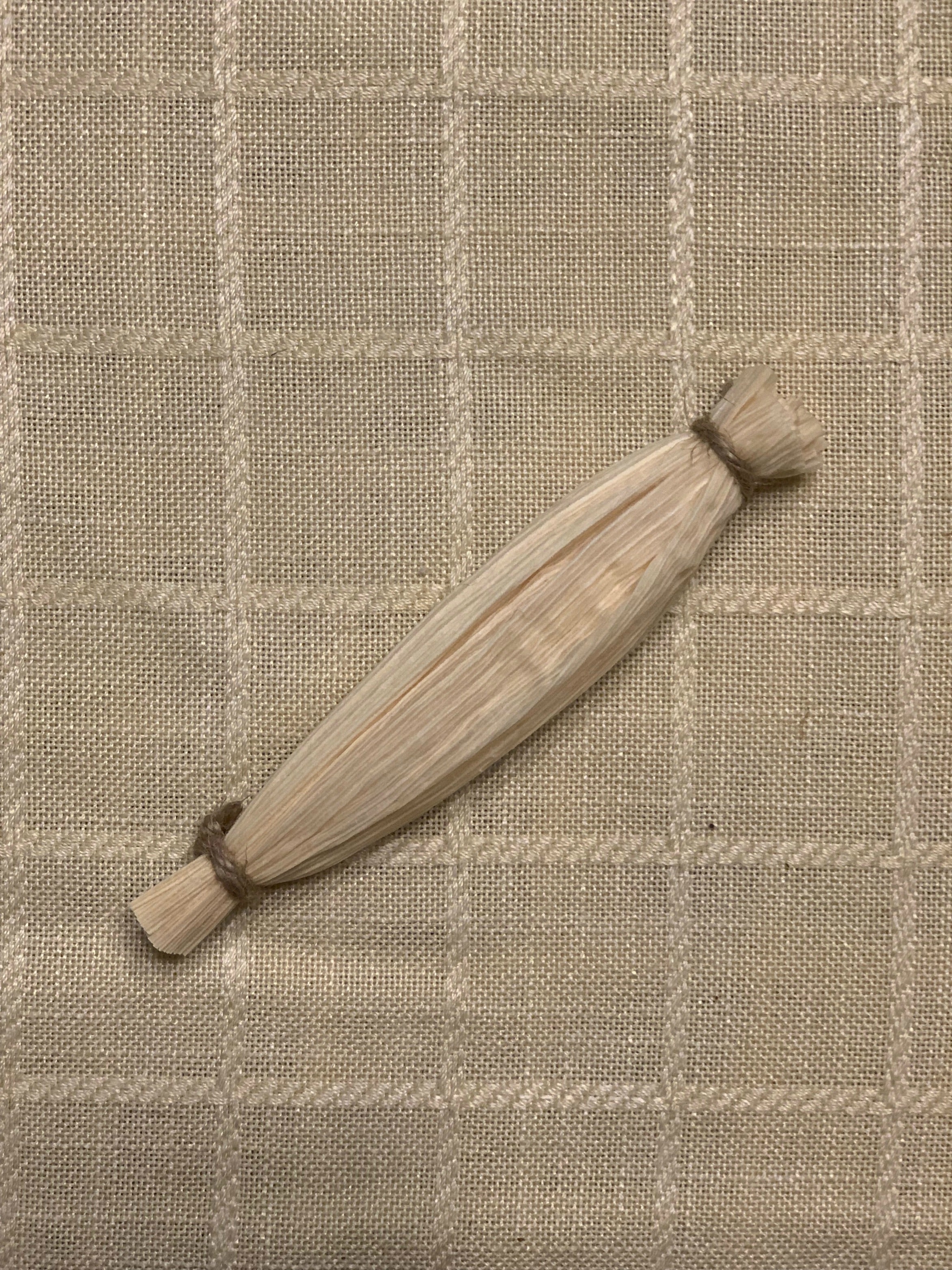 Okay, here's the reason you wanted to make sure that you had an even number of corn husks on each side of your doll. For the next step, place the "arm piece" between the husks. Make sure there is an even number of husks on top of, as well as below, the arm piece.
Slide the arm piece up until it is just below the knot you made for the doll's neck, making sure that the resulting arms stick out evenly on each side.
Once the arms are in the right place, use some twine and tie a waist for your doll.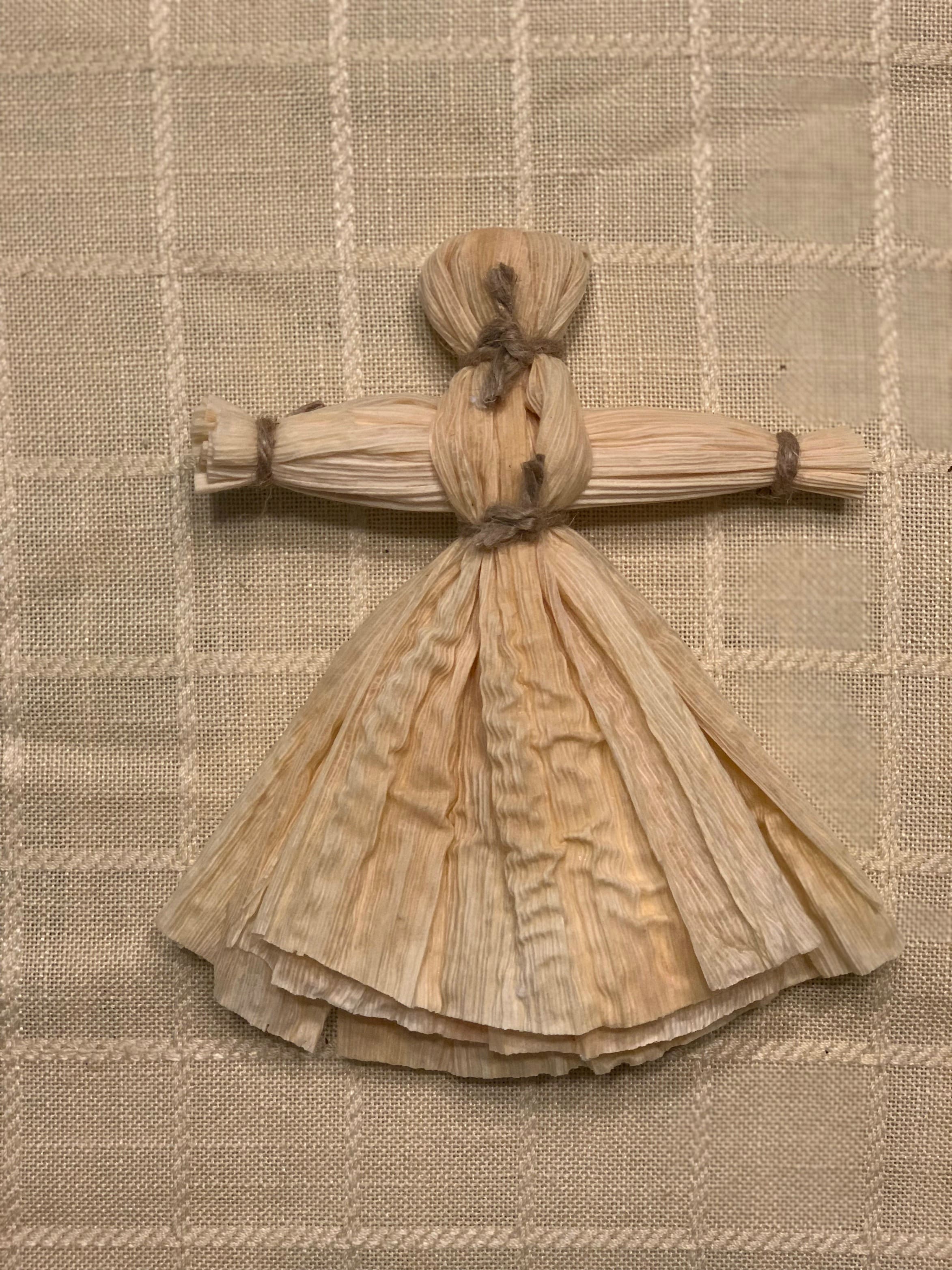 At this point, you may want to trim excess twine or trim your corn husks to make sure that everything looks clean and even.
Female Corn Husk Doll
If you started out wanting to make a female corn husk doll, you now have the basic structure that you need! At this point, you can get creative in making clothing and hair for your doll. We used a rectangular piece of felt with a hole cut in the middle to serve as the basis of our female doll's apron. As you can see, you simply slip this piece over the doll's head.
Then just tie it at the waist with a piece of twine, yarn, or ribbon. The resulting dress is similar to the style that the early colonists wore. It is likely that many colonial children dressed their corn husk dolls similarly!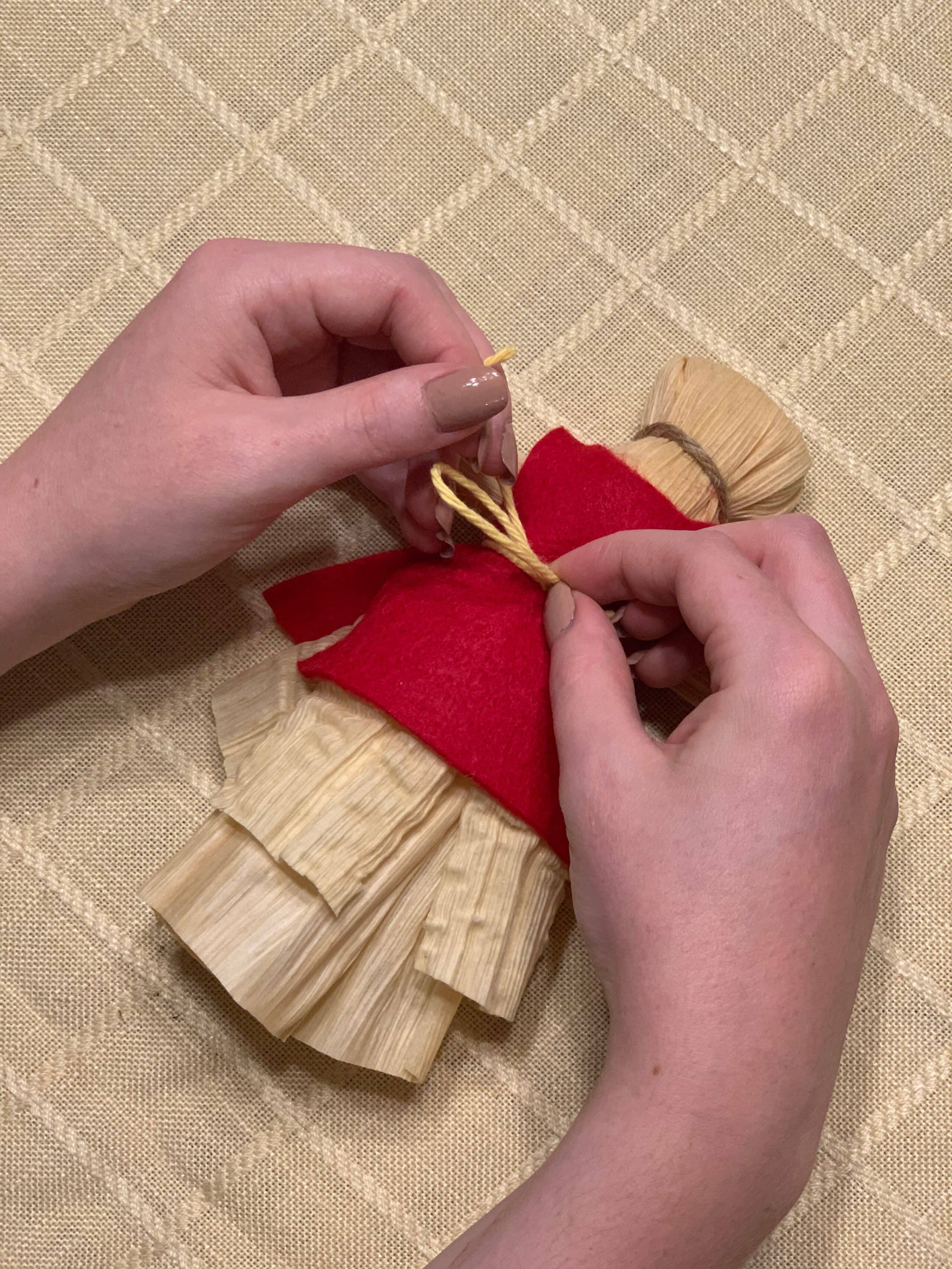 To go along with this style of dress, you can use a piece of felt to create a simple bonnet.
Or you can fashion hair for your doll out of bits of corn husk, raffia, or yarn. You can use glue to attach your head covering of choice.
For the Male Corn Husk Doll
To make the male corn husk doll, like my nephew Harlan did, you just have a couple of additional steps.
The first thing you'll do is cut a straight line up through the skirt. This creates two "legs." Use the twine to tie a knot towards the bottom of each leg, about where an ankle would be. Trim the excess, making sure that both sides are relatively even.
To dress your male corn husk doll, you can use the same strategy that we utilized with the female doll's apron. Cut a hole in a piece of felt and place it over the doll's head to create a shirt/tunic. Then, you can tie this around the waist with a piece of twine or yarn.
You may want to leave your male corn husk doll with corn husk pants…or you may want to give him felt or cloth trousers!
Depending on your children's ages, motor skills, and interests, they can really have fun and be creative with the decorations on their corn husk dolls. Optionally, you may even want to bring out the hot glue gun, buttons, etc. As you get creative with your corn husk dolls, you may consider making faces for them. However, there is a reason why traditional corn husk dolls don't have faces (check out this Native American legend to see why!)
More Fall Resources for Your Homeschool
Fall Read, Write, and Count the Room: Math and Literacy Activities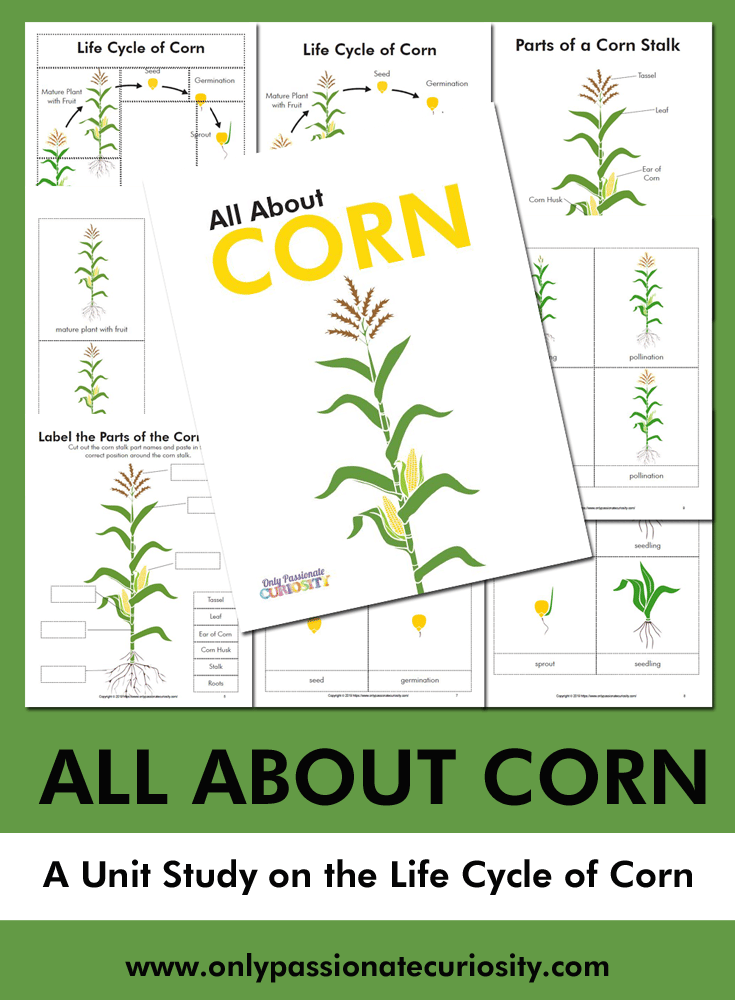 Life Cycle of a Corn Plant mini unit study
Easy Fall Unit Studies for Homeschoolers
Did you ever make your own corn husk dolls, or are you planning to try it for the first time? We hope you enjoy recreating this fun, festive craft in your own home. We'd love to see pictures of your own corn husk doll creations! Post them on Instagram and tag us with this hashtag #HipHomeschoolMoms and #365homeschool.