HHM Team Member Review…
Since we started homeschooling our children 6 years ago, I have been on the look out for books about homeschoolers. Now I am talking about an actual fiction story, as opposed to a non-fiction resource! Well, I am happy to report that I have discovered the Wright on Time series!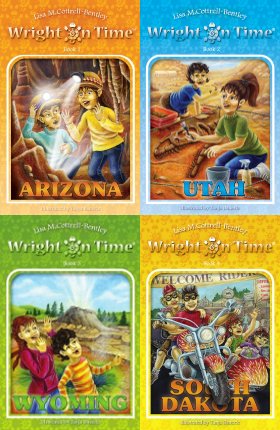 In this highly engaging series, written by homeschool mom Lisa M.Cottrell-Bentley, for homeschoolers, you will go on adventures with Nadia, Aidan, and their parents as they travel the 50 states in their family RV. Each novel explores a different state, beginning with Arizona.
Right from the beginning I learned something new! The family rents a cave to explore for the day. Who knew you could do such a thing? As they explore the cave, the kids each have different objectives they are hoping to fulfill. Nadia is into adding to her rocks/minerals collection and Aidan is dying to see some bats.
In the process of exploring they discover a mysterious "device" that none of the family members can identify. I wonder what it might be, and how they will discover it's purpose? You (and I) will have to continue to read the series as this mystery unfolds beyond just Book 1 (as well as two and three!).
The Wright on Time series is a fun, family friendly read. Each book would make a great unit study for homeschoolers; from learning about each state, to doing the lapbook that was created for them, to learning more about the activities/experiences the family encounters along the way.
In Book 1 this would include the state of Arizona, rocks & minerals and bats. Book 2 takes you on a dinosaur dig in Utah where you can extend your learning by digging deeper into the world of dinosaurs. Book 3 takes you to Wyoming where the family explores the earth, water, and air energies. Then in Book 4, the most recently published book, you will travel to South Dakota where the family encounters a whole lot of motorcycles and learns how a newspaper is printed.
I recommend this book to all families, whether you homeschool or not. This is a great way to travel the United States, and learn so much along the way, without ever having to leave your home!
Heidi is a 34 year old, happily married wife to one self proclaimed computer geek. Through their 13 years of marriage they have added 3 children: Chloe (12), Jayden (8), and Ava (5), as well as 2 dogs: Muffin and Oscar, to the mix. When not totally engrossed in homeschooling, or taxi service for the children Heidi likes to read, blog at Starts At Eight, and chronicle their lives in photos, as well as working at new hand projects like gardening, knitting, and crochet. You can also catch her on Twitter, and Facebook!
Now, for the giveaway! Here is your chance to enter to win all four books! Each book is valued at $12.99 or the set for $51.96. This would make a GREAT addition for any home/library or school! Enter for your chance to win.
How to enter this giveaway:

(leave a separate comment on this post for each entry)

.

REQUIRED ENTRY

Leave a comment on this post sharing your interest in winning this set of books.

EXTRA ENTRIES

Share this giveaway with your facebook friends by clicking on the "share" button at the top of this post.

Tweet about this giveaway: I just entered to win the Wright on Time book series (of 4 books) @HipHmschoolMoms http://wp.me/p1swZe-1gu

.

ADDITIONAL GIVEAWAY INFO

• This giveaway will close at 11:59 PM CST on December 16, 2011.

• All entries posted after December 16, 2011 will be invalid.

• No more than 3 entries per person (required entry + the 2 extra entries) will be accepted.

• All entrants

MUST

be at least 18 years of age or older.

• We will randomly select our winners using "And The Winner Is…" WordPress plugin and will announce the winners within this post sometime after December 16, 2011.

.

***This giveaway is open to US Residents only.***

.