And the Winners are:

Rachel (comment #9)
Dawn (comment #44)
Shannon (comment #32)
Dawn G (comment #51)
Stephanie (comment #22)

Please Check your email for details!
Thank you to everyone for being part of our Hip Homeschool Community!
HHM Team Member Review…
Are you looking for a math program that is comprehensive, engaging, and less work for you? Then you might be interested in checking out A+ TutorSoft. I was given the opportunity to review their Full 3rd Grade Interactive Math Curriculum, with the Premium Edition upgrade as well (in exchange for an honest review of the software).
We come from 6 years of homeschooling experience, and of using a traditional book/workbook style math program. Last year for the first time I found myself (at around late 6th early 7th grade level math) feeling exhausted from trying to keep up with the amount of teaching I needed to do for one math lesson for one child. We would move along just fine, and then at the end of a unit (the hardest part) my daughter would stumble, and I would find myself pouring over the whole unit trying to get myself up to speed on what was being done so that I could teach it to her.
With A+ TutorSoft Interactive software that stress is eliminated. Their program comes complete with the full curriculum book on CD, multimedia lessons, printable worksheets, exams, teachers guides, reference sheets, help menu and a recommended lesson plan for those that would like some guidance as to how to lay out the lessons.
Your student can choose from having the computer go through the interactive lesson with them, or to simply read the lesson pages themselves. Then A+ TutorSoft includes both computer based interactive questions and printed worksheets for the student to practice the concepts they have learned.
For you (the parent/teacher) they have comprehensive solutions to each and every problem so that you can see what should have been done, and then easily determine where your own student went off course. Where I would like to see a change in this part is that in the solutions you have to scroll through each problem and it's worked out solution to find the multiple choice answer. I think it would be nice if each one started with just the multiple choice answers for the all the problems at the top of the answer key, and then you scrolled down through if you needed to see certain problems worked out. There are also exams that can be used at the end of each unit with the same style answer key as the worksheets.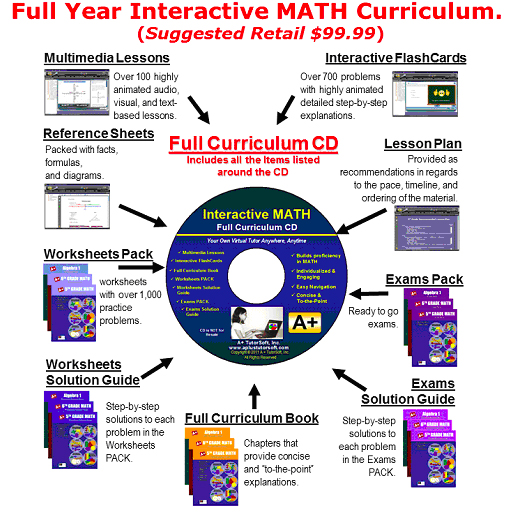 A+ TutorSoft also offers a Premium Edition that includes time saving features such as progress tracking, reporting, parental controls and weekly certificates of accomplishments.
The one negative thing I would say about this part is that I found it tedious to go in and insert all the grades. My son does the interactive lessons, and if I am not right there when he is completing one then I have to rely on him to remember/write down his score so that I can go back in under the parent log-in and log it into the program.
You can follow A Plust Tutorsoft on:
Twitter: @AplusTutorSoft and on Facebook: APlus TutorSoft
Heidi is a 34 year old, happily married wife to one self proclaimed computer geek. Through their 13 years of marriage they have added 3 children: Chloe (12), Jayden (8), and Ava (5), as well as 2 dogs: Muffin and Oscar, to the mix. When not totally engrossed in homeschooling, or taxi service for the children Heidi likes to read, blog at Starts At Eight, and chronicle their lives in photos, as well as working at new hand projects like gardening, knitting, and crochet. You can also catch her on Twitter, and Facebook
NOW for the Fun Part!…
.
A Plus TutorSoft wants to give 5 Hip Homeschool Moms a Premium Edition-3rd Grade Interractve Math Full Curriculum CD ($20/current value)
How to enter this giveaway:

(leave a separate comment on this post for each entry)

.
REQUIRED ENTRY

• Leave a comment on this post sharing how this software would be helpful in your home.

EXTRA ENTRIES

• Share this giveaway with your facebook friends by clicking on the "share" button at the top of this post.

• Tweet about this giveaway: I just entered to win a 3rd grade Interactive MATH Curriculum CD with @HipHmschoolMoms http://wp.me/p1swZe-19t

.

ADDITIONAL GIVEAWAY INFO

• This giveaway will close at 11:59 PM CST on Nov. 11, 2011.

• All entries posted after Nov. 11, 2011 will be invalid.

• No more than 3 entries per person (required entry + the 2 extra entries) will be accepted.

• All entrants

MUST

be at least 18 years of age or older.

• We will randomly select our winners using "And The Winner Is…" WordPress plugin and will announce the winners within this post sometime after November 11, 2011.

.

***This giveaway is open to US Residents only.***

.