Speekee Spanish – Team Review
Team Review…

Heidi's Review…
.
Teaching a foreign language can be a seemingly overwhelming task for someone like myself who does not speak any other language besides English. When thinking about what language to teach my children I always thought Spanish and American Sign Language would be the two most useful languages. For this review I was able to try out a Spanish program for ages 2 through early elementary ages (approximately age 10). We have all been told the younger you start the easier it is to learn! Thus Speekee Spanish, which is geared toward young learners makes for a good place to begin.
Speekee is a total immersion Spanish program for young learners which uses a series of 10 video episodes as it's base. Each of the 10 video episodes takes place in a variety of places – a park, the zoo, a home, a restaurant, the beach, the market, etc. Throughout the series children are introduced to the Spanish language through songs, puppets, and skits with native Spanish-speaking children. Along with each video episode there are downloadable worksheets that you print out for the children to do which reinforce the terms learned during that episode.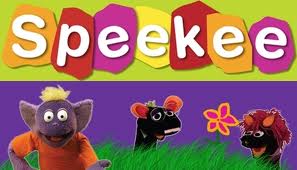 My 2 younger children (ages 5 & 9) really enjoyed the fun videos and catchy songs. My 12 year old was a little old for the puppets and sing song nature of the videos but after watching the videos multiple times you could still catch even her singing the songs to herself! I think this is a great introduction to Spanish and like how the video episodes are organized by setting, with words and phrases that you would use in that setting, as well as including many common phrases of greeting and conversation repeated throughout.
The part I was not so thrilled about was more on the adult end. Now bear in mind this is the type A in me talking, but I feel the navigation of the program on the website is choppy and hard to navigate.
While I was preparing to write this review, I found another review that someone did including a link to the more schooled geared, teacher resources, which I found to be super helpful. My problem was it took me a good 5-10 minutes clicking on every link I could find from the Speekee homepage to find the spot where this "Scheme Section" was located, and this was after I knew what I was searching for! (It was buried in the blog.) After you get there you also realize that the link to "listen" to each of the words in the 10 units is only accessible with a different login than what you have for the online version. 🙁
The way the words are phonetically spelled out in this portion would have been VERY useful to me, the non-Spanish speaking parent, as we were stumbling through trying to make sure each word was being pronounced correctly. So useful in fact, that I want to print each of the 10 units lists of words out so that we can reference them, but there is no downloadable file to print these so printing will be a pain.
That being said, all the pieces are there for this to be a fantastically well rounded beginning Spanish program. I just feel that some of the resources need to be both easier to find, print, and be accessible to all who are using the program. But the videos are wonderful, and each of the corresponding worksheets and activities are fun, helpful ways to reinforce and use the new words and phrases the children are learning! I think anyone with young children whom they want to expose to learning the Spanish language would both find this program beneficial and fun!
Cindy's Review…
.
The subject I've found it hardest to teach in our homeschool is, not surprisingly, Spanish, since I don't know any. My husband and I have long wished for our children to learn a second language, but the options for Spanish curricula have all been either outrageously expensive or laughably ineffective. So far, we haven't gotten very far past hola.
Speekee is an web-based Spanish program that's designed for preschool through early elementary age children. With Speekee, children (and their parents) quickly learn colors, numbers, basic phrases, and the names of places and objects. There are 10 episodes covering basic Spanish words and phrases using lovable puppets and children to demonstrate.
With only 10 episodes to go through, Speekee seems a little light on content, at first. There are many new words packed into each episode, though, so I think it can be effective, provided that you, the teacher, are willing to reinforce the learning as often as possible throughout the day. Because Speekee immerses the child in the language, there's really a lot to learn in each 15-20 minute show. Twenty minutes of Spanish is a lot of Spanish! (Or at least it seems that way to my mono-lingual brain.)
Captions in the videos help parents and young readers translate, but it's recommended that you turn them off for true immersion. Personally, I like to leave them on because I learn better through reading than hearing. I found the episodes that we watched were very easy to understand, even with subtitles off, and my smaller children very much enjoy repeating after Speekee, Lupi, and Dino.
I do have a few criticisms of the Speekee site and program. First of all, it's really hard to figure out where to log in. Those tiny little links on the landing page really aren't enough. There's no obvious place to enter your information and the first two times I went to the main website, I spent a few annoying seconds looking for login and password boxes that don't exist. Maybe that's just a nitpick, but Don't Make Me Think is a pretty important principle of site design.
Speekee claims to be appropriate for grade school ages (up to ten years old), but my second grader was not at all interested. He felt that it was meant for younger kids, and was a little bit embarrassed to have to watch a "baby show", as he put it. My 4 year old and 3 year old did like it very much, and they're both using a few Spanish words even during play. I even picked up a few phrases myself, though my memory isn't quite what theirs is. If your child is past the Sesame Street years, Speekee might not be the best program for him. For the little ones, I really recommend it.
Speekee offers a forty week plan that builds on the ten episodes for use during a whole school year. The repetition and reshowing of each episode firms up the words and pronunciation in the child's mind. There are several good suggestions for activities based on each episodes, and they really are useful.
Even though this claims to be a full forty weeks' plan, I felt like there was too little in the way of reinforcement. Each lesson is very quick to do, which is good for short attention spans, but I found myself wishing for more supplementation. With a little imagination, I'm sure I could build on what's provided, but I wouldn't call Speekee a complete curriculum.
At $7.50 a month, Speekee is at least not expensive. Nor is it ineffective, as I've found some other Spanish-teaching media to be. I wish there were more to it—perhaps a level two with more conversational Spanish, or a more robust program for older grade school kids that doesn't lean so heavily on puppets.
All told, I'll be sorry when my free trial is up. We've been having fun with it! If you have a younger child who needs an easy and relaxed introduction to the Spanish language, Speekee is a pretty good place to start.
Cindy Dyer is a rookie homeschooling mom of 4 (and counting) wonderful kids. She's is a social media and blogging enthusiast (aka addict). When she's not buried under piles of laundry or up to her elbows in bread dough, you can find her on Twitter or at Get Along Home, where she blogs about motherhood, homeschooling, food, and whatever else catches her fancy.