Your Ultimate List of Fun Math Games
Do you have difficulty believing you can make math fun with math games? I know, right?!! I was right there, too, when I first started homeschooling. Confession time: I hated math when I was in school, and I was afraid to even teach it (even the lower levels of math)! So, I was always on the hunt for ways to make math fun with games that would help me teach math concepts. My boys are in college now, and two are computer science majors (which require tons of math), so now I want to share some math games for preschoolers and kindergarten that might help you teach math!
Before we start, let me also confess it took me forever to find a math curriculum that we actually liked that also worked. We finally did find that curriculum in CTCMath. It was literally a game-changer (no pun intended) for our family.
If your children feel defeated by math (like mine did), please don't wait to change. You don't want your kiddos to believe that they are not smart in math or can't do it. Math is one of those subjects that can rob your children of confidence so fast. If they are struggling, change now. You will thank me later! CTCMath has a free trial and a 365-day money-back guarantee with no questions asked… You literally have nothing to lose.
I will give you a list of games by age, so if your children are older, be sure to scroll down for the games that apply to them.
Fun Math Games for Preschool and Kindergarten
Many of these math games state they are five years old and up… but if your child is starting to recognize numbers and is working on learning how to add, then you know you can use that game. After all, you know your children better than the game designer, so use your own discernment to know if your child is capable of playing at a younger age.
Sum Swamp is an addition and subtraction math game for ages 5+. It can be played with 2 to 4 players. It is a great way to review for older kiddos. It is a pretty quick game and really is fun to play and a perfect game for the entire family.
UNO™ is more than just a fast-paced card game because so many basic mathematical skills can be taught using the cards. Here are some ways to use this as a math game for preschool and kindergarten:
Number recognition – Have your preschooler sort all of the same number cards into piles. So, all of the 2's, 3′, 4's, etc., into their own pile.
If your child is learning to recognize 2-digit numbers, call out a number, like 14, and have them make that number with a 1 and 4 UNO card.
Depending on the age level of your child, play "Concentration" by setting aside 2 cards each of the numbers 2-9. Then, mix up the cards, and place them face down on the table. Turn over two cards at a time, trying to make a match. If the two cards do not match, flip them back over, and the next person takes a turn. To increase the challenge, put 4 cards of each number face down.
For older elementary students, create a setup like Concentration. Then, as they flip over 2 numbers, have them multiply the two numbers. If they get the correct answer, they get to keep the 2 cards.
Skip-Bo and Phase10. These two card games are classics and perfect for family game night, taking on the road, co-op game day, and yup, for teaching or sharpening math and critical thinking skills. If you like UNO, you'll enjoy these two math games for your kids. Phase 10 does involve a little more strategy, so we recommend this for third grade and up. Our 18+ year old kids love Phase 10. Skip-Bo is fun for all ages, but if you are playing with young children learning their numbers, you will need to modify the game and slow it down a little.
Target. This is an amazing math game for kids and adults because it truly calls for math skills, but it offers young learners a hands-on way to reinforce math concpets. There are three levels for playing this game, so you can up the difficulty as your child's math skills advance. To play, a card with a number is flipped over for all to see. Then, using the cards in their hands, players try to make an equation that has an answer equal to that number. It may sound simple, but it can get tricky, and advanced math students can include some algebra! This is definitely a game you'll have throughout your homeschooling years and beyond. Definitely a favorite math game for kids in your family, co-op, or classroom.
Using Target with students who have dyscalculia or other learning differences:
We have a child with dyscalculia, so we used a lot of games during the younger years of learning basic operations. Here are some ways to use Target with children who struggle with math:
Use some sort of counters next to each card, like beans, counting cubes, counting bears, M and M's. As your child places each card, they put a matching number of counters next to the number.
For multiplication, have them group the counters. So, if they had the cards 3 x 4, they'd have three groups of 4 counters each.
We also used stacking cubes and for the answer, they'd stack the cubes up high. We also used Legos™ and Duplos™–these just added an element of fun and helped form a visual as well.
Sorry is a fun game to play with 2-4 players. This game will help with number recognition and counting. Because the cards do require reading, you will have to help younger children who cannot read yet. It is fast and fun.
Monopoly Junior Is the classic Monopoly Game made for younger players. Did you ever think of it as a math game? It is for ages 5+ with 2 to 4 players. This game has only $1 bills to make it easier for younger children to count and play.
Mobi Kids is designed for solo or group play, up to 4 players. Solo play would also serve as a great manipulative for number recognition and as a tactile way to create number problems and solutions. There are 86 tiles. The numbers are from 1-10, with the option of using the wild tiles as zeros. This version of the Mobi Math Games focuses only on addition and subtraction.
Shut the Box is not a math game we played. However, so many moms have mentioned it in the Hip Homeschool Moms Community when we talk about math games I had to check it out. HOW did I miss this one? It is perfect for using it to teach math addition skills and different ways to get to the same number. This is a fun game for the whole family!
Grocery Store Pretend Play is not technically a math game, but it is one of my favorite ways to teach about money to littles. Your child can price their groceries and then be the cashier as you buy items or give them a budget and help them spend their money. I love the open-ended play as well… isn't this set adorable?
(We always like to use real money, but you can also get a set that looks real.)
Dominoes are a great way to practice math facts. You can get ones with just dots on each end or start getting more specialized ones that help with number recognition or operations like addition and subtraction. You can use dominoes and manipulatives to help teach a lesson… think of them like they are worksheets cut into dominoes. When my boys were little, we looked for ways to make it more tactile to help them learn with a multiple-sensory approach.
Sleeping Queens is a wonderfully whimsical world of napping nobles! The artwork is pretty, and the game can help develop strategic thinking. It is a fast-moving game for children 5 and up (although they say 8, even some of the commenters agree with me). 2 – 5 people can play, and each math game is approximately 15 minutes. Adults and teens will like this one too.
Jump 1 is a card-based math game that will teach number sequencing, comparing numbers, and beginning addition and subtraction. It is for 2-4 players.
Zingo 1-2-3 This math game helps children develop counting, simple addition, number sense, and word recognition skills. This one can be played solo or with more players. All the Zingo games are super fun and fast-paced.
Coogam Wooden Geoboard We LOVE geoboards! My daughter has dyscalculia, so games that help her "see" and "feel" math concepts are a big help. These types of multi-sensory resources help her brain retain and visualize what may seem such a basic mathematical rule. Before and after finishing our learning time with the bands and board, she always enjoyed just exploring and creating. It's a neat blend of math and art.
Tiny Polka Dot This math game is based on different decks of cards that represent numbers (up to ten) visually. They have the numerals, dice cards, ten frames, dots cards, random circles, and organized circles. This game can be played with preschoolers and children in elementary grades.
Number Slap Jack is a math game to help your children master 0-20. It is a counting and number recognition learning game for preschool and kindergarteners. The game can be used to play Number Slap Jack, Find My Number Match, or as small number flash cards. Game cards are smaller in size, making them easier for kids to hold and play the game. This is a fast-playing game averaging between 8-12 minutes with up to 6 players.
Mathematical World is an addition and subtraction game board math game. There are eight different magic Worlds: Desert Island, Dinosaur Island, Pirate Island, Zombie Island, Unicorn Island, Ice Island, Dragon Island, and Ninja Island. You can tailor the game to two different difficulty and speed levels. Concepts being learned with this game are addition and subtraction, but also doubling and halfing.
Osmo Little Genius Starter Kit is for the Apple iPad and Amazon's Fire Tablet. Osmo produces award-winning learning games. Children interact with actual handheld pieces (manipulatives) and an iPad or tablet, bringing a child's game pieces and actions to life (No WiFi necessary for gameplay). Children who are kinetic and need manipulatives will love this math game!
Head Full of Numbers This is kind of like Boggle but with numbers. Have one child roll the dice, and the rest of the group will make as many equations as possible before the time runs out. Children can play with the math they know how to use. Great family math game.
Mini Motor Math Game develops skills in number recognition, addition, subtraction, and counting. Numbers are 1-20. You can also use this set for patterns, color matching, sorting, and more.
Shelby's Snack Shack Math Game Shelby is a cute little pug dog who needs your kiddos' help collecting her buried bones. This math game helps teach numbers and counting through play, as well as strategic thinking and helping them develop those fine motor skills.
I Sea 10! Math game to teach addition and subtraction. In this sea-themed card game, players create combinations of numbers that equal 10. Fast and fun.
Count Your Chickens is an award-winning cooperative counting math game for ages three and up. It is a cooperative game where everyone works together to help Mother Hen gather her chicks and return them to the coop.
Snug as a Bug in a Rug This is a cooperative family game where players work together as a team to get the bugs back under the rug. Learning skills include colors, shapes, big/little, counting, and numbers.
Cool Fraction Math Games for Elementary
Teaching fractions was one of those concepts that really intimidated me. Finding some of these math games helped us ease into the concepts, and they decided they wanted to learn fractions!! So here are some of my favorite games for both fractions and decimals.
If learning fractions is a concept you or your students struggle with too, I encourage you to get a math program that adjusts to your child's capability. It was really important to me for my boys to feel successful at math. So we were so thankful we found CTCMath.
When the boys came to a concept they did not fully understand, because all levels are included, we could go back to the lessons that built the foundation for the concept to help them learn it. We never worried about how long it took to learn the concept, it was more important to master it. If you are curious about why we love it, sign up for the free trial. But remember, they also have a 365-day money-back guarantee, so you really don't have anything to lose.
For your younger kiddos, this little pretend cutting puzzle is great for introducing the concept of fractions. The tray shows them the shape of the pieces that fit in the circle.
Pizza Fraction Game. This is one game I might recommend you not get. Why? Because it is lots more fun to do as you eat a real pizza! Since the real pizza will cost something, I can't technically call it a free math game, but aren't you going to have a pizza soon anyway? You could make this whole pizza game concept even more fun by letting your children make their own pizzas to use for fractions!
Fraction Tower is absolutely perfect for learning fraction equivalencies, decimals, and percentages. They connect together, kind of like Legos, and are great if you have a visual or kinesthetic learner. My boys would pull these out and use them for quite a long time while mastering these concepts.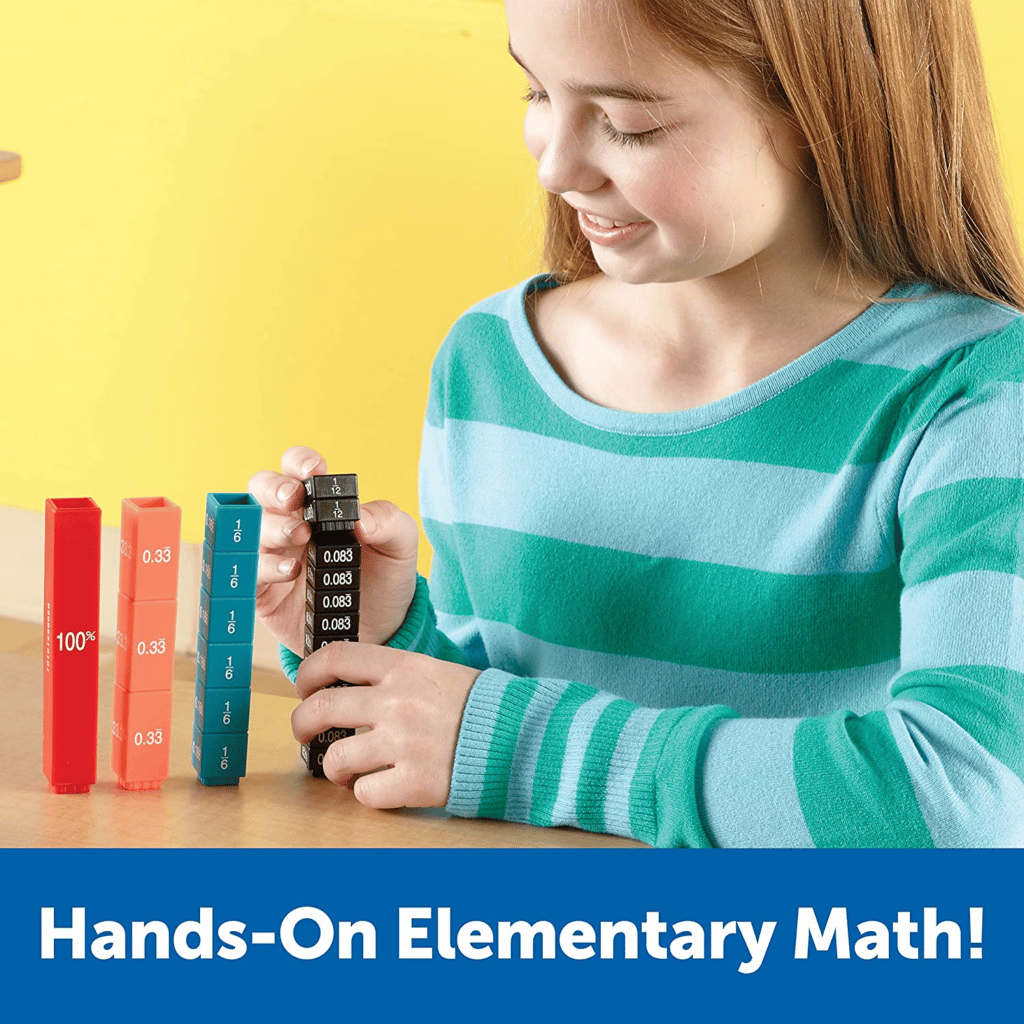 Another very visual and kinesthetic tool for teaching equivalent fractions is these magnetic tiles. They are great manipulatives because they directly match up to their equivalent numbers. So if you are trying to show how 1/4 +1/4 = 1/2, you can overlay the two smaller pieces on top of the larger piece and see that they are a perfect fit, meaning they are equivalent fractions. I also like that these are magnetic, so they stick together better when representing those equivalencies.
There are some card games that are great for review and other card games that are great at helping your children learn. Fraction War helps your children learn. The fractions have pictures to help your children see the fraction to see who has the largest fraction.
Did you know there are math bingos for upper-level math? I stumbled across these, and we owned every single one of them (actually, I still do… homeschool mom problems, right?!! I can't get rid of my favorite math game tools!) We used the different bingos for review. Don't you know we had way more fun doing review with games than with a dry, intimidating test?!
Another fun way to review is with fraction dominoes. I love this math game because it represents the number in so many different ways; it really shows their thorough understanding of the concept. Also, the kiddos could play together or alone, like solitaire.
Y'all. So many of us use cooking to teach fractions and measurements… you have to see these measuring cups! Although not technically a math game, they are amazing enough that I had to include them. Like the tiles above, where you can see the relationship to the equivalent fractions, these measuring cups do the same thing but are far more fun to use when teaching math with cooking.
Math Stacks is another game that is great to use to review. For this game, you have to match the figure on the first card with an equivalent measurement on another card to play. It is pretty fast and fun.
This math game, Fracto, is different from the other math games because it also uses word cards. You can see more about Fracto in the video below. It is fast-paced and doesn't take too long to play.
Geometry Math Games for Elementary
One of my favorite things to use was a lightbox with our manipulatives when they were younger. It just seemed to capture their attention and make the lessons come to life!
Learning geometry was another time I pulled out the lightbox. We usually started with just the shapes and named them. This is a perfect set to use on a light table.
Another fun way to explore geometry is to use these cubes and cards. Your children are challenged with figuring out how to recreate the shapes on the cards. It is not always as easy as you would think!
Tangrams are another fun way to explore geometric shapes. These are translucent and are great to use on the light table too. We have a set of Tangram Challenge Cards that help build their critical thinking skills.
This Montessori Geometric Stick material allows your children to study lines, angles, and the construction of geometric shapes. My children loved this set! You will also need a corkboard to use this set. We used cork tiles instead. Also, you will want to download this list of free vocabulary cards and labels to use for your children to label their shapes.
You already know I like to use card games in our reviews. Here is a geometry math game to help with review.
If you still want even more math game ideas, we have some fun math gameschooling lists on Amazon too. As you can see, we are really committed to the whole math game concept. You might say, we created a math playground in our home!