How to Make Math Fun and Tasty
Sometimes math can be a struggle. It's one of those subjects that most children either really love or really don't love! So today I'd like to share some ideas for making math fun with apples! After all, you don't always have to have expensive manipulatives or fancy curriculum to add new life to math in your homeschool. Sometimes you just need to do something a little different to spark curiosity and make learning fun again!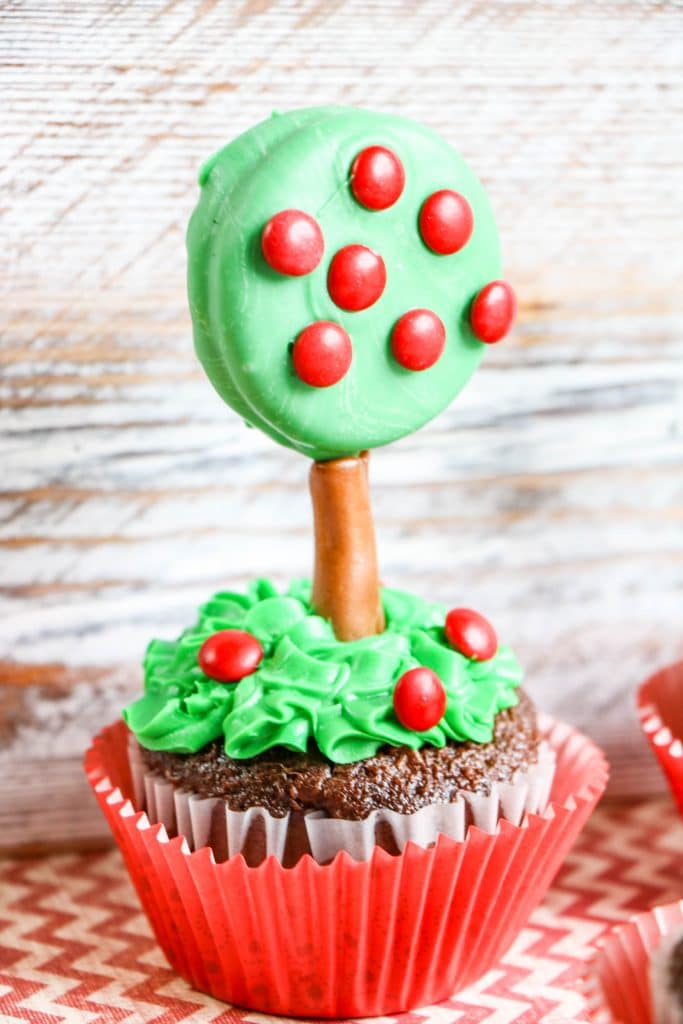 One delicious way of making math fun with apples is by making these (surprisingly easy!) Apple Tree Cupcakes. Baking is a fun way to get in some math practice with your children without them even realizing it!
Below are some suggested ideas and activities to incorporate math into your baking. Just choose the ideas that fit the ages/grade levels of your children.
Practice counting by counting out the number of cupcake liners you need. They can also count the number of lollipop sticks, Oreo cookies, red M&Ms, and Tootsie Rolls.
One-to-one ratio is easy to practice by matching the needed cupcake liners with the spaces in the muffin tin. This skill can be practiced again by matching up lollipop sticks to Oreo cookies.
Some children may be ready to practice basic multiplication by deciding on and setting aside a specific number of red M&Ms to go on each "apple tree."
Even young children (with guidance if needed) can learn about fractions and measurements just by making the cupcakes according to the directions on the package.
Telling time is another important skill when baking! Help your children learn to make a note of the time when you put the cupcakes into the oven. Then work together to figure out what time you they'll be done baking. (You can also show them how to set a timer to help make sure you don't forget to take them out on time! When my kids were little, we used a visual timer similar to this one because it gave them a way to see how much longer they had to wait!)
This is also a good time to discuss temperature and to show your children how to set the temperature on the oven. You could even (just for fun and to add another element of math) talk about how to convert temperatures from Fahrenheit to Celsius.
Do simple subtraction problems by giving each child (for example) ten M&Ms. Ask the children how many M&Ms they will have if they eat 5 of the M&Ms. Then let them eat the M&Ms, count again, and check their answers. Have them use the M&Ms they have left to decorate their apple tree cupcakes!
Do simple addition problems by giving each child two small handfuls of M&Ms. (For very young children, you may want to give each child just two or three per handful.) Do an addition problem with the two amounts. Depending on the age/grade level of your children, you may want to show them how to create a written addition problem or teach them to do mental math. Then either eat the M&Ms or use them to decorate their cupcakes.
Create a bar graph with the leftover M&Ms! Use the leftover M&Ms (After all, you're only using the red ones for this baking project!) to chart the number of M&Ms of several different colors.
You Might Also Like These Food-Related Activities!
A Collection of Apple Learning Activities
Health and PE for Homeschoolers (Printable Nutrition Game)
10 Awesome Ways to Make a Cell Model
If you love this idea, you may want to check out these other resources to help make math fun and tasty!!