How to Survive Homeschooling Your Teenage Son
Hi! I'm Wendy, and I survived homeschooling my teenage son! And I do have a few ideas for you on how to survive homeschooling your teenage son (or daughter) too! At this time of year, many of us are looking at what worked and what didn't work for our homeschools as we get back on track and work toward finishing the school year. That could mean that you're dealing with attitude issues that your students have (or that you have!) and trying to deal with them in a positive way that will allow the remaining school year to go more smoothly.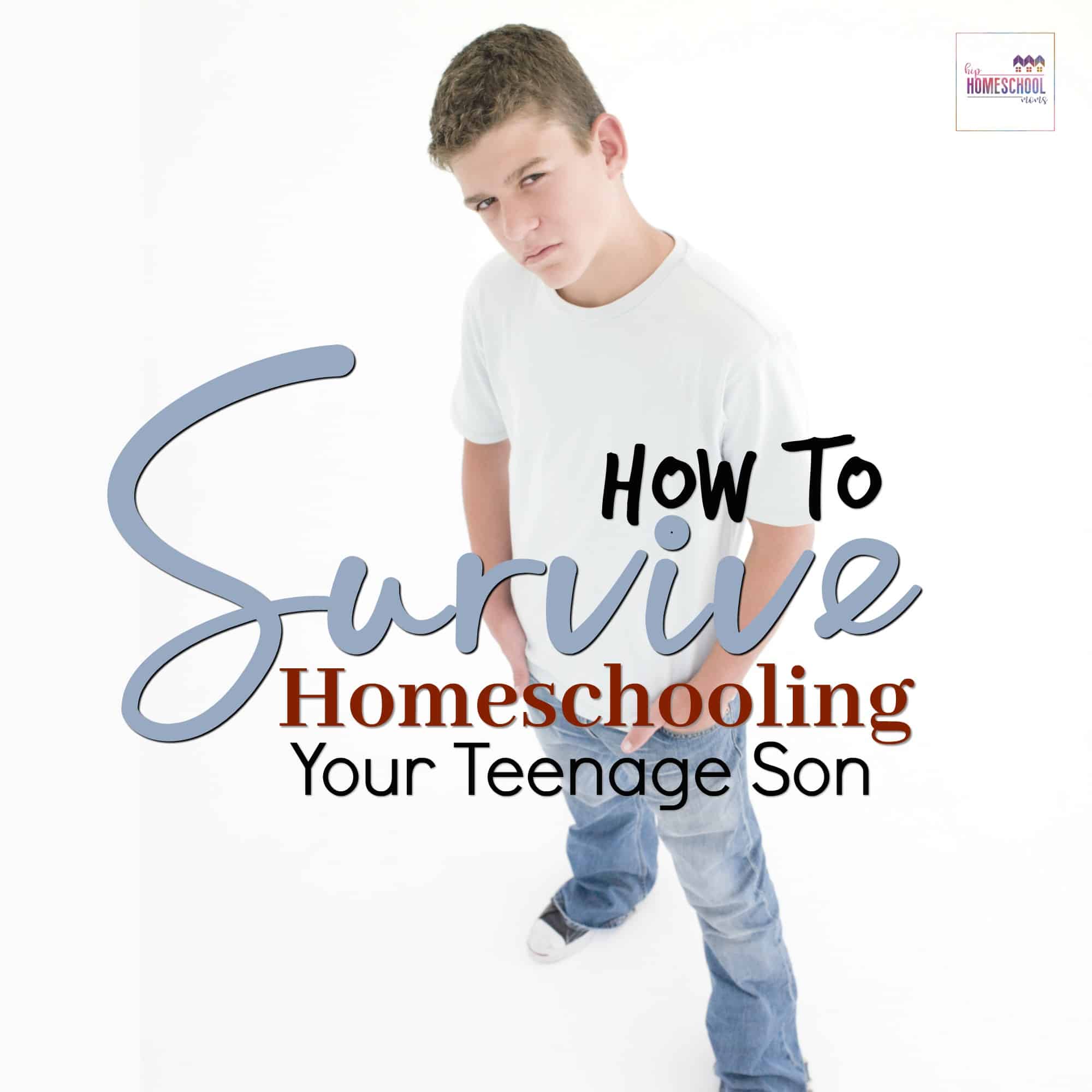 For those who are homeschooling tweens and teens, sometimes the attitudes we deal with present more of a challenge than the school work itself! So what do you do about it if you find yourself attempting to teach teens who are resistant to learning or who are resistant in general? I'd like to share with you some things I learned years ago when my son began moving into those teenage years and things started getting rocky in our homeschool. (Just to give you hope, my son graduated from our homeschool in May of 2016! Yay! We made it all the way through!)
I'm sure there are some blessed homeschooling moms out there who homeschool their teenage sons and love it! I'm sure there are some of you who have teenage sons who enjoy doing their school work, want to do a good job, hope to please you, and keep up with assignments and papers and maybe even their books and materials all on their own. Then there are the rest of us who homeschool our teenage sons who don't do all those things!
As I mentioned earlier, my son graduated from our homeschool in May of 2016, but there were times I wasn't sure if the two of us would make it all the way to graduation. There were times that neither of us enjoyed homeschooling very much. Times when I just wasn't sure what to do or how to do it. Times when we both wanted to give up.
After several years of having a stressful relationship and a difficult time homeschooling, I finally decided to just sit down and have a conversation with my son about our relationship and our homeschool. He knew that homeschooling allowed him more free time, a more flexible schedule, the ability to stay up later (He's always been a night owl.), sleep a little later in the mornings, and other benefits, so why wasn't he doing his work and allowing both of us to enjoy homeschooling? It turned out to be a good conversation, and I can't believe it took me so long to initiate it!
I talked to him about why he was so miserable and (I'm being honest here!) why he was making me so miserable. I didn't much like the answer. It turns out he felt like I didn't like him. He felt like I was always criticizing him. He felt like I didn't want to be around him. I think he really felt like I didn't even love him. So what on earth is a mom to do in a situation like that? I'll tell you some of the things I did to try to repair our relationship and help things go better.
It took several months, but he gradually began to realize that I did (and do) love him, like him, and want the best for him. Of course he still occasionally had a "stubborn day" or a day when he was less than cooperative, but in general, things went so much better! He was still disorganized (and still is to this day) and often had trouble keeping up with his work, but things went so much better, and homeschooling was much more pleasant for both of us!
Here are some of the changes I made:
Strangely enough, I had to start by changing my attitude toward my son. I had to choose to see the good in him instead of the bad or the things that bothered me. I had to force myself to look for times when he was kind or obedient or did something good, and I purposely complimented him without adding a "but" to it. (You know. "Thanks so much for cleaning your room, but you didn't make up your bed.")
I made a point to compliment him to his sisters or to his dad in front of him. These were honest compliments, though! In order for him to know I was being sincere, the compliments needed to be honest and deserved. At first, this wasn't easy. The more he earned honest compliments, though, the more he wanted to earn more, so it got easier!
I made opportunities to spend time with him without his sisters. I made sure to spend a few minutes in his room in the mornings when I woke him up and/or at night when I could talk to him without being interrupted. I talked to him about things he wanted to talk about, like video games, books he was reading, church activities, etc. I didn't use this time to tell him what to do or correct him for misbehaving or anything else other than just-for-fun chatting.
As he began to "come around," I asked him to do small jobs around the house to help him see that he really was needed and wanted in this house. I asked him to unload the 50 lb. bag of wild bird seed from the van because it was too heavy for me. I asked him to get things for me from the top shelf that I couldn't reach. I didn't make up little tasks for him to do like I might have done when he was very young. Instead, I asked him to do things that really needed to be done and that were an honest help to me. Because I waited to start asking him to do these things until our relationship was on its way to being repaired, he never complained about doing these things for me. Then I was able to honestly share my gratitude for his help. He knew I really did need him, and that allowed him to feel useful and important–because he was.
I started taking him places just with me. Even if I was just going on a quick run to the grocery store or the gas station, I started asking him if he wanted to ride with me. He began to see that I enjoyed his company and wanted him around.
I made a point to tell him that I love him and to give him a hug and kiss each morning and each night before bed. At first he was a little resistant, so I didn't push him. As he learned that I really meant it, though, be began to remind me if I forgot his hug and kiss! He still makes sure he gets his hug and kiss every morning and evening, but he might not admit it if you ask him! 😉
I tried to be careful to point out behaviors that needed to be changed in a more positive way instead of a way that made him feel personally attacked. Instead of saying, "You were really rude to your sister just then. Next time I want you to be nice!" I might say, "Please speak nicely to your sister." I tried to point out the behavior that needed to be changed and not make it sound like he was a horrible person.
I pray that these tips are helpful to you if you have a son (or daughter) with whom you don't have a positive relationship! In my list, I didn't mention the need for sincere prayer, but that is actually the #1 action you need to take. I asked God to show me, whether I liked it or not, what I needed to do to improve my relationship with my son. And He did! And I didn't like it! I can tell you, though, that a "bad" relationship can be improved. Don't give up! Keep praying and keep in mind the tips above along with whatever else God shows you. It's worth it!