Watercolor Seascape Art Lesson
Kids will have tons of fun with this watercolor seascape art lesson. It makes for an easy to clean, washable project that doesn't compromise fun or interest for simplicity. It gives children the opportunity to explore a new medium and get extra practice with scissors. This collage lesson is a great summer activity to do after a trip to the beach or lake, can compliment a unit study on sea animals, or can be the follow-up project for a field trip to an aquarium. Another idea for study to complement this project would be to study salt and where it comes from since salt is used to create an underwater effect on the paper.
For your Watercolor Seascape you will need:

Watercolor Seascape Art Lesson Tutorial
1. Preparation.
Start by helping your child get his v/her vision. Ask your child to think a bit about what he will create. What colors will he need to make the seascape he imagines? He will need to paint white watercolor paper with those colors for cutting later. Will he include shells, bubbles, fish, etc.? These will later be cut from those paper swatches he just made. His ideas can guide his color and texture choices. How the textures and designs turn out can also inspire.
2. Making Color and Texture Sheets.
The textured background:
First make the background. Choose a cool color: purple, blue, and green (or a combination of them) for an underwater scene. Add texture by sprinkling salt onto the wet watercolor background. It will absorb paint leaving a texture after it dries. Brush off excess salt to reveal a water effect.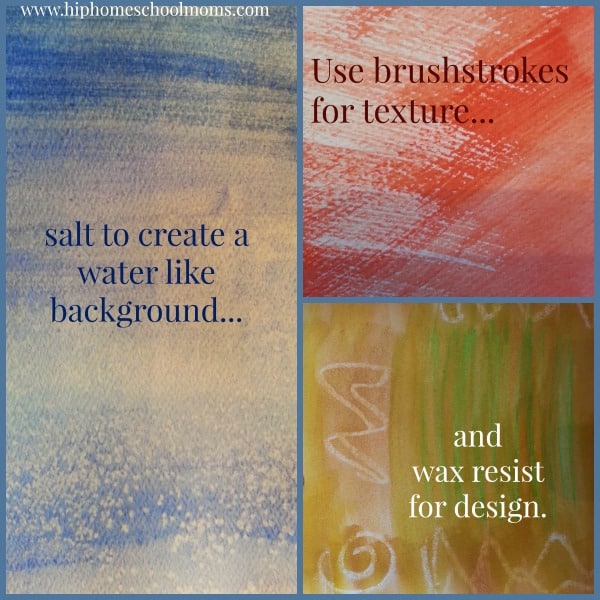 Another possibility for creating texture is using brush strokes and different amounts of water. A dryer brush leaving some white unpainted areas combined with brush strokes in different directions is great way to achieve texture. You can try using a sponge as well. Let your young artist experiment. What other water absorbent tools could be used to apply or remove watercolor that will leave a wonderful water looking texture–sponges perhaps? Let your child come up with her own technique!
Adding details and painting color sheets:
Next your child will need to make several sheets that will be used for cutting out fish and other shapes for her underwater seascape. One way to add details is using a white oil pastel or crayon for a watercolor resist design. Before painting with watercolor, have her use her wax crayon to add swirls and other shapes to any area she wishes to have resist the water color. It will be white after painting. What lines could be used to make textures which can later add to the design of a shell, seaweed, or other sea creature?
Have your child paint several color sheets–enough to cut several underwater creatures, plants, and shells.
4. Let Dry.
5. Cut Desired Shapes.
You can teach all about shape here. Tell your child he is "drawing with scissors". He may have difficulty and want to draw, but encourage him to think about the shapes he would draw and cut those shapes to create his fish and other underwater items.
Another art element which is proper to discuss here is space. Some children may tend to cut too small. Show her how much space she has to use and ask her to use the whole paper for hercollage. She will need to cut shapes big enough to fill the entire paper.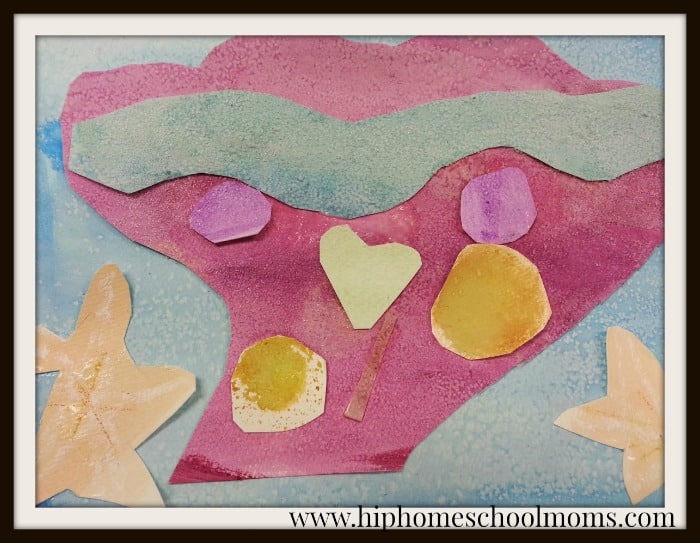 6. Arrange the Shapes for Placement and Glue.
This is fun to watch from a teaching perspective. I love to see little minds turn. Once the design is decided upon, go ahead and get out the glue. Using slightly watered down glue, have your child brush glue on the back of her shape with paint brushes and apply it to her background.
Note: The watercolor paper will curl a bit, so after these are fully dry, you may want to press them in a big book to make them flat. A day should do the trick, and then you can store them in your child's portfolio or frame.
4 more ways to use this collage idea for other art and homeschool lessons:
You don't have to use this collage idea for a watercolor seascape art lesson. It can be used in a variety of other ways.
I used this lesson in my art class to teach about artist Henri Matisse.
Or you can make another scene type project for another study like this one for a space unit: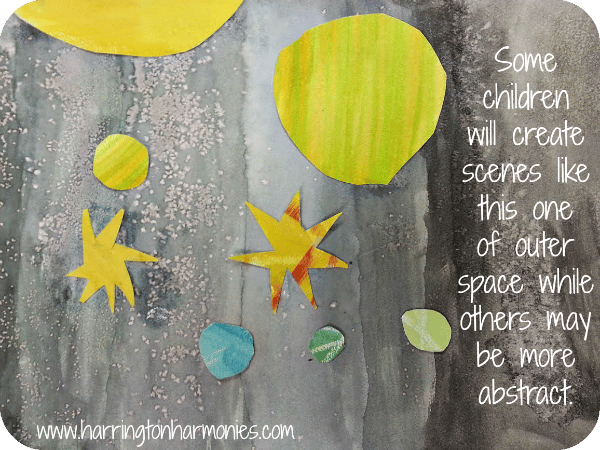 Another possibility is to make a favorite animal or cartoon character:
Last, some kids may just enjoy pure design and something a bit more abstract focusing on color and shape:
What other ideas/ways to use this art lesson can you think of? Please share your ideas in the comments!