Episode 9 – Homeschooling Inspiration and Empowerment from Rachael Carman
If you have ever felt inadequate to homeschool or just uninterested, join Trish as she interviews Rachael Carman, veteran homeschooling mom of seven, author at Apologia science, and creator of the new Word in Motion Bible curriculum. They discuss everything from butterflies to the Bible in a hilariously funny, truly sincere, and positively encouraging podcast.
You don't want to miss Rachael's stories about how she began homeschooling "THAT child," (you know the one I'm talking about!). Hear about Rachael's long and humbling journey toward publishing Word in Motion. You'll be inspired to be a better version of yourself and to put your faith in God. You'll learn that homeschooling is not about you or even about your kids – just ask Mr. Incredible and Elastigirl.
Finally, and perhaps best of all, you'll gain some insights about how Buzz Lightyear and Woody inspire Rachael as well as how they can inspire you to proceed with prayerful perseverance! So have a seat or take a walk, but whatever you do, do it while soaking up the wisdom and encouragement that you're sure to find offered today by Trish and Rachael.
---
Meet The Guest
Website | LinkedIn | Twitter | Facebook
She had it going on—or so she thought. After surviving sixty-three months of pregnancy, countless sleepless nights, and 35,000+ diapers, this one-time control freak encountered God's grace. And she is here to encourage you to do the same! Rachael Carman loves encouraging and inspiring moms to grow deeper in their walk and relationship with our Heavenly Father.
In her books How Many Times Do I Have to Tell You? and How to Have a HEART for Your Kids, she challenges mothers to surrender their will and draw closer to the Lord. Rachael Carman invites moms to join her in loving God passionately and worshiping Him fully while sweeping up Cheerios, doing laundry, and planning dinner. You will be affirmed in your role as a mother as she speaks of her own struggles with perfectionism and impatience and shares her challenges, failures, and victories amid the ever-changing seasons of life. Her honesty will surprise you, and her humor will put you at ease.
She has been married to her beloved, Davis, since 1986; their life has been a roller-coaster ride with God at the controls. They have seven kids and let her tell you their family loves to laugh! She enjoys playing in the dirt, eating dark chocolate, and walking on the beach. She and her husband own Apologia Educational Ministries, She is an author and speaker—She is passionate about helping moms not only survive motherhood, but draw near to the Father and thrive in motherhood.
---
Show notes are below.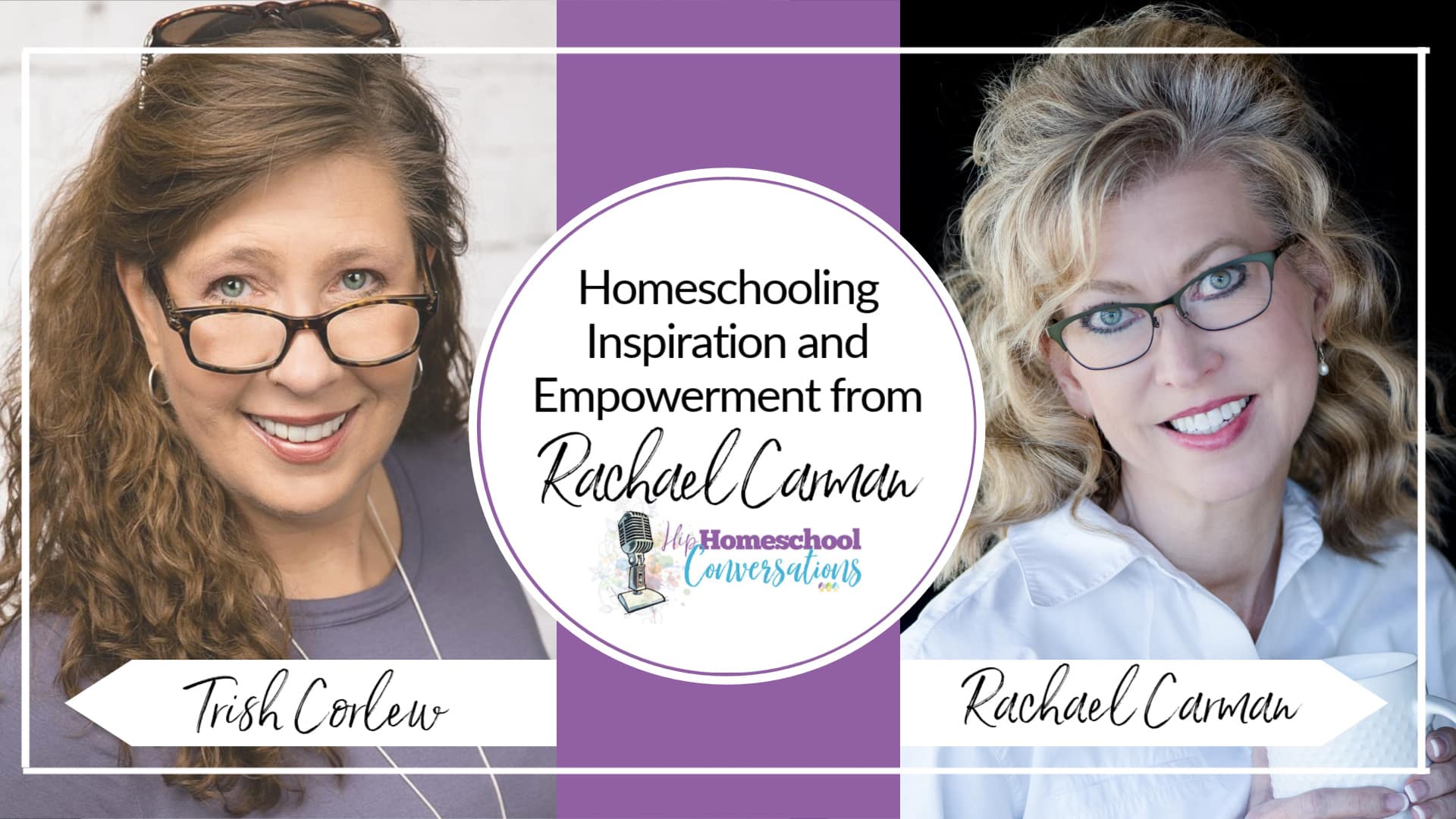 This episode is sponsored by Apologia. We are HUGE fans of Apologia and we both have used this curriculum throughout our homeschool journeys. This series is literally our favorite science series offered in the homeschool arena. We encourage you to spend a few minutes visiting their site to see why. Or visit our website to see the many articles we have written about it.
Quotes from Rachael Carman
The enemy works so diligently to isolate us…to plant these seeds of doubt and inability…all of these lies to get us to stop loving God, to stop loving our kids, to doubt our qualifications to homeschool.
If there's anybody on the planet the enemy wants to discourage, it's the homeschool mom.
God was basically saying to me "Do you trust Me?" I want you to trust me enough to bring him home and take a step of faith and start this journey
I really do believe that as moms we have more Red Sea moments than we believe. We miss them. We take them for granted. We overlook them. We chalk them up to coincidence, or good luck, or a good curriculum, or a good schedule or just happenstance. My goodness…God is moving!
I've noticed that there are people who are homeschooling now out of terror, out of fear of either the virus or even something as legitimate as the indoctrination that is happening in the government schools. But that kind of fear and frustration will not take you through 25 years [of homeschooling]. What gets you through this homeschooling journey is fearing God, not fearing man.
We have the guarantee of our eternal security through the person of Jesus Christ when we submit ourselves to Him but He does not lay out every step of the journey for us. He does not promise that life is going to be a bed of roses.
The Barna study just revealed that only six percent of people have a Christian worldview. Biblical literacy is at an all-time low. More people are not going to church than are going to church. This is the moment for us to call God's people to teaching the fundamental Biblical narrative and the themes of all 66 books of the Bible so that they can build on it for the rest of their lives. This is that moment!
It is so shocking to me that as homeschool moms we can be so fearless and be willing to take on just about anything…but when I mention [teaching] the Bible, we are are afraid we'll mess it up.
We need to revive reading the Bible. We need to revive getting into the Word and being part of it. (Trish)
We need to be in the Word of God. Our children need to see us in the Word of God. You talk about changing the world…when families dare to read the Word of God together. That's where it is.
If I can get these moms to just open their Bibles once a week for 30 weeks, that's a game changer.
A lot of us think we are flying. We think we've got it. We've got life by the tail. We've got this figured out. Some of you have gone to a conference, you've got your planner, you've got your curriculum. You've got a plan. You think you know what you're doing. Some of you are terrified and you think you know what you'd rather do than this. Whatever extreme..fall forward. You've got this.
The glorious liberating truth is that it is not about me! Our culture tells us that true freedom is found in doing whatever you want to do, whenever you want to, with whoever you want, that that is freedom. That is slavery, that is death. What God offers in the person of Jesus Christ is true liberation. That is when we are free to live for Him and not for us.
The secret to home education is prayerful perseverance.
How to succeed with prayerful perseverance.
How to find her: FB, apologia, rachaelcarman.com, more stuff coming! YouTube. Looking at other things. Bible study this fall (hope). Instagram.
---
Resources mentioned in the podcast and other important links
Apologia Bible Curriculum Word in Motion
Rachael's Books:
How to make homeschool fun!!