Fall Herbs to Study with Your Kids
Most of us think of plants and herbs in terms of spring and summer. There's no doubt that these two seasons are the best times to pull out the plant identification books and explore the great outdoors lush with plants waiting to be identified. What we may not commonly think of, though, is the fact that there are some great fall herbs to study and use with our children.
These opportunities to study plants and herbs can make a lifetime impact on teaching your kids the importance of identifying edible plants for food and medicine and appreciating the beauty and design of our Creator. So right now I'll focus on 4 of my favorite fall herbs that you might want to share and study with your children. I'm also including recipes for using them!
If you'd like to see more articles that tell you how to use herbs and natural remedies, you might enjoy these: Echinacea: A Powerful Natural Antibiotic, Natural Ways to Help Your Child Focus in School, and What Your Brain Fog Is Trying to Tell You.
4 Fall Herbs to Study with Your Kids
1. Elderberries
Elderberries are beautiful blackish/purplish berries that are ready to be harvested anywhere from the end of August to the end of September, depending on where you live. They make delicious jams, jellies, and pies, but my favorite way to use them is in a syrup that I take as medicine.
Elderberries have immune enhancing and powerful antiviral properties that can treat viral infections, including the flu. I love using this syrup to prevent and treat the flu as well as for other illnesses. This is one tasty medicine that my family enjoys taking! Making your own elderberry syrup could be a fun DIY project in your homeschool and gives you a wonderfully healthful tonic to keep on hand.
Elderberry Syrup
Ingredients
1/2 cup dried [url href="https://amzn.to/2N1pP1b" target="_blank" rel="nofollow"][b]elderberries[/b][/url]
2 cups water
1 cup of raw honey
Instructions
Combine elderberries and water.
Bring to a boil.
Simmer for 30 minutes.
Mash berries and strain berries from the liquid.
Stir honey into the liquid while still very warm.
Store in refrigerator for up to 3 months.
Children and adults, take a spoonful every day to prevent illness and take hourly if sick.
Notes
If using fresh elderberries, add about 1/4 cup of water to a quart of fresh elderberries. Add more while cooking if needed. Fresh elderberries make more of their own juice.[br]3.4.3176
2. Dandelion Root

Dandelion is such a widespread herb that many may even find it to be a nuisance. However, it is so full of nutrition and can really help with certain ailments. If you haven't sprayed your lawn with weed killer, you should be able to find some of this abundant plant growing around.
The dandelion root is harvested in late fall. Simply dig up the roots wash them well and chop them up! Dandelion is known as a blood purifier and liver tonic. In fact, it's one of the herbs I used to cleanse and heal my very damaged liver. Dandelion root is also really great at optimizing the digestive system.
Now that we know how healthy this herb is, how about we make some yummy Dandelion Hot Chocolate?
Dandelion Hot Chocolate
This recipe is adapted from Medicinal Herbs by Rosemary Gladstar
Ingredients
[url href="https://amzn.to/2BuB8cL" target="_blank" rel="nofollow"][b]Dandelion root[/b][/url]
2 tablespoon cocoa
1 cup raw milk (or coconut milk or almond milk)
3 tablespoons raw honey
1 tsp. cinnamon powder
1 tsp. vanilla
Instructions
Roast the fresh dandelion root in the oven by spreading out the root on a baking pan and baking at 350 degrees for 30 minutes.
Add 6 tablespoons of roasted dandelion into 6 cups of water and simmer for 30 minutes. (This is a decoction.) Strain. Reserve liquid.
Whisk the cocoa, honey, and cinnamon into the milk on low heat.
Add the vanilla and reserved dandelion liquid.
Enjoy!
3. Comfrey Root
The herb comfrey is often referred to as the herb of "comfort." It is a very powerful healer for broken bones, sprains, pulled muscles, etc. I've personally experienced its healing after I had leg surgery and was facing physical therapy that I couldn't afford. Comfrey came to the rescue and brought complete healing so that I had no need for the therapy.
Comfrey root can be harvested at the end of fall right before the frost. Comfrey is very easy to grow, and I have some growing along the house thanks to a good friend sharing a start with me. Comfrey also grows wild here in Missouri and may in your area as well! A little research or a resource book will help you find comfrey in your area if you are not familiar with it. This is one plant that's well worth the effort of exploring with your children because it has been used for a couple thousand years to heal damaged tissue and bones.
When harvesting comfrey root, you can dig around the root itself and chop off as much as you want. Then cover the root with dirt again so that the plant can grow again next year! If you have more than one plant, you can dig up and use the whole root if desired.
Comfrey Root Poultice
Ingredients
[url href="https://amzn.to/2BzaH5K" target="_blank" rel="nofollow"][b]Comfrey root[/b][/url]
Water
Cheesecloth or thick paper towels
Instructions
Wash comfrey root well and chop into chunks.
Blend comfrey in a [url href="https://amzn.to/31Fw68h" target="_blank" rel="nofollow"][b]blender[/b][/url] with just enough water to blend it well. Or use a [url href="https://amzn.to/2W0imU6″ target="_blank" rel="nofollow"][b]food processor[/b][/url].
Place comfrey in cheesecloth or paper towel, which is now a poultice!
Place poultice on the area that needs healing. Avoid using comfrey on broken skin.
Cover with plastic wrap if desired to help the poultice stay dry and in place.
Repeat as needed.
Notes
Extra blended comfrey can be dried in a [url href="https://amzn.to/2N6kGVw" target="_blank" rel="nofollow"][b]dehydrator[/b][/url] or in an oven on lowest setting until dry. This will keep for a few years.
4. Echinacea Root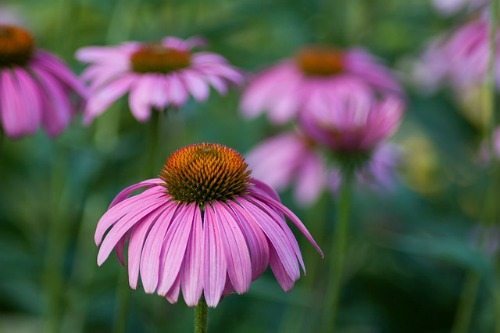 Echinacea is one of those flowers that many grow for its beauty, and it is well-known as "purple coneflower."
While the actual flower is harvested in the summer for medicine, the root is harvested in the fall after the flowers are completely brown and dead. Simply dig up the whole root (as with dandelion), wash, and chop. I use echinacea flowers (which you can harvest in the summer) and root all winter long when an illness strikes. Be sure to only use echinacea that has never been sprayed with pesticides.
Echinacea is an immune booster and a powerful fighter of viral and bacterial infections. Here's a simple echinacea glycerite you can make with your kids to help them stay well!
Echinacea Glycerite
Ingredients
[url href="https://amzn.to/2o2jH06″ target="_blank" rel="nofollow"][b]Echinacea root[/b][/url], chopped
Food-grade vegetable glycerin
Jar
Instructions
Cover the bottom of a double boiler with echinacea root.
Pour vegetable glycerin over the echinacea root, covering it by at least an inch.
Cover and cook for an hour.
Strain and pour the liquid in glass jar or bottle.
Notes
Children take 1/2 tsp.; Adults take 1 tsp. 3 times a day or hourly when sick. Don't take echinacea for more than 2 weeks at a time.
You can purchase these herbs in dried form and we have provided the links for each herb where you can purchase them. But there's nothing better than searching your woods or a public nature park and finding these amazing fall herbs to study and use yourself. This is hands-on learning at its best! Just be sure to take one of the plant identification books with you!
If you like this article, you might want to read these other articles about herbs and health:
Echinacea: A Powerful Natural Antibiotic
Natural Ways to Help Your Child Focus in School
What Your Brain Fog Is Trying to Tell You
Resources:
Which herbs do you study or make medicine with in the fall? Or if you're new to herbs, what would you like to learn more about? Tell us in the comments!
Another Fall Article You May Like
Easy Fall Unit Studies for Homeschoolers