Episode 23 – David Hazell Talks about Homeschooling from Beginning to Beyond
If you are a Christian homeschooler seeking a curriculum that incorporates your faith into every subject, you need to meet David Hazell from My Father's World.
David is going to share about Homeschooling from Beginning to Beyond. When David Hazell and his wife, Marie, felt the call to homeschool, they were disappointed to find that even Christian schools and curriculums taught traditional subjects with "Bible on the side." Their solution to the problem was to create their own curriculum!
You'll enjoy hearing David recount the way his wife Marie's handwritten homeschool notes transformed into a popular, God-honoring homeschooling curriculum. You may feel inspired to try their My Father's World program which was inspired by "Montessori, classical education, Charlotte Mason, music studies, and Biblical worldview that will all fit into a four-hour day" in your own homeschool.
If you have older students, there is something for you as well! David and his wife are passionate about the education of older students—including post-high school. Their mission is to provide an education that remains "completely out of the current woke system of public education." In light of this goal, David introduced Declare Coaching, an online coaching program for high schoolers in collaboration with an organization called Unbound, which is a higher education program you'll definitely want to learn more about.
David and Marie are deeply involved in reaching out to share the Gospel. They are passionate about coaching and mentoring students to support the development of not only academic skills but also leadership skills that will serve them well throughout their lives. They seek to "defund the enemy" to reform education in America.
If you, too, have the desire to support kingdom-thinking companies and move away from products whose sales are under oppressive regimes, be sure to check out the programs that David introduces us to in this podcast. There are many interesting and important topics covered in this inspiring interview! David's insights about education, business, missions, supporting communities, leadership skills, character development, learning styles, and much more are all addressed in this engaging, motivating homeschool conversation.
---
Meet The Guest
Website | Instagram | Facebook | Twitter
David Hazell and his wife Marie are Christian entrepreneurs and co-founders of My Father's World, a homeschool and Christian school curriculum company. He is passionate about families serving Christ together and a strong believer in the value of collaborative education for all ages. David is the founder of God's Word for the Nations; is the author of God Speaks Numanggang, a children's book about Bible translation; and is on the board of the Institute for Bible Translation.
The Hazell family spent eight years in Russia where David served in Bible translation in Siberia and Moscow, helping coordinate Bible translations into more than 70 languages. Today David and Marie work together re-developing My Father's World curriculum for use in micro-schools, pod-schools, preschools, and ESL programs encouraging all families, while pursuing academic excellence, to see the world through God's eyes.
David is also active in starting other profitable ventures that fund God's kingdom and Bible Translation. The ventures include – a Christian resort and retreat center in Missouri, a print shop, international business and investment, and a business training center for international ambassadors.
Show notes are below
This podcast is sponsored by CTC Math, we know teaching math to your kiddos can be a dreaded task. Let's start with the right curriculum. CTC Math helps your family to learn math with short, concise, and easy-to-understand lessons. All lessons and every grade level are included.
CTC math was created by a homeschooling dad, so they believe in homeschooling and offer homeschoolers a half-price discount. The founder also has a large family, so he included all of this curriculum for one low, family-friendly price. They stand behind their product. They offer a full 12-month money-back guarantee with no questions asked. And if all that wasn't enough, if you use our code CTC math or add an extra six months to your subscription. Try their free trial and learn why this curriculum has won so many awards, including the coveted Cathy Duffy Top one hundred and two Curriculum Awards.
Quotes from David Hazell
You don't have to have a degree; you just have to have skills and work your way up.
Our focus at the [post-high school level] is going to be things like leadership skills, study skills, decision-making skills…things that will take you into the real world in a more meaningful way.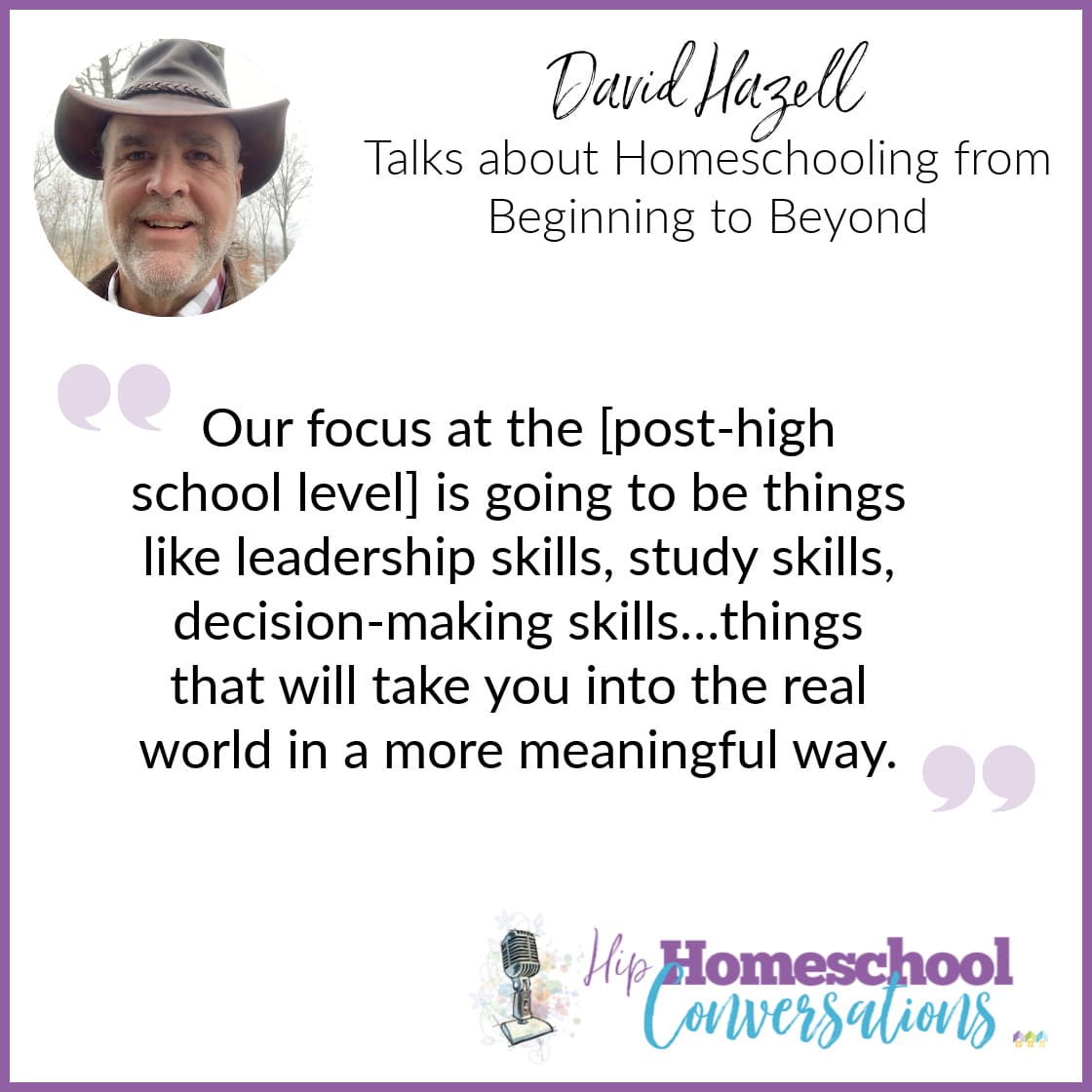 If you look at all of the My Father's World curriculum together, our goal was to create a program that combines Montessori, Classical education, Charlotte Mason, and unit studies and put in a Biblical worldview throughout the whole program and yet does that in a usable, doable, four-hour day.
We really tried to bring balance, so you have the strength of any child no matter what their learning style.
We are trying to push people into regions of the world where they are crying out for business training by giving them a legitimate purpose through business training. Our goal is to reform education in America by returning the focus to God, family, community, and patriotism while confronting aggressive agendas and post-Christian cultures.
Mentioned in this podcast: