Back to School Giveaway – Encouragement and Bible Thursday {closed}
(Please be patient as this page loads; there are a lot of giveaways below!)
Looking for a list of all of our sponsors (and a list of all of the daily giveaways)? Go to the sponsor page!
Don't miss a single giveaway! See all of Thursday's giveaways here.
Encouragement:
Apologia
Today's giveaway from Apologia is an "I Believe in Homeschooling" tote bag and coffee mug (usually only available with a purchase of $100 or more at conventions) along with Mom's Encouragement Bundle: How to Have a H.E.A.R.T. for Your Kids, 7 Tools for Cultivating Your Child's Potential, Sound Bytes from Heaven, and a recording of all sessions from the 2013 Real Refreshment Retreat. You'll enjoy encouragement from Rachael Carman, Zan Tyler, Debra Bell, Sherri Seligson, and Heidi St. John.
Winner will receive the Mom's Encouragement Bundle.
a Rafflecopter giveaway
Diana Waring Presents
Every mom needs that word of encouragement from someone who has been there, who has grownup children and can speak with assurance about the journey. Homeschool moms have an extra portion of the journey to navigate, and often wish for an mentor that will offer direction without nagging or prodding. Diana Waring has that voice. This collection includes an ebook with 8 articles written as Diana was coming to the end of her homeschooling journey, and four Mp3s of her transparent and humorous workshops.
Winner receives The Encouragement for Homeschool Moms Collection.
Home School Adventure Company
The Wise Woman with Literary Analysis Journal Questions Print ($28.95). The Wise Woman enchants readers while it contrasts the ugliness of pride, selfishness and conceit with the beauty of humility, sacrifice, and compassion. By offering students 16 to 24 literary analysis questions per chapter, this 160-page spiral bound edition teaches critical thinking in a way that is engaging and transformational. Not for Women Only. Do not let the title deceive you–this elegant fable is not for girls and women only. It captivates boys and men as well. Prepare to encounter sleek wolves, slobbering hyenas, and an assortment of beasts that go bump in the night. Step into enchanted rooms with pictures that become doorways into the familiar or the fantastic. Witness weak-willed parents who blindly overindulge their children…and reap the destructive consequences. Meet a fearlessly loving and wise woman who confronts stubborn ignorance and ugly pride with unflinching discipline, truth, and grace.
Winner receives a Print Copy of the Wise Woman with Literary Analysis Journal Questions.
Raising Real Men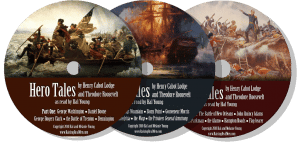 Hero Tales from American History Three Volume Set – Written by Theodore Roosevelt to teach character to kids through the stories of America's heroes, we turned it into an audiobook with sound effects… because history is much better with cannonfire and angry French mobs! PLUS our Colt 22 Rubberband gun because every boy ought to pretend to be a sheriff sometime! $15 value for the Hero Tales Set and $11 value for the Colt 22.
Winner receives the Hero Tales audiobook three volume set and Colt 22 Rubberband gun.
Bible:
Compass Classroom
Modern Parables is an original film-based Bible study series on Jesus' parables. It uses short films combined with teaching by pastors and in-depth study materials to create an entirely new learning experience. Modern Parables seeks to re-create the emotional immediacy that Jesus' 1st-century audience felt when hearing the parables. It does this by using some of the best parable scholarship and exploring it through creative filmmaking. The gut-level understanding made possible by the films is intended to drive listeners into a deeper understanding of the Bible.
Winner will receive Modern Parables (download).
a Rafflecopter giveaway

We Choose Virtues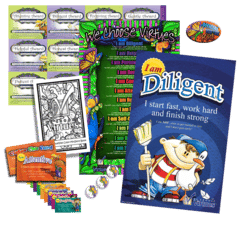 This Virtue Kid's Kit is set up for an INDIVIDUAL CHILD to display in their room to motivate and challenge themselves. We think that kids are going to LOVE it! There are lots of fun surprises packed into this Kit! Take a look at the LONG list of items included in this Kit (a $55.00 value!) to help you Simply Inspire Character that Lasts!
Winner will receive one Virtue Kid's Kit.