The Ultimate Guide for Using Technology in Homeschool Review & Giveaway
Have you ever wondered how to begin using technology in your homeschool? Or if you're already using technology in your homeschool, have you ever wondered how to make the best use of it or how to decide just what will work and what's not worth considering? In his book, The Ultimate Guide for Using Technology in Homeschool, Kevin Davis gives lots of practical information on these topics and more. If you're new to technology or new to homeschooling, this book will help you figure out everything from what kind of computer to buy to what sites you might want to check out to what kinds of things your children can do make homeschooling more fun and more beneficial!
NOTE: After you read these reviews, be sure to scroll all the way down to enter to win one of 5 print books we're giving away!
Heather and her family use some technology in their homeschool. In her review, Heather talks about the book and the suggestions in it that work for her family and that she plans on using in the future.
There isn't a day that goes by that I don't learn of a new homeschool resource. Sometimes I wish it was just all laid out for me in one place! It would save a lot of time. The Ultimate Guide for Using Technology in Homeschool may be that new homeschool resource that just might make things a little easier for you.
This book is written by a homeschooling dad named Kevin Davis, whose main goal is to help you utilize technology while homeschooling your children. Kevin has run a web development business for the last 15 years and dabbles in other Internet undertakings. Having this tech-savvy experience has assisted his homeschool in a positive way and broadened his family's horizons. You may or may not be aware of all that is out there. The technology is literally right at your fingertips. Kevin lays it out there for you in one easy-to-read, user-friendly book. This book will be helpful for those who do not feel comfortable in the technology-based world or need a little extra help fishing through all of their options.
This guide is written in an up-beat, light tone which keeps one (at least me) from growing bored. Kevin incorporates a good amount of humor, making this more than just another book to read. I was able to get through half of the book in one night, so it wasn't a time sucker either. Typically there is only so much technology talk that I can take in one sitting, but I found this book got the points across without getting too "tech-ish." I appreciate that. Even though I depend on my husband for most of our hardware stuff, having a simple resource available is needed for that "just in case a disaster happens" moment when the hubs is nowhere to be found.
Each of the 10 chapters is broken down into bite-size pieces. Also included in each chapter is a summary called, "Just Give Me the Facts." This portion makes the book a nice reference tool even after you've read it from cover to cover. Personally, I hate having to paw through a book looking for something specific. These summaries make life a lot easier.
In the introduction, Kevin states, "Technology is one of the most important and useful tools for today's homeschool family, but also one of the most overlooked."I totally agree. Technology in my own school is definitely a great aide for getting the job done, but I'm sure there are things that I've missed out on because I didn't know it was available.
Currently, my family has 2 iPad Airs (brand new), a MacBook Pro (finally purchased this after we went through too many windows laptops), 2 iPhones (our kids don't have cellphones), and a Kindle. We also utilize many online supplemental tools. What I loved about this book is that it included so many resources, some of which I never thought of. This can only make my life easier which is a huge plus, especially since I've got homeschool, work, life, and other random happenings to deal with.
The first chapter opens with one of the most important topics – computers. And more specifically, it discusses desktops vs. laptops. Kevin breaks down the pros and cons of each as well as different brands and prices. He makes some great points about why or why not a laptop would be your best option, like because of graphics or battery life. These are always things to consider. To give you a taste of the humor of the book, here is a quote on why you should get a desktop and not a laptop.
"[You should get a desktop if] You have a teenager who has lost all control of their arms and legs due to hormonal poisoning and would break a laptop within the first five minutes."
Both Kevin and I agree, laptops are actually the best tool though. The portability of a laptop just can't be beat with a desktop clunker. The next chapters talk about more specifics with the laptop like screen sizes, memory, and more of the technical terms to know when buying a product. These are great little tidbits of knowledge one should know. There is also the discussion of getting a Windows brand or a Mac. Davis lays out the pros and cons for both. For myself, Macs are the way to go. I've gone through too much junk with Windows – like losing ALL of my third child's first month of life pictures to a fried computer.
The meat of this book goes through many other different types, styles, and brands of devices from tablets to eReaders that may benefit your homeschool. The information on eReaders was super helpful. As already mentioned, I have a Kindle. I never even considered letting my 11-year-old read off of it until seeing Kevin's suggestions. Allowing my daughter to use the Kindle has created a much richer reading environment for her, especially since she has language issues. If she is at a loss as to what a word means, all she has to do is highlight the word, and a marvelous dictionary tells her what it means. There is no need to stop and dig out the dictionary to look up the word. Now don't get me wrong, using a dictionary needs to happen, but does it need to interfere with reading time? I don't think so. Another suggestion was using your library or another lending company to borrow books electronically. What a great idea! I haven't done this yet, but I plan on checking into it.
In the middle of the book, Kevin goes into great detail about connecting to the Internet – the actual mechanics of it. Honestly, I leave this stuff up to my husband, but I found the information that Kevin provides useful in case of that terrible day when the husband is out of town and something messes up with the Internet. Kevin also mentions things like your mobile connection. Did you know your smart phone has something called a "hotspot" which is a tool you can use as an internet connection for other devices? I haven't figured out how to use it yet, but it sounds awesome!
Also mentioned in The Ultimate Guide for Using Technology in Homeschool is Internet safety. Kevin provides many tips for keeping your kids safe on the web, which I appreciate. The Internet, especially a place like a search engine, can be a dangerous place.
This book wouldn't be complete without mentioning online learning and educational software. Kevin introduces the different formats and some of his favorites. The only thing that I probably would be hestitant about in this book is the use of social media–which Kevin speaks highly of. Kevin is a very tech-oriented person and sees the positives with social media. I on the other hand, (probably a lot to do with my husband's and my jobs), see what the negative potential is with social media. At this point, my opinions differ from this part of the book, but Kevin makes some good arguments. He also talks about texting as being a positive thing and gives a few pages of text abbreviations. This might be useful if you have a highschooler, but I don't plan on allowing my kids to have cell phones for a while.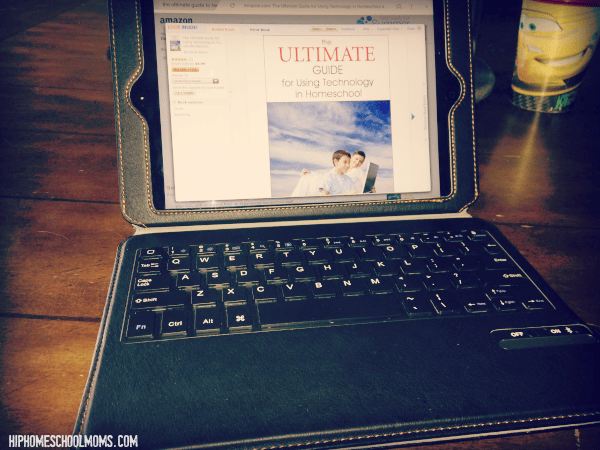 All in all, I think The Ultimate Guide for Using Technology in Homeschool would be a nice resource for those just entering into the homeschool life or for those that haven't used much technology in the home but want to. As for my family, we have found a balance with technology, and we are slowly utilizing more and more. I am still one who loves to have a real book in my hands but have grown to be thankful for what is available. Technology can be a very positive thing with balance.
Marcy and her family are very tech-savvy and use technology quite a bit in their homeschool. Marcy explains a little about how they use technology and why it will be beneficial for you to read this book and implement some of its suggestions–especially if you don't yet use much technology in your homeschool.
If your daughter is 5 years old, the iPad had not yet been released the day she was born. If your son is 8 years old, the iPhone was a mere thought in the brain of someone at Apple, and no one had yet read a book on a Kindle on the day he was born. As prevalent as devices such as the iPhone, iPad, and Kindle are today, it's hard to image that we had neither just a few short years ago. Suffice it to say that we are living in a technological world, and if you are waiting to introduce your homeschool students to this truth, then they may be in danger of falling behind their non-homeschooled (and homeschooled) peers. Can we even imagine what will be available to our 5-8-year-olds by the time they are entering college? Homeschool dad and author, Kevin B. Davis understands the importance of introducing our kids to technology. In his newly released book, The Ultimate Guide to Using Technology in Homeschool, he boldly makes this statement:
Technology is one of the most important and useful tools for today's homeschool family, but also one of the most overlooked.
On the back cover of his book, Davis asks these questions:
Do you struggle to connect with your kids through technology?
Do you have a student that gets bored with their studies?
Does the thought of buying a new computer give you anxiety?
Do you ever wish you could take your homeschool outside on a nice sunny day?
He then sets out to approach these topics in an easy-to-understand, conversational tone. It's simple to imagine you're sitting at your favorite coffee shop, sipping a mocha latte, while listening to him share how technology has enhanced his own family's homeschooling life. He is both passionate and knowledgeable on the topic, two characteristics that make reading the book both engaging and interesting. The ten chapters of the book will step anyone new to technology through not only the benefits of using technology in the homeschool, but also through purchasing a computer, understanding the difference between operating systems (Mac vs. Windows), web filtering to keep kids safe, tips on getting ebooks for free, using search engines, and electronic communication (including social networking). For homeschooling, he touches on online media options such as You Tube, Netflix, and Amazon, as well as alternative curriculum options.
In our family of 3, we have 4 computers, 2 iPads, 2 Kindles, an iPod Touch, and an iPhone. As a blogger, I have personally written articles about using technology in the homeschool, including lists of our favorite apps and online learning options. My son has participated in online writing classes, enjoyed a geography class where using Google Earth was the main attraction, studied with downloadable unit studies, taken a live, online cooking class, and learned math with many online and software-based programs. Suffice it to say, we are technology savvy in our home and homeschool. So I greatly appreciate the author's attempt to boil down this topic into one book of less than 200 pages. He has done a great job of introducing the concepts. While I found the information to be fairly basic, I think that's the point — to introduce those not as tech savvy to the idea that technology can revolutionize homeschooling. Like it has for us. And for his own family.
We are a family who is on the road a lot — a laptop, iPad, Kindle, and iPhone travel with us most everywhere we go. I remember the days of packing a huge box filled with text books, workbooks, pencils, crayons, paper, lapbooks, notebooks, scissors, glue, and library books every time we went on a business trip with Dad. It was cumbersome and inconvenient. If we were flying, it generally meant that we might manage to take math along, but little else. Now we are able to pare that down to a laptop and iPad and never feel that we've lacked in our homeschool studies while on the road. This is one of the great benefits of homeschool technology the author touts — hundreds of apps and perhaps thousands of books, literally at your fingertips, not to mention a plethora of online learning opportunities. All making it so very convenient to take your homeschool outdoors or on the road.
If you are a family who has not yet engaged in using technology in the homeschool, or if you have but still have many questions about how best to use it, I highly recommend you pick up a copy of The Ultimate Guide for Using Technology in Homeschool. I believe you will find it both useful and reassuring. At the very least, if you are a non-tech parent, you should read this book for the simple reason that it is imperative for you to keep up with your kids as much as possible. The fact is, whether or not you are interested in technology, your kids likely are, and they are probably 20 steps ahead of you at all times. I'm not sure we can ever get or stay a step ahead of them on this front, but if we can at least be on their heels, then we can keep them safer and be the kind of parent who remains in the middle of their lives. They are growing up in this age of technology, and like it or not, we must grow with them. This book can help you begin to do just that.
Taunya and her children often homeschool on the road, and the section about e-readers was especially interesting to her.
I remember my first interaction with a computer. I wrote a simple game code and it played back on the screen — from a cassette tape. As primitive as that was, I was hooked. I have always considered myself tech-savvy. In some ways, I've been a little too confident in my abilities to maneuver the world of technology. Kevin B. Davis is a homeschool dad. His new book, The Ultimate Guide for Using Technology in Homeschool, is a summary of knowledge he has acquired through homeschooling and his web businesses. My question was if this book was relevant for a techy-gal like myself. The answer: yes.
The first section of this book is dedicated to explaining the difference between a MAC, a PC, and the myriad of tablet options. Although the section about routers and networking was lengthy and very "techy," it was written in a friendly and easy-to-understand manner. I had no idea that one could install a filter at the router level. After experiencing an issue with an iPod, this was an answer to prayer! I now feel confident enough to tackle this task after reading this section of the book.
I do feel the section about utilizing e-readers in homeschooling was one of the best features. I especially liked that a picture of each reader was included giving the reader a visual comparison. Our family has recently embraced the use of our Kindle and iPad while traveling. This has made homeschooling on the road WAY easier and lighter on our load!
As a parent venturing into the world of teenagers I greatly appreciated Chapter 9. This chapter addresses texting, email, and guiding teens through the ever-changing world of social media. As a blogger I understand (to a degree) how social media works. What I do not understand is how today's teenagers interact using the tools that I use for business. The texting lingo was eye-opening. Having seen some of the "lingo" on my tween's cell phones, I now know that further restrictions are needed.
Each chapter is summarized at the end with "Just Give Me the Facts!" Although I found the summaries a little simplistic and redundant, they are a nice feature. I also liked the chosen font face and size for this book. It made the pages easier to read and skim. Parenting is tough work, and our social-driven society makes it harder. Kevin makes the task easier with simple explanations about the tools that dominate our world. Overall, this book is the ultimate resource for either the tech novice or expert homeschooling parent.
Sharra and her family use technology often in their homeschool, yet she still gained some useful information from this book. She recommends the book for both homeschooling and non-homeschooling families.
Are you a technologically-savvy family? Or do you find it difficult to keep up with rapidly emerging technologies? For the most part, I consider our family savvy at navigating emerging technologies. As a work-at-home mother homeschooling a busy crew of students, we use our laptops, iPad, iPad Mini, and iPhone on a daily basis. These devices keep us connected to our family, friends, greater homeschooling community, virtual offices, online homeschooling classes, educational resources, and even college courses.
Our online experiences of school, work, and social life blend seamlessly into our everyday living. I have often thought of the need for our middle school daughter to take an Introduction to Technology course just so she could understand the inner-workings of technology. She has grown up with emerging technologies but has not yet reached the stage of having her own smartphone or tablet. Although we have yet to enroll our younger daughter in a course on technology, I discovered the new book The Ultimate Guide for Using Technology in Homeschool to be exactly what we needed to provide guidance, tips, and instructions on the best use of technology in homeschooling. Kevin B. Davis, homeschool father and author, presents a basic overview of technology use for homeschooling families in his new book, The Ultimate Guide for Using Technology in Homeschool. Davis offers a balanced perspective of using technology in healthy and productive ways and points out dangerous pitfalls to avoid. The Ultimate Guide for Using Technology in Homeschool includes ten practical chapters on technology. The topics covered include:
Comparisons of Desktops and Laptops
Operating Systems
Mobile Tablets
LANS, WANS, and WIFI
Router Set-Up
Website Filters
Internet Safety
E-Books and E-Readers
Search Engines
Computer-Based Curriculum
E-Mail
Texting
Mobile Apps
Social Networking
Cyberbullying
Multimedia
YouTube
Netflix
Amazon
and more!
I greatly appreciate the suggestions outlined by Davis which provide secure boundaries for filters, Internet usage, online access, and overall safeguarding a family's technology experience. Davis presents the many benefits of technology for homeschooling and gives practical ideas for how to use technology safely with healthy boundaries. Despite our family's heavy reliance upon technology on a daily basis, we are constantly striving to ensure that our children have secure Internet usage with appropriate filters. Davis offers many practical steps in his book to set up appropriate boundaries and safeguards.
"It's important to stay engaged with what your kids are doing on them to keep them safe in the virtual world just as you do in the physical world." –Kevin B. Davis
Even though we are fairly adept with utilizing technology in our homeschooling, it is rare that we discuss the nuts-and-bolts at-length at home. For example, we have home networking and high-speed Internet streaming throughout our home. For the most part, it is my husband's realm to make sure all of this works, and I seldom consider how it all really functions. If something presents a problem, I usually have to wait until he is home from work to find a solution. Previously, I have completely relied on my husband to make sure our home networking and routers were all set up properly. Davis provides such easy-to-read instructions in his book that I gained confidence in understanding our home networking systems.
Even if you are technologically-savvy, you can glean many important things from The Ultimate Guide for Using Technology in Homeschool. I would recommend this book for both homeschooling and non-homeschooling families. This book could serve as an introductory course for students to have a broad overview of technology usage in homeschooling. It is a great gift for friends who may be looking at various technology devices and resources to incorporate in their homeschooling.
Publisher description: Learn how to use technology to improve your homeschool, gain more freedom, and connect better with your kids with inside tips from an experienced homeschool dad! Do you struggle to connect with your kids through technology? Do you have a student that gets bored with their studies? Does the thought of buying a new computer give you anxiety? Do you ever wish you could take your homeschool outside on a nice sunny day? The Ultimate Guide for Using Technology in Homeschool is filled with all the information you need to take your homeschool to the next level by using technology.
• Discover new ways to use multimedia to overcome learning or subject challenges.
• Find new freedom in your homeschool family through using technology the right way.
• Learn ways to keep your kids safer online.
• Connect with your kids and gain insight into their world through social media.
• Learn how to choose the right computer and operating system.
• Discover how to setup a home or mobile network. This book will help you understand and use technology better, and the concepts will benefit homeschoolers and non-homeschoolers alike.
What kind of technology are you using in your home? If you don't use technology in your homeschool, what are you interested in learning to use with your student(s)?
Buy it:
If you'd like to buy the book, just go to Amazon. Right now, Amazon Prime members can get the ebook for free! Everyone else can buy the ebook for $4.99. Or if you'd rather have the book in paperback, it's currently $11.92 for Prime members and $14.99 for others.
Win it:
For your chance to win one of 5 copies of the book, just enter the Rafflecopter below.
[ts_fab authorid="353″ tabs="bio,facebook,twitter,googleplus,custom,latest_posts"]
[ts_fab authorid="352″ tabs="bio,fcebook,twitter,googleplus,custom,latest_posts"]
[ts_fab authorid="347″ tabs="bio,facebook,twitter,googleplus,custom,latest_posts"]