Public-School-at-Home Failed You. Try Homeschooling!
Public-school-at-home failed you. Try homeschooling!
Are you considering homeschooling for the upcoming school year? Why is homeschooling suddenly such a popular idea anyway? Maybe you've tried public-school-at-home and weren't at all happy with the daily stress or the results. (To read our article, Public-School-at-Home Is Not Homeschooling, click this link.) Maybe you've seen the "new normal" regulations that are being put in place for schools for this fall, and you aren't happy with them. Or maybe you were already considering homeschooling.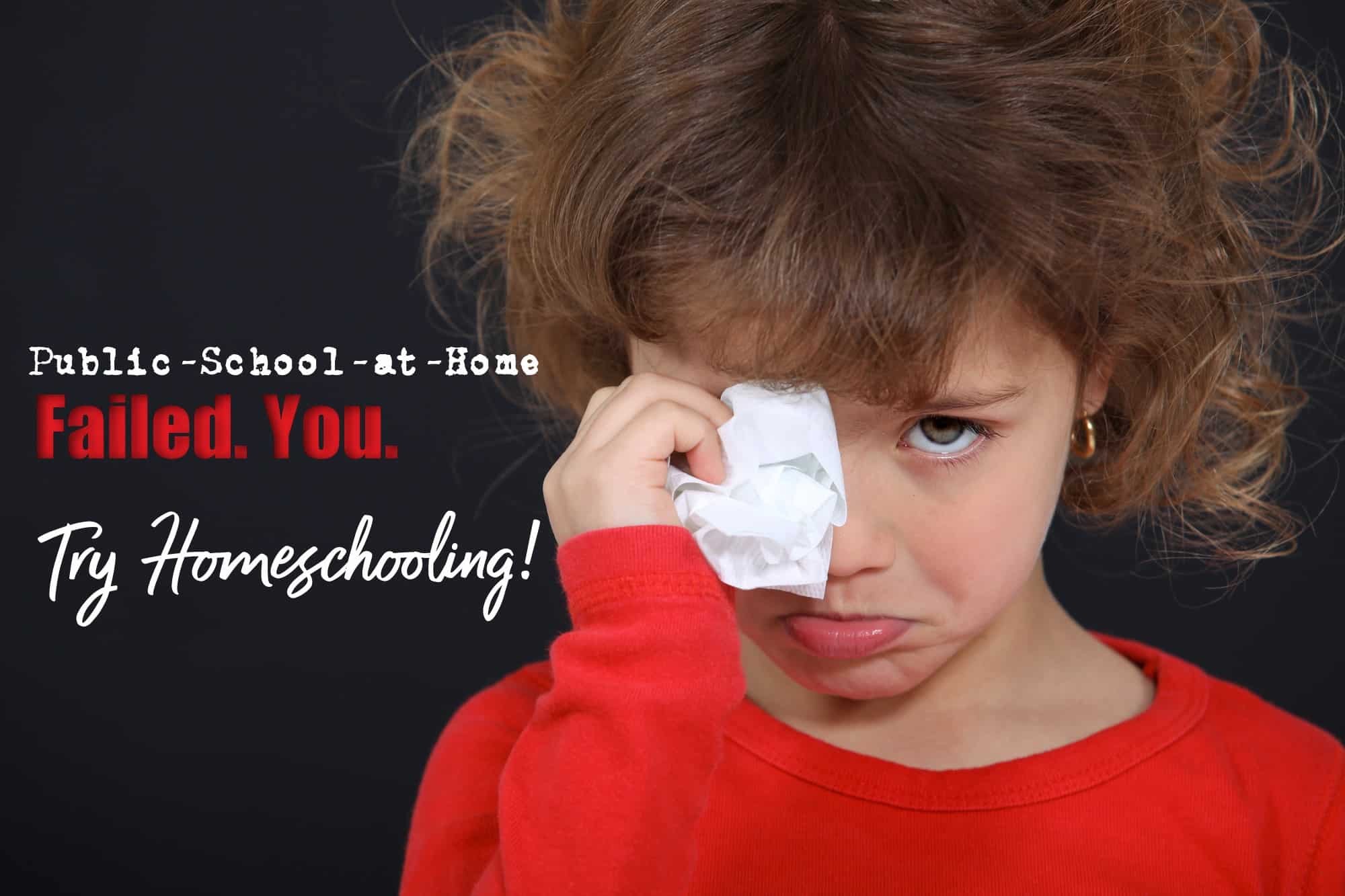 If you don't like the new public school regulations, if public-school-at-home failed you, or if you were already considering homeschooling, now is the perfect time to try homeschooling! It may be just what you're looking for. Whether you want to keep learning happening over the summer and give homeschooling a try or whether you already homeschool and are looking for fun educational ideas for the summer, we would love to make some suggestions to help you! Because you can do it!! (Take a look at this article, Am I Qualified to Homeschool?, if you're worried that you aren't qualified to homeschool your kids or that you won't do a good enough job.)
NOTE: If you want information on how to start homeschooling, click HERE to read our article, How to Homeschool: 5 Simple Steps.
Isn't homeschooling just as stressful and chaotic as public-school-at-home?
The truth is that homeschooling can be much more successful and much less stressful than public-school-at-home! Why? There are lots of reasons! I'll share a few.
Homeschooling gives you freedom.
Homeschooling allows you the freedom to:
set your own schedule
choose your own curriculum
work with your children according to their individual needs, strengths, and weaknesses
take breaks when they're needed
have fun while doing school work
work with multiple children at the same time
incorporate educational games and activities
and more!
Homeschooling allows you to skip the busywork and do things to promote real learning.
There usually isn't a reason for a child to do lots and lots of busywork. In schools, busywork is often used because children who are bored are children who find ways to get into trouble! But remember, busywork is material that tends to take a lot of your child's focus, attention, and time yet it doesn't really have any educational value.
In our homeschools, though, busywork isn't needed or wanted. Instead, we focus on mastery and have our children do work that is useful and productive. All children are at their best academically when they are interested in the content. They tend to be more engaged and actually remember what they learn when they're exploring the world around them. So many students are visual and tactile learners, so getting on the road and going on field trips and participating in hands-on activities are some of the best ways for our children to experience and remember what they're learning about. These hands-on experiences build on what they have been learning, give them a better and deeper understanding of topics, and expose them to the world around them.
Homeschooling allows you to develop relationships with your children and learn together.
One of the nicest things about homeschooling is the ability to really get to know your children. Not only do homeschooling parents typically have more time to get to know our children, but we also have the ability to understand better our children's likes and dislikes and academic strengths and weaknesses. These are the things that come from simply spending more time together, and homeschooling gives us that ability!
There are three things that will help you homeschool successfully!
First, you need lots of great books.
Click this link to read an article explaining how books are beneficial to homeschoolers. The truth is that books are great for everybody! But for homeschoolers, books are a fantastic resource that are necessary for teaching and learning to occur. There are many reasons to make use of great literature, nature guides, picture books, books of poetry, and even instruction manuals, cookbooks, and other kinds of books we don't typically think about using as part of our homeschools.
Second, you need to give your children plenty of hands-on experiences.
Click this link to read our article with more information about how to include hands-on experiences in your homeschool. It's really not as hard as you might think! There are many ways to travel, create, and work as part of your homeschool. You'll find ideas and inspiration for ways to make your homeschool hands-on as a way of making homeschooling more fun but also of making it more real-life and more memorable. After all, we all tend to learn more when we're enjoying what we're doing!
Third, you need to make use of technology.
Click this link to go to our article about making use of technology in your homeschool. In our article, you'll find information about making use of online curriculum and technology to supplement your homeschool. Or you may choose to use a completely online curriculum. You'll learn more about using technology to learn more about the world and to virtually go places you may never be able to otherwise go. You'll find information about using technology for planning travel, learning more about plants and animals in your community, and more!