Free Curriculum Planning Resource for 2014 – 2015!
Have you seen all the pictures of big mailboxes filled with curriculum for the coming year? I know I have! They seem to be appearing more frequently every day on Facebook and Instagram. Many have their curriculum planned and set for the coming year. Others are like me and are still in the planning phase, and there are still more who have yet to begin at all!
As we wind down for the year, I am acutely aware of the curriculum planning task ahead. We aren't committed to using one publisher or curriculum, so I often spend this time checking out what others are using, reading reviews, and pondering what the coming year will bring for us. There are some basic questions I ask myself when curriculum planning for the next year.
Questions I Ask While Curriculum Planning:
Have the needs of any of my children changed?
If so, how do I need to change to meet those needs?
Were we happy with everything that we used this year?
What worked well for us that we want to continue to use?
Was the mount of work required too much or too little?
Do we need to repeat material or finish something from the current year?
Do I have things I can reuse?
How much money do I have to spend?
As I ask myself these questions, and as I go about seeing what everyone else has arriving in their boxes, I slowly begin to formulate my curriculum plan. I often start with a hand written list that gets scribbled on, marked off, added to, etc. as my thought process moves along. While my list is sort of hectic looking and messy, it contains some key components in the curriculum planning process.
Things to Include in a Curriculum Planning Sheet:
List of subjects to be covered
Possible titles/resources to be used for each subject
Where to find the above titles/resources
Cost of each title/resource
A purchase box to check when curriculum has been purchased for that subject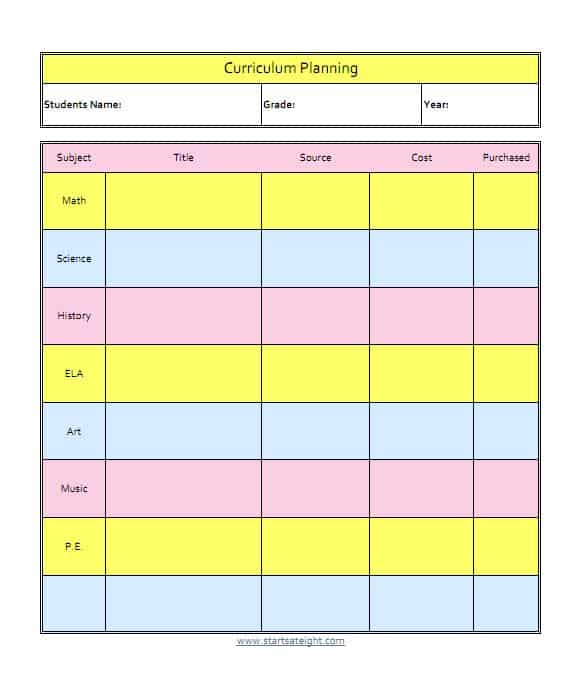 I have created a Curriculum Planning Printable with spaces for the above criteria. I hope this Curriculum Planning Printable will help you organize your thoughts and feel confident about the choices you've made.
Have you done your curriculum planning for 2014 – 2015? What helps you to get prepared for the coming year?