A Comprehensive Book List for Kids Who Love Percy Jackson
Do you have a child who loves the Percy Jackson books or other books in the fantasy genre? There are lots of moms in our audience whose children loved these books and who are looking for other similar novels for them to enjoy. I haven't read this particular series, but, when my children were growing up (I now have two adults and a 17-year-old), I did enjoy reading aloud to them or reading a book at the same time so we could enjoy talking about what we were reading. In fact, I read aloud to my children until they were old enough that they had jobs and so many outside responsibilities that they just weren't home enough to continue the tradition!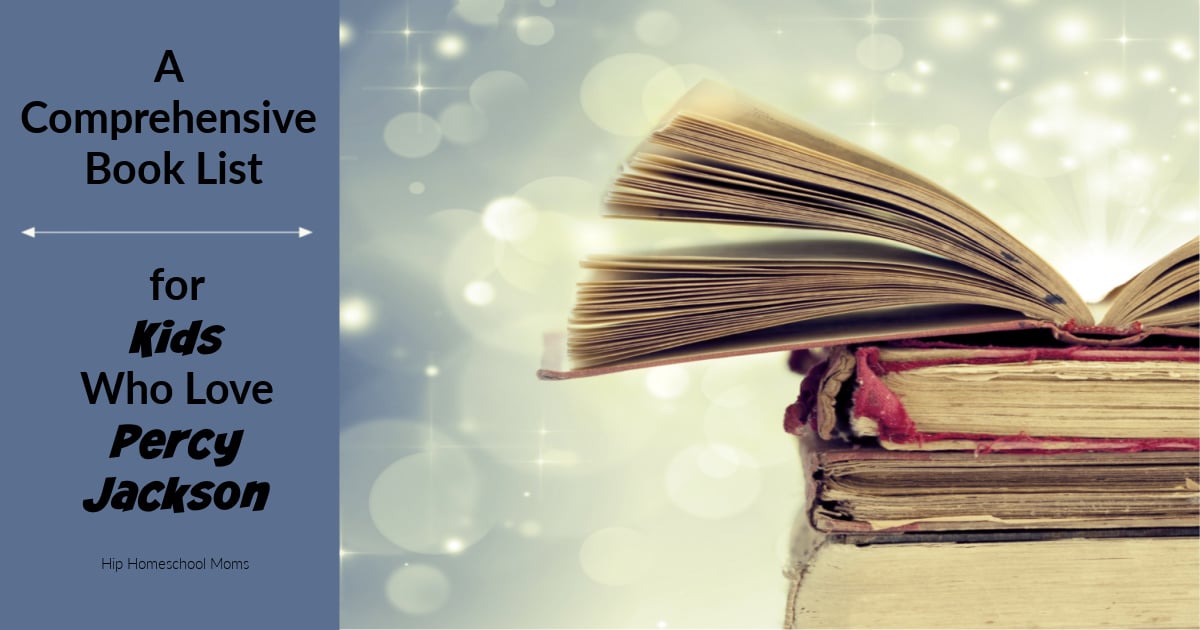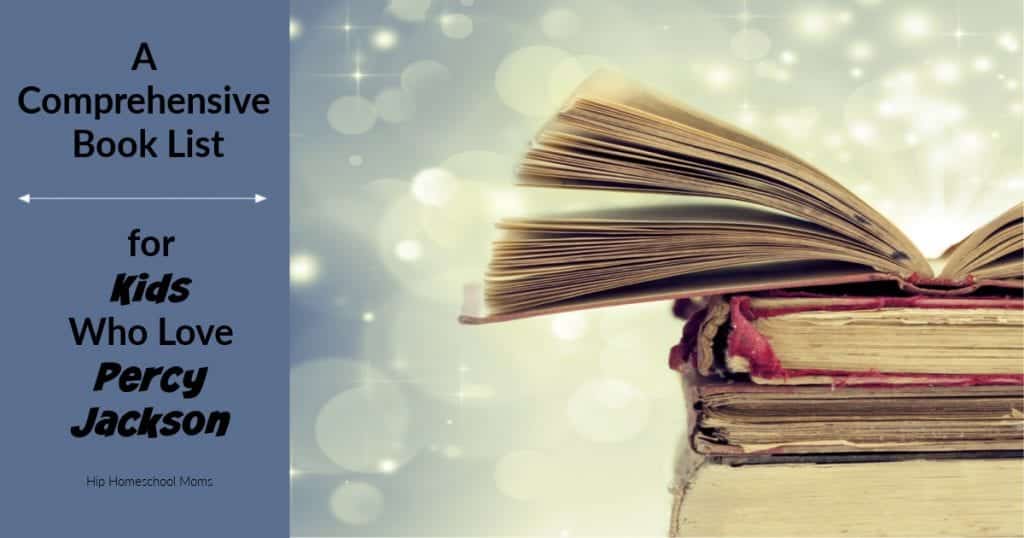 Today we want to share some books that your kids might love if they're Percy Jackson fans (or even if they're not)!
NOTE: We strongly recommend that you read the information on Amazon (or on sites that reviews books) about each book or book set before buying. Each family has its own standards for the books that are allowed, and we want you to be happy with the books you choose for your family!
This fantasy series, aimed at children ages 12 – adult, is about a group of young teens who are seeking out their destinies. Will, the main character, is a small, wiry young man who isn't fit for Battle School. Instead, he finds adventure in his apprenticeship to a ranger. This results in a series of unexpected adventures. The fictional world of this series is loosely based on Medieval Times.
This series, also by author John Flanagan, is about the adventures of 10 boys in a ship in Skandia, which is in the north of Viking country. They live and work together in the ship to raid the ocean towns around the continent and embark on a series of adventures. This series would be great for anyone who is interested in Vikings or Norse culture!
This series is about a boy named Jack who possesses a rare genetic marker that gives him an exceptionally sharp mind but is also life-threatening. Along with his friends, including a girl who is a tech genius and a boy who has superhuman strength, Jack must discover the ancient power that's hidden on the island to which Jack is taken by shady Professor Bhegdad. This series is based on Greek Mythology set around the ancient Greece seven wonders.
This New York Times Bestselling fantasy series is ideal for older kids (many of the reviews say they are most suited for teens). These are action-packed and full of fantasy. According to numerous reader reviews, many children found it ridiculously hard to put stop reading them, so this could potentially be a great series to engage an unwilling reader who has shown an interest in fantasy.
This dystopian series will appeal to fans of The Giver and The Hunger Games books and movies. The premise is that all young adults are recruited as warriors on November 1st of their 17th year. The main character, Kress, undergoes personal challenges and confronts growing uncertainty about her government as the story unfolds.
This fantasy series is about 10 year-old-adventurers, each with his or her own powerful spirit animal. Together, the children and their spirit animals defeat enemies and save their world of Erdas. While many of the books on this list are better suited to middle schoolers or teens, this series is very popular with a slightly younger crowd, especially among kids who love animals. This series is recommended for age 8 and up.
This humorous and action-packed adventure story tackles the idea of censorship and propaganda as the main character must take down evil librarians who seek to fill the world with lies. This series is recommended for pre-teens and teens and is written by the #1 New York Times bestselling author, Brandon Sanderson.
This original novel is reminiscent of a fairy tale. It tells the adventures of a blind 10-year-old thief, Peter, who steals three magical pairs of eyes. The magical eyes take him on various adventures and launch his personal journey of self-discovery. This would be a great novel for all ages or to read together as a family!
This book is the companion novel to Peter Nimble and His Fantastic Eyes. The story follows a girl named Sophie Quire who repairs books and has always longed for adventure. When she meets Peter Nimble, she sure finds it! These two books could be read independently but will be enjoyed even more as a pair!
This clever series was the one of the first to emerge during the early 2000s revival of YA fantasy genre, and it puts an original spin on things by bringing in factors like high- crime, faerie technology, and a 12 year old criminal mastermind. If your child or teen likes fantasy, adventure and wit, be sure to check out this series!
This fanciful series follows a young boy, Cole, who is accidentally transported to the Five Kingdoms, lands that exist in a mysterious realm between dreaming and awake. This series is recommended for ages as young as 3rd grade level, but it also enjoyable for older children/teens (and even parents!). This one would be a great family read aloud.
Like the Percy Jackson series, this science fiction YA series also tackles the theme of learning to embrace the things that make you different. The main character deals with Tourette's Syndrome as well as the power to manipulate electricity! This would be a great series for kids who are super hero fans.
This popular four-part fantasy series is sure to win over fans of underdog heroes, epic quests, and dragons! Bonus: this series was written by a homeschooler, and he wrote the first novel when he was only 15 years old, so The Inheritance Cycle would also be a great book series to inspire your child if he/she is an aspiring author. It's appropriate for all ages but will probably appeal most to children 10 and up.
This bestselling series is full of exciting adventures that will keep kids (age 10 and up) turning the pages. The 10-book series follows young Bobby Pendragon as he discovers that he has the ability to travel through time and space!
You and your kids are probably already familiar with the incredibly popular Hunger Games books and movies (and if not, that's another series that teens, in particular, will enjoy). However, you may not know that Suzanne Collins (author of The Hunger Games) also wrote another well-loved series that's more suited to kids of all ages: The Underland Chronicles. Kids and teens will both be able to enjoy Collin's exciting, action-packed storytelling and incredible world-building in this story about a boy who discovers a hidden world underneath New York City.
This award-winning fantasy series is an absolute classic. In fact, Susan Cooper was one of the first authors to write a high-fantasy series specifically with older kids and teens in mind! These beautifully-written books weave in real Celtic mythology and folklore while staying accessible and engaging for kids and teens. This series is probably most suited to kids who are ages 10 and up.
The Chronicles of Prydain is another fantasy series that's been delighting kids and teens for decades. This classic tale follows an (assistant) pig keeper as he fulfills his quest of becoming a true hero. There are a lot of iconic fantasy characters in this series that influenced fantasy works that came afterwards: an unlikely hero, a spunky princess, a wise bard and – of course- a dark villain. You might be surprised to realize that you know something of this series already– one of the books was made into an animated Disney film, The Black Cauldron.
Did your older child/teen love the magical components of the Percy Jackson series? Is he or she a Harry Potter fan? If so, this super magical and intriguing series about a young wizard's journey would be a great fit on his or her to-read list!
If your child or teen loves dragon lore, this D & D-inspired series is sure to get him or her excited about reading! This high-fantasy series contains four books, each one inspired by a season of the year.
This fun, spooky, supernatural mystery series will entertain older kids and teens (recommended for ages 12 and up). This 5 book series takes place in a world plagued with dangerous ghosts. It's up to detectives like Lockwood, Lucy, and George (the main characters) to solve mysteries, defeat evil, and occasionally (accidentally) get themselves into trouble.
The premise of this series is a book-lover's dream: what would happen if you could bring whatever (or whomever) you wanted out of your favorite stories? This adventurous and whimsical trilogy by Cornelia Funke tackles that very question. This series is appropriate for most ages (but probably best suited to ages 9 and up). If your child/teen reads and enjoys it, there is also a movie version of the first book that he or she could watch and compare to the novel!
This best-selling series is a fantasy adventure series with a surprising twist: it's entirely centered around cats. Children and teens who love animals, nature, and fantasy will be drawn into this fascinating series with an interesting premise and skillful writing. Appropriate for kids and teens (and, according to the reviews, many adults will enjoy this series as well!)
This dark, adventurous and mysterious series is about a boy who goes to a island where he meets children who are different, talented, and – well- peculiar. This series will appeal to teens who enjoy Tim Burton films and X-Men adventures. However, some of the content can be quite spooky, so parents may want to check it out beforehand. There's also a movie based on the first book!
J.R.R. Tolkien created the ultimate fantasy world with The Hobbit and The Lord of the Rings trilogy! If you have older children or teens who love fantasy and are ready for a challenge, it simply does not get more epic than this amazing series. This would be a great series to read aloud as a family and (after you read the books) have a movie marathon, too!
Last on our list of books for Percy Jackson fans is The Kane Chronicles, another series by the Rick Riordan (the author of the Percy Jackson series). The Kane Chronicles , like The Percy Jackson series, is centered around ancient mythology. However, this series focuses on ancient Egypt and its mysteries. Children and teens will love these adventurous stories with realistic characters with whom they can relate!
We hope that this comprehensive list gives you some ideas for your child or teen's next reading addiction! Has your child or teen read and enjoyed any of the series on this list? Have you? What other books or series would your family add to the list?
Happy reading!