I grew up deep in homeschooling territory. My father was a lawyer for Home School Legal Defense Association, and my mother was a nationally-recognized speaker at homeschool conferences who also designed a humanities curriculum. Not only was I homeschooled all the way through high school (with a few private school classes on the side), but I went to Patrick Henry College. The student body was composed of about 95% homeschoolers at that time. During my teen and college years, I often accompanied one or both of my parents on trips around the country to homeschool conferences.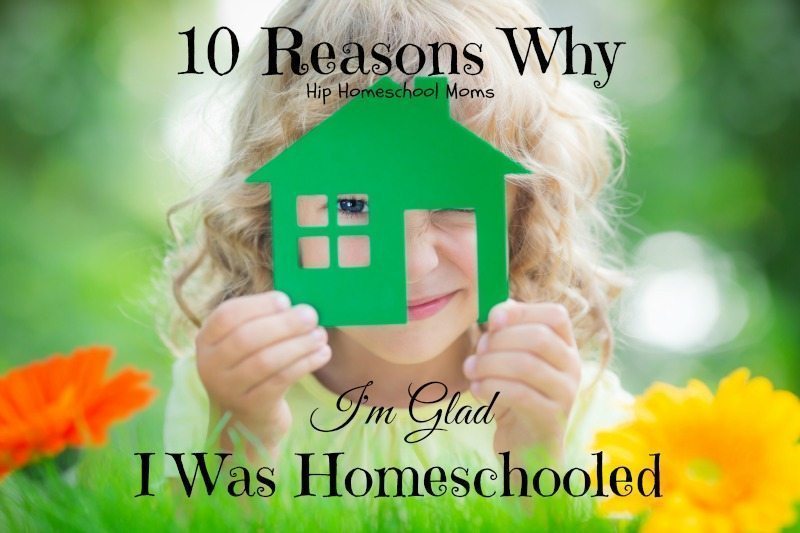 When I graduated with a B.A. in Literature, I joined the family business because I wanted to serve homeschoolers, and I've been doing that for ten wonderful years. I've been a curriculum developer, an author, an educational advisor, a teacher, and a teacher of teachers. I still don't know everything there is to know about homeschooling, and I don't think I ever will. But I know that homeschool moms are my personal heroes, and I know that many of you are slogging through your fall semester right now… maybe you could use a little encouragement. So I wanted to tell you about my top ten reasons why I'm glad I was homeschooled!
1. Being homeschooled taught me to own my work.
Beginning around age 11 or 12, my mother made sure I knew that my work was my responsibility. She also made sure I had the joys of ownership, like getting to pick topics that interested me and go about my work in the way that made sense to me (within certain guidelines).
2. Being homeschooled taught me time management.
Mom made sure I learned time management for myself in high school so that by the time I got to college I knew how to organize my schedule and get everything done on time.
3. Being homeschooled taught me that serving is meaningful and joyful.
Because I was home and part of their lives, I got to see how much my parents loved to serve each other, their children, and people in our community. As a young adult, serving somebody somewhere became a default for me. I didn't realize how many doors and opportunities it would also open, but that's the way God is sometimes, isn't He? He tells you "love one another the way I love you"… and lets you discover that it's actually the best thing ever!
4. Being homeschooled taught me that pretty much every homeschool mom in the world worries about being a good enough parent-teacher.
From my teenage years up, I saw mothers at conferences talking to my mother about their fears for their children. I saw my mother encouraging them, over and over, to trust God as the person who can and will do what's best for all who love Him. We don't have to be afraid. That lesson sunk in and stuck with me through many of my own struggles in life.
5. Being homeschooled taught me about fairness and about mercy.
My mother was fair; she never showed partiality in handing out rewards, punishments, grades, or consequences. However, she also chose moments to show mercy (undeserved favor) so that we could see what it really looks like. I'll never forget that.
6. Being homeschooled taught me about human dignity.
My parents loved to treat other people with dignity, no matter their background or worldview. We sometimes had people in difficult situations living in our home, and I saw my parents laying down their lives to care for those people. They always treated each person, and especially each of their children, with dignity as a valuable human being. That's another thing that I've carried with me into the adult world and my own friendships with people who are very different. We may not agree about God or almost any moral issue, but I can still treat each person with dignity, because I believe that each person is made in God's image and has value.
7. Being homeschooled made me a lifelong learner.
It wasn't any one class or book—it was just being around people like my parents, who are endlessly curious about the world and the people in it.
8. Being homeschooled gave me time to really think about things.
My mother always says that children need time not just to absorb information, but time to think about that information. She encouraged us to "go look far!" or to go for long walks or just to sit pondering for awhile. She gave us blank journals to fill with whatever we wanted. She made sure we weren't too busy to reflect.
9. Being homeschooled showed me that education isn't really about grades or achievements.
My parents are both graduates of Dartmouth, and my father also has a degree from Harvard. However, neither of them ever pressured us to make high grades or to go to ivy league schools. Rather, they invited us to be fascinated by people, by ideas, by the world around us, and by God. I've met many, many people my own age who are always reaching for the next achievement. I feel sorry for them because it's so hard, and it doesn't satisfy them. I care about doing my best, but it's because I want to do well for God's sake, not for my own. I find that deeply satisfying.
10. This is the surprising one. Being homeschooled (and meeting LOTS of homeschoolers) showed me that getting a great education or becoming a person of character isn't really about being homeschooled.
I think that really the kind of education we are all looking for comes from having people in your life, like my parents, who are curious and generous and loving and hard-working, and they make these things look attractive… and invite you to join them in that. Parents like this are everywhere, regardless of what school their child attends.
Thanks for being parents like that, or wanting to be. I see your efforts to love around me every day, and I love you for them.
EXTRA: If you'd like to listen to a webinar by Tapestry University on choosing the right curriculum for your family, just click THIS LINK to listen to the recorded webinar.
ALSO: Be sure to read this book review of Love the Journey–a book written by Christina's mom, Marcia Somerville.

Christina Somerville holds a Bachelor of Arts in Literature. For the last ten years, she has specialized in classical education and is the author of a high school Literature program for Tapestry of Grace. Christina has also authored "Poetics," an independent textbook on the history of literature and on systematic literary analysis. She has taught for both co-ops and an online school and provides teacher training in her area of expertise for homeschoolers. You can read more from Christy at Tapestry of Grace.