Worried About Finishing the School Year?
Worried About Finishing the School Year?
The holidays are long gone, and your homeschool year may be drawing to a close in the next few weeks. Are you excited? Or are you tired or discouraged? Are you wondering if you're jeopardizing your child's future by not sending him or her to public or private school? Are you worried about finishing (or not finishing) the school year?
NOTE: I republish this article almost every year. Why? Because every year at about this time, many moms start to worry about finishing the school year. They start to worry that they aren't going to have time to get through everything they need to finish by the end of May (or whatever other date they've set to finish the school year). I truly hope this is an encouragement to you as you finish the school year and get ready to take a break over the summer! And for those who homeschool year round, I hope you find some encouragement too!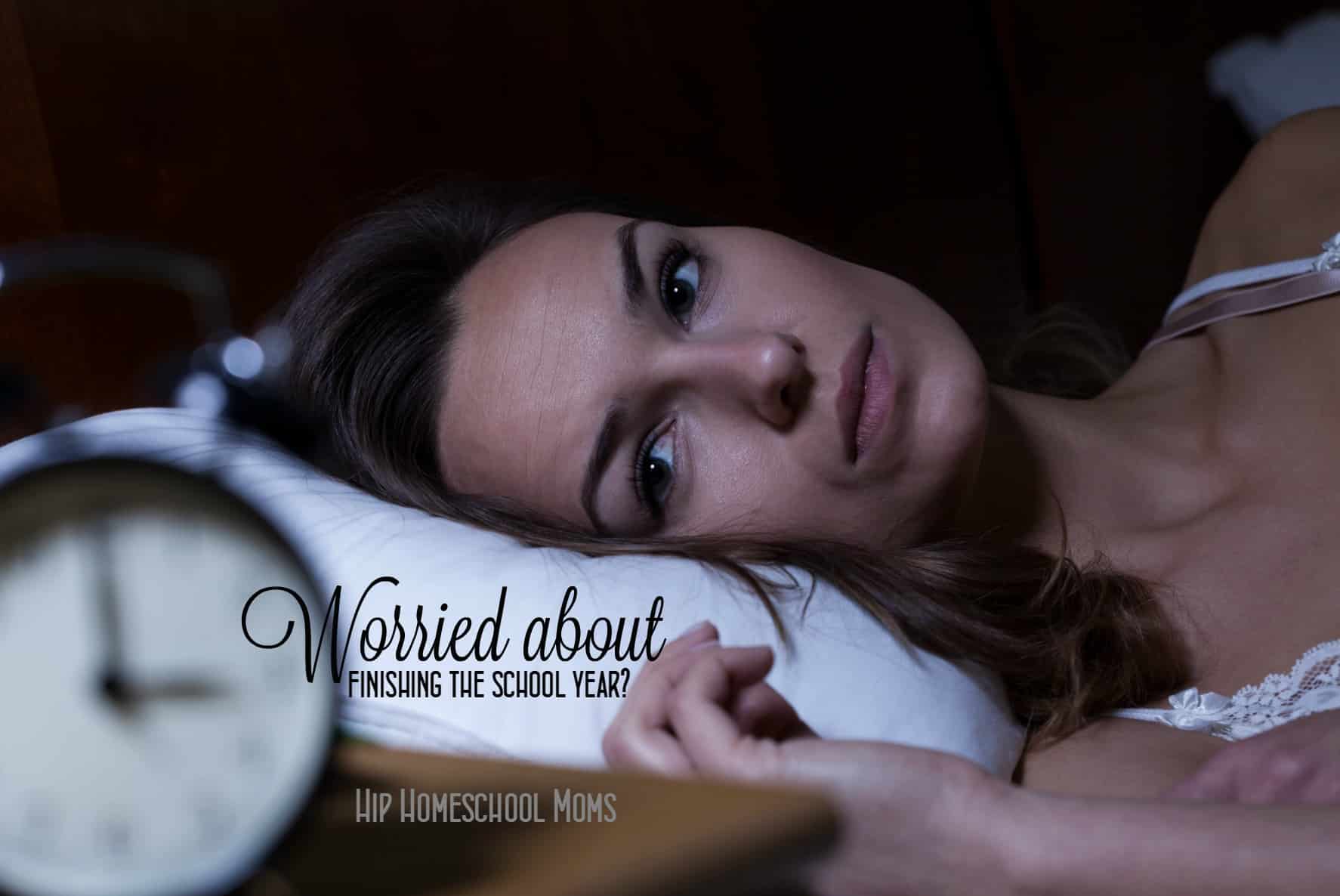 So often we homeschooling moms put tremendous pressure on ourselves to make sure our students–our children–learn everything they need to know. We certainly don't want to leave any gaps in their education, right?
I'm here to tell you to relax! Don't let homeschooling become a source of stress and pressure. (I know that's easier said that done. I have to remind myself of this often!!) And if it already causes you stress, now is the time to begin changing your thinking!
You may be wondering how I can suggest such a thing. After all, we're talking about the futures of our children! Yes, we certainly are. And guess what? God has it under control! Lately I've been reminding myself that it is an honor and a privilege to homeschool my children. I truly believe that this is what God called me to do, and I'm happy (ok…most of the time I'm happy) to do it! And if this is what He wants for my children, I must also believe that He can take care of the outcome.
Have you heard the phrase, "God doesn't call the equipped. He equips the called"? It's true! No matter how hard we work, we will never be good enough, smart enough, prepared enough, or patient enough to homeschool. But the good news is that we aren't even supposed to be all of those things! We're just supposed to be willing. God can (and will) handle the rest.
So if you're dreading the rest of the school year or lamenting the mistakes you've made earlier in the year, take heart! Remember that God loves your children even more than you do; He gave them to you because He knew that you would be the best mom for the job.
Are you leaving gaps in your children's education? Yes! Nobody can teach or learn everything there is to know about everything. Do you mess up sometimes? Absolutely! We all do. But if you will simply remind yourself that you're doing the job God wants you to do and all you need to do is the best you can do, things will turn out just right. God wants us to lean on Him. If we could do things on our own, we wouldn't need Him, right? So it's absolutely perfectly fine that you can't do it yourself. You're not supposed to be able to.
I hope you will finish off the school year depending on God to lead you and knowing that He will do just that. And besides being good for you, you'll be setting a wonderful example for your children!
So on the practical side, what should you do if you don't think you have time to "get it all done" before the end of the school year? Here are a few suggestions to consider:
1. Go through the remainder of your curriculum and pick out what's most important.
Make a plan to teach only those concepts/lessons. It's ok if you don't teach every single lesson in every single subject. Honest. In fact, the majority of what we learn, we forget. The most important thing is that you expose your children to the information and ideas that you feel are the most important and that you teach your children how to find important information when they need it.
2. Finish your math and English grammar.
Because the material for next year will probably build on what your children have learned this year, you might want to try to finish at least those two subjects–even if you have to do it over the summer.
3. Or pick your curriculum back up at the beginning of your next school year.
If you just can't stand the idea of leaving some lessons untaught (or if you just can't finish your math or English grammar by the end of the school year), choose a stopping point for each subject and then pick back up where you left off next school year.
4. Get as far as you can by the end of the school year, and then make a plan to teach the rest over the summer.
Choose one lesson or concept to teach each week over the summer. By doing this, you can finish the curriculum in a more relaxed way without the pressure of cramming everything in before the traditional end of the school year.
5. Adopt a year-round homeschool approach.
By doing this, you can give yourself time off when you need it here and there, but you will still have more time to finish your curriculum each year. If you have a student who needs more time to learn and who doesn't do well when rushed, this may be perfect for you! Or if you have a student who doesn't retain what he learns over the summer, this could be your answer. This way of homeschooling also eliminates the need to spend the first few weeks of the new school year reviewing last year's lessons.
In fact, if you're interested in a great homeschool calendar/planner, take a look at this post! It may help you with your plans.
I pray that each person who reads this post will have a blessed and happy rest of the school year and that you will allow God to work through you to give you the best school year you've ever had! Blessings to you and yours this year!
Do you try to finish your entire curriculum each year? Why or why not? If you do, what are your "secrets" for getting it all done?
You May Also Like
10 Things Homeschool Moms Should Stop Worrying About