DIY Tree Tags with Free PDF Printable
Christmas is almost here! If you are like me, you still have quite a bit of wrapping to do. One thing that makes presents so much more fun to give (and receive) are those extra special details and thoughtfulness put into the presentation of the gift: crisp folded corners, ribbons, bows and pretty gift tags. Today's tutorial is going to show how to make your own, beautiful Tree Gift Tags that you can use when wrapping up those last minute gifts this year! They aren't hard to make (especially with the included free PDF printable), and with the help of your little elves (or children) you will definitely be able to help you prepare as many of these cute Tree Tags as you need. This is a practical and fun Christmas craft that gets some of the to-dos on your list (like wrapping presents) checked off, too!
What You'll Need:
How to Make It:
First, download and print the free PDF template for these tags. Then you can cut out the tag templates and trace the patterns onto the cardstock in your color of choice. Use a hole puncher to create the hole in the top of your tag. Next, take a double sided 3D tape square and place it in the middle of your cardstock tag.
Next, trace the tree template onto the patterned paper of your choice. If you don't have patterned/scrapbook paper, you can use a different (contrasting) color of cardstock. This creates a nice effect, too! I personally love the patterned paper because it gives these tags kind of a vintag/Victorian look. Attach the trees that you cut out to the top of the double sided, 3D tape.
Next, cut off a small piece of ribbon and pinch it together in the middle.
Slip the knot you made through the hole in the top of the gift tag and pull it about halfway through. You will have a loop sticking out of the back of your tag. Then take the ends on the other side of the tag and bring them through the loop on the other side, as shown below. This creates a tag design that will be easy to tape onto your wrapped gifts.
And that's all there is to it! There are so many different designs you can make for these tags by choosing different types of patterned paper and ribbons. We hope that this cute and practical Tree Tag craft helps make your Christmas preparations even more jolly than they already are!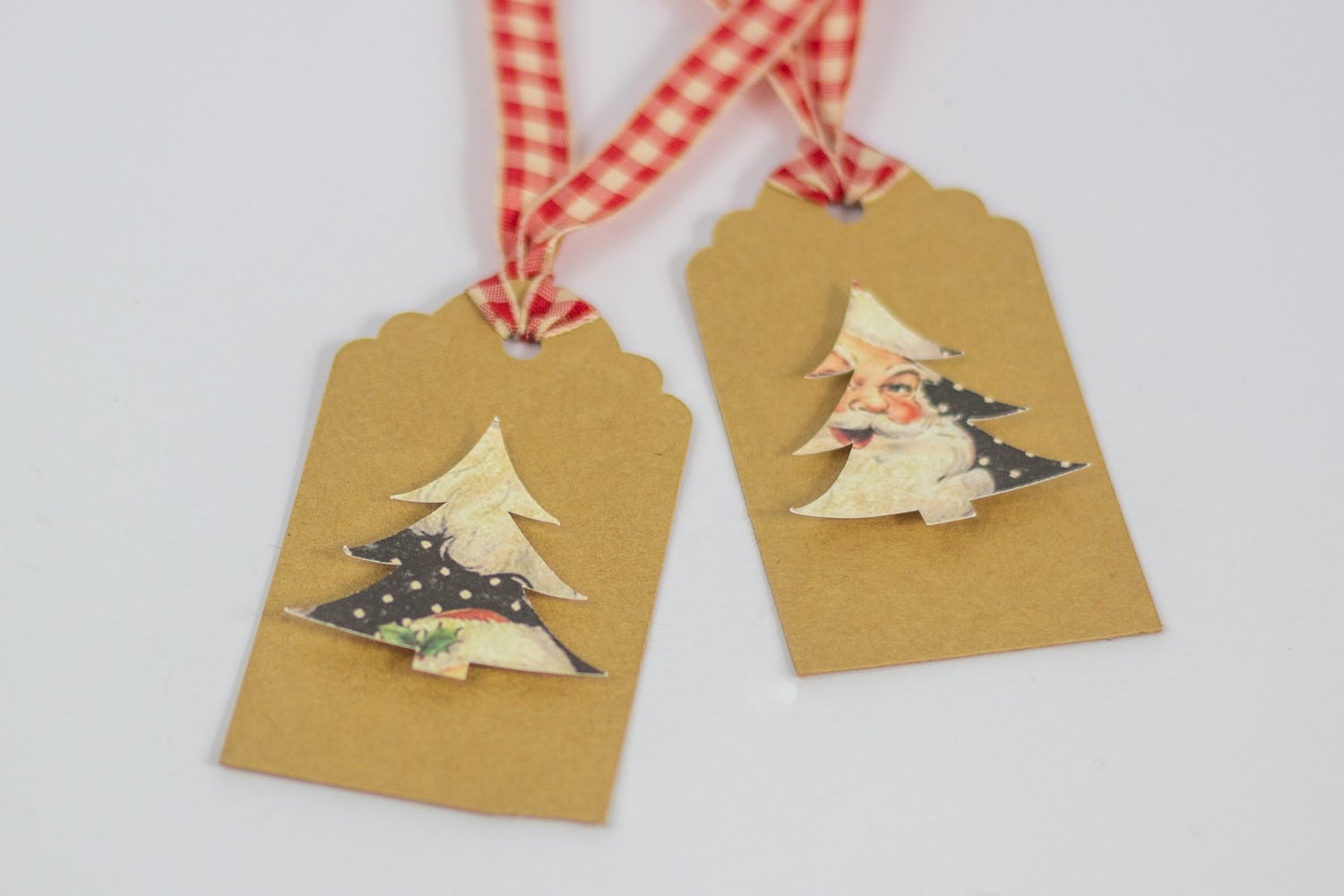 Have you ever made your own gift tags at Christmastime? Let us know if you use this fun craft to make your gift wrapping even more fun and special this year!