Do You Need to Teach Your Child to Study?
So you've started a new course or subject for a brand new year homeschooling, but you suddenly find yourself hitting some very unexpected roadblocks with your child. It may seem like your child (who possibly always made good grades in the past) has suddenly encountered a subject that just does not compute. Maybe you find yourself working together with your child, explaining the same thing over and over, only to have him or her run into difficulties again as soon as the work becomes independent.
There may be several reasons for this kind of challenge, but one that you may not have considered before is possibly the most basic:
Do I need to teach my child how to study?
Does this predicament sound familiar? If so, this article has some questions you should ask yourself that can help you figure out what's going on and how you can help.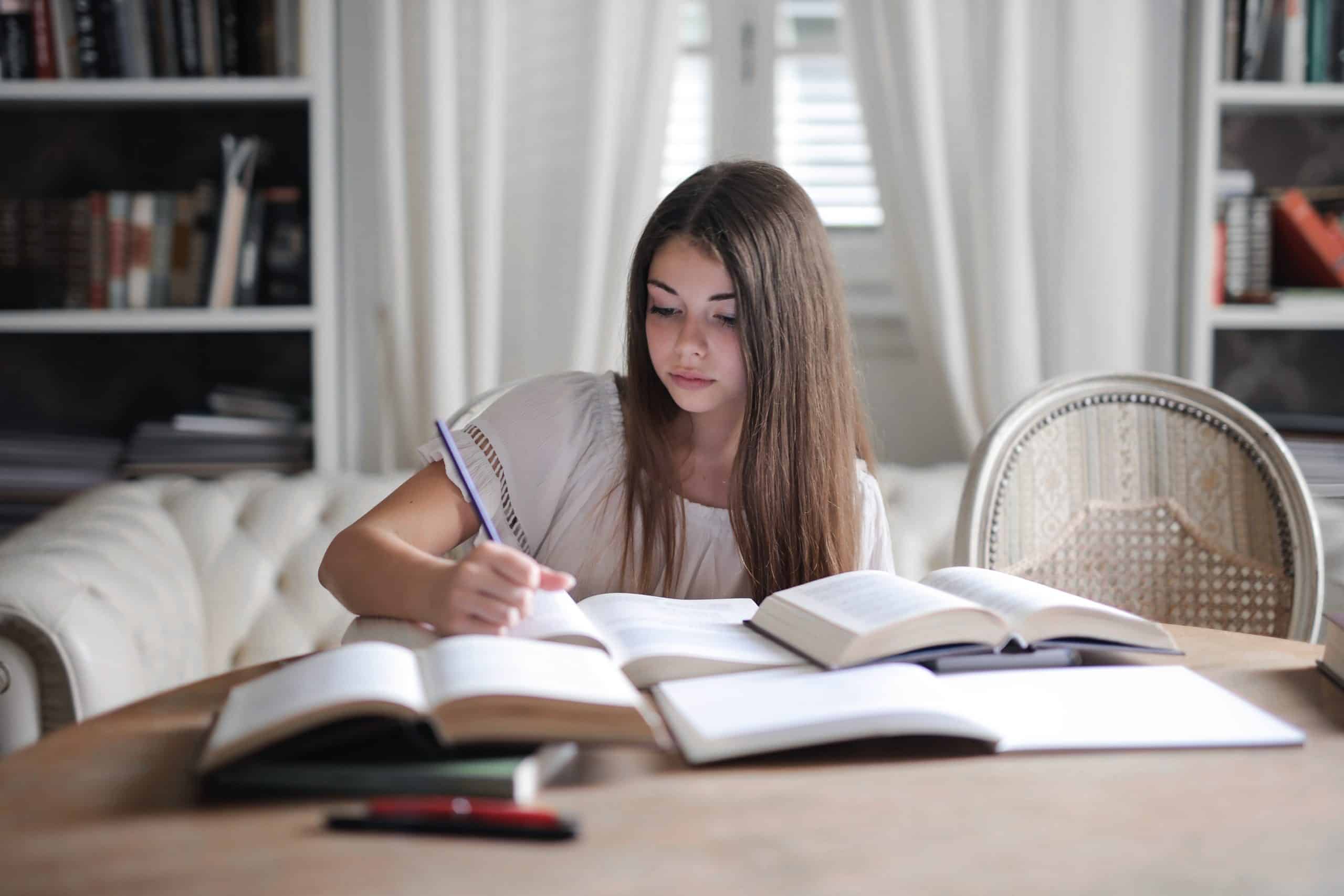 Questions to Consider:
1. Is your child "too smart"?
In other words, has your child been able to rely on her "smarts" in the past instead of learning how to study? While being smart is great, there a difference between the value of knowing how to push through difficulties verses being naturally good at something (you can read more about it here). If you suspect that your child may have found everything fairly easy to understand in her academic experience so far, this issue may not be a problem with your child's ability or the curriculum. It may simply be that, for the first time, she's encountered material that requires more of her than she's used to giving. She may sincerely need to learn to study in order to succeed in the future. If that's the case, it's definitely something you can remedy! (Just keep reading!)
2. Is the information too advanced for your child right now?
Another question that's important to consider is whether you are trying to teach your child something that he just isn't quite ready for. (An example would be a parent/teacher trying to teach a typical 3- or 4-year old to read. While there are a very few children who are ready to learn to read at that age, most children at that age just aren't ready for that yet.) There is absolutely nothing wrong with waiting a while if your child isn't developmentally ready for a certain subject or skill. In fact, it's much better to wait than it is to push your child too soon. Doing that will probably not be successful, and it is likely to cause him to dislike that subject/skill in the future.
3. Or could it be that your child just isn't interested in a particular topic/subject?
If that's the case, you'll need to carefully consider what's best to do in that situation. If you have an older student (middle or especially high school), it's okay to concentrate on subjects that he/she is particularly interested in. Sure there are some subjects that must be covered if your child is going to college, and there are some subjects that we all need to learn in order to live and do well in life. Those subjects must be taught whether our students (or we as teachers) really want to do it or not! But there are others that aren't necessary. Use your good judgment, for example, when deciding on electives and higher level courses like math and science and writing.
My personal experience:
Both my son and my younger daughter are gifted students in certain areas.
However, when my son was about 15, he encountered some subjects for the first time that were difficult for him. One of those subjects was math, and the other was science. Part of the problem was that he wasn't particularly interested in either of these subjects. The other part of the problem was that, because learning has always come so easily to him, he was totally unprepared to deal with it when these subjects became a challenge for him. He had always managed to do well without really studying until then, so he was a little upset when he began making unsatisfactory grades.
The same thing happened to my younger daughter. The first time it happened to her was when she was first beginning to homeschool. When she reached first grade level, she just didn't seem to "get" math. Other kids her age could count, understand 1-to-1 ratio, do basic addition, write a few numbers, etc. But my daughter just didn't understand any of it! I was so worried! I was afraid there was something wrong. But I decided to set math aside for a few months and try again later. The same thing happened. I tried again a few months later. This continued until she was about 8 years old, at which point it finally "clicked" with her! I'll never forget that day! Until then, I had worried that she would never understand math, but the truth was that she just needed some time to mature.
The next time it happened was when she was about 9 or 10, and she took her first Spanish class. The class was absolutely not too difficult for her. However, since she knew very little about Spanish, she really had to study to learn it.
With both my son and younger daughter, I was really not sure of the problem when their grades first began slipping. I didn't know if the material really was too difficult or if there was a problem with the curriculum or what else might be the issue. (Of course, my children assured me that the material was just too difficult.)
As I began questioning them, though, I realized that the problem was that they were no longer able to learn without studying. They honestly didn't know how to study because they'd never had a need to do it before! They didn't even know that they needed to study. And they certainly didn't know how to study.
Years ago, when I was in high school, I met the man who later would become my husband. I remember that Scott never had to study. He read things or heard things and just remembered them. I, on the other hand, had to study to learn things. I never had to study really hard, but I definitely did have to study and put some effort into it. Because of my own experiences, it didn't occur to me that being able to learn without having to study could actually cause problems!
I explained this to my children so they would know what was going on. They hesitantly agreed that my assessment was probably correct. Neither of them was too thrilled, though, because that meant they were going to have to learn to study! They knew that they couldn't always avoid subjects that were difficult for them and that they had to learn to study, but they still didn't know how to go about it.
While it is a wonderful blessing to have children who learn easily, the fact is that most students do eventually have to learn to study. There may be a very small number of students who always learn easily and never really have to study, but the majority of students (at one point or another) must learn to study in order to learn and make good grades.
An important thing to do as parents and teachers is to let our children know that this is okay! In fact, we need to let them know that it's absolutely normal. They need to understand that, while studying may not be a lot of fun, and it's not necessarily something they will want to do or love to do, it can be very rewarding. We don't want them to think that studying is punishment or that it's something to be avoided.
But it's also not something they will necessarily know how to do without a little instruction from us. If you've never really thought about it, studying is something that we can and should teach our children how to do! I recently wrote an article that explains how to teach your children good study skills.
If you take the summer off to get prepared for your next school year, now might be a great time to think about and get prepared for teaching your children to study. If you homeschool year round, it's probably a good time to go ahead and get started too! You don't want to make the same mistake I did and wait until your children have problems to start teaching them good study skills.
Our children are all so different! Some may need to study from a very young age, and others might not need to study until much later in their school years. How about your children? What are their ages/grade levels? Do they have to spend time studying yet, or are they able to do well without it for right now? Do you see signs that they may need to start studying soon?
And don't forget to take a look at Helping Your Children Develop Good Study Skills to help you prepare to teach them to study!