The Ultimate Homeschool Guide to FREE Language Arts Resources
Language arts is one of those subjects that our students will use every single day of their lives! We all need to know how to write a clear sentence, speak well, and use and understand basic English. But teaching (or learning) language arts doesn't have to be tedious and boring! Below is our Ultimate Homeschool Guide to FREE Language Arts Resources. Take a look around and find just what you need for your family.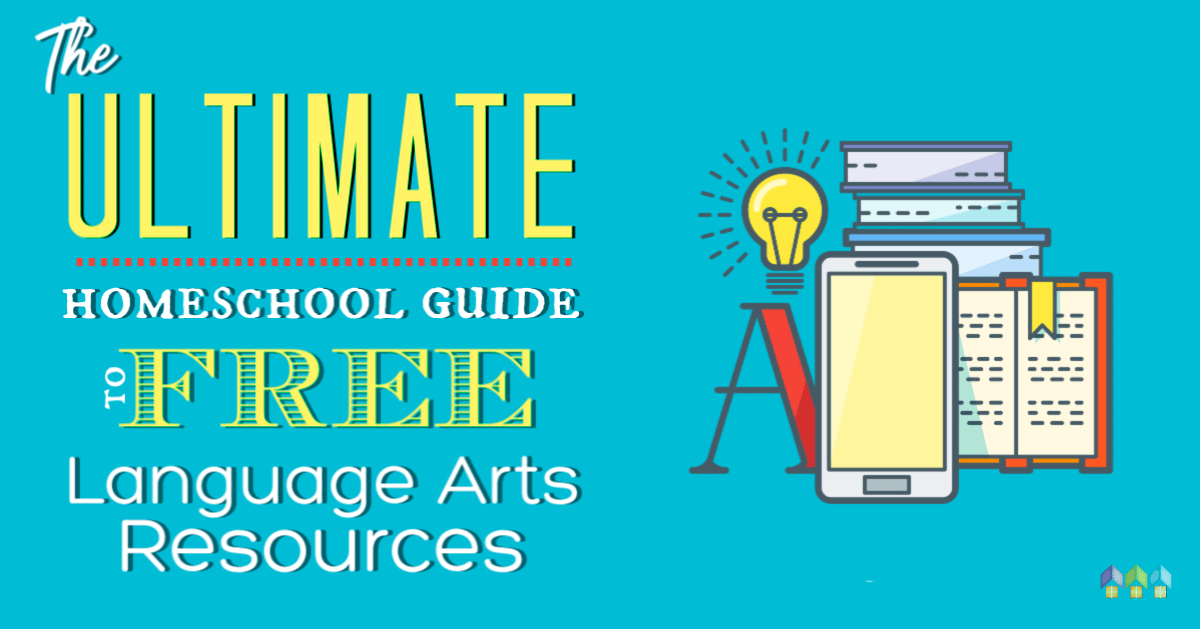 This is part of a series of FREE resources! To see the rest of the educational resources in this series, click here.
Only Passionate Curiosity. Use code coronahelp https://store.onlypassionatecuriosity.com/product-category/language-arts/
3P Learning provides spelling and vocabulary in a program that emphasizes spelling and communication. They also offer reading programs for ages 5 – 13 to develop reading, spelling, comprehension, vocabulary, and grammar skills through games and activities. https://www.3plearning.com/distance-teaching/
ABC Ya Reading games https://www.abcya.com/
Arcademics Language arts games boost student engagement and fact fluency with multiplayer educational games. https://www.arcademics.com/
Atlantic White Shark Conservatory Shark Story Hour Daily 10 AM EST
Audible for kids
Authors Everywhere YouTube Channel
Bamboo Learning This program uses Alexa Skills to help your child learn! https://bamboolearning.com/resources
Be a Coronavirus Fighter! by Songju Ma Daemicke & Helen H. Wu Free e-book
Beeline Reader https://www.beelinereader.com/education
Bible Project--learn about the bible courses-free
Brainbox – Are you looking for a spelling adventure? Try Magic Spell! https://brainbox.games/
Brooklyn Public Library is offering virtual storytime! Your kids can virtually enjoy these Facebook Live events with books, songs, and tips to help you teach your child early literacy, fine motor, and language development skills. There will be multiple events held between March 17-27. Join here https://www.facebook.com/events/158615808585861/
A Camping Spree with Mr. Magee: Chris Van Dusen Author daily video -Instagram (Affiliate Link) Buy books on Amazon
Free Resources from Children's Authors and Illustrators Facebook group
Classroom Cereal Grammar practice for middle grades https://www.classroomcereal.com/
Common Lit Reading passages for grades 3-12, with reading comprehension and discussion questions. https://www.commonlit.org/
Curriculum Associates Free printable K-8 Reading activity packs (available in English and Spanish) https://www.curriculumassociates.com/
Curriki Digital learning content for preschool through high school https://www.curriki.org/
Writing Tips from author Kate DiCamiilo
Discovery K12 is a secular curriculum for those who prefer a non-religious-based program. http://discoveryk12.com/dk12/
Discovery Mountain – Christian Audio Drama
Dog on a log Books. Includes printable games and activities. Can be customized to any student's needs. https://dogonalogbooks.com/printables/ (affiliate link) Buy the books on Amazon
Dreamscape. Fun reading game for grades 2-8. This engaging game uses imaginative reading passages and strategy to teach literacy skills. www.squigglepark.com/dreamscape/
Duck Duck Moose http://www.duckduckmoose.com/
Enchanted Living Magazine – 6 digital issues for free
Epic! Access to 35,000 Books
Everywhere Book Fest – on MAY 1-2—virtual gathering of kidlit authors, books & more
Facts 4 Me A safe research site for elementary-level readers. They are offering — free 24/7 access https://www.facts4me.com/
USERNAME: read (case sensitive) PASSWORD: read (case sensitive)
Free Children Stories online ages 3-12 Looking for a bedtime story for the kids? (Or a story for any time?) These stories are available to read online, and some are narrated and available to listen to. https://www.freechildrenstories.com/
Fun Brain Reading games https://www.funbrain.com/
Fun Fonix Phonics worksheets for kids https://www.funfonix.com/
The Good and the Beautiful Course sets (Levels 1–5) that combine and thoroughly cover phonics, reading, writing, spelling, literature, grammar, punctuation, art, and geography—all in one easy-to-use, beautiful course. https://www.goodandbeautiful.com/
Grammaropolis – Work on the 8 parts of speech https://www.grammaropolis.com/
Gutenberg Project Free eBooks https://www.gutenberg.org/
"Harry Potter at Home" – J.K. Rowling all things Harry Potter. (affiliate link) Buy the books on Amazon
Here We Are: Notes for Living on Planet Earth Oliver Jeffers Author/Illustrator Daily 2 PM EST–Instagram (Affiliate Link) Buy books on Amazon
Historical Fiction books by GA Henty in chronological order. http://liveandlearnfarm.com/henty-books-in-chronological-order-for-history-immersion/
Into the Book Games is a reading comprehension resource for elementary students and teachers. Includes online interactive activities and 15-minute video programs. https://reading.ecb.org/
Josh Gad aka OLAF is reading children's books to families around the world via his Twitter page each night. https://twitter.com/joshgad
Khan Academy: Having daily (weekdays) 9 am PST/12 EST live streams on Facebook and YouTube for students, parents, and teachers during school closures. Covers math K-12 through early college, grammar, science, history, AP®, SAT®, and more. https://www.khanacademy.org
Libre Texts open-access educational materials. https://libretexts.org/
LightSail–online platform of 6,000 books – free for the rest of school year
Mac Barnett, The author of The Mustache, Oh No, and various Jack books will be reading books every day at 2:00pm (central) on Instagram. https://www.instagram.com/macbarnett/
Magic Tree House Kids Interactive games based on the book series https://www.magictreehouse.com/ (affiliate link) Buy the Books on Amazon
Mindful Poetry Moments c https://www.thewell.world/mindful-mu…/mindful-poetry-moments
My Weird School Collection by Dan Gutman Author read aloud: daily 2 PM EST (Affiliate Link) Buy books on Amazon
NaNoWrMo The Young Writers Program offers tools, resources, and community access to help young writers and educators set ambitious creative goals and tackle projects year-round! https://www.nanowrimo.org/
New York Public Library (NYPL) free access to 300,000 books ( limit 3 per checkout)
No Red Ink Online curriculum that builds better writers. https://www.noredink.com/
Novel Effect makes story time a little more fun for kids (and grown-ups too!) As you read out loud from print books (or ebooks!) music, sound effects, and character voices play at just the right moment, adjusting and responding to your voice. https://noveleffect.com/
Paragraph Punch Teaches students how to write a paragraph through interactive online tutorial http://www.paragraphpunch.com/
PBS Kids is sharing daily activities and tips for those whose kids are home due to coronavirus. https://pbskids.org/
Pebble Go Curricular content hub specifically designed for K-3 students. https://pebblego.com/free-pebblego-capstone-interactive-acc…
Send letters to Pete the Cat: Pete the Cat, 2126 E. Victory Dr. #112, Savannah, GA 31404 (affiliate link) Buy the books on Amazon
Puku Vocabulary App from Merriam-Webster https://www.merriam-webster.com/puku/getting-started-with-puku-app
Read Alouds on Facebook Live each night of favorite picture books
Reading Eggs Phonics and learning to read. Get 4 weeks for free! https://readingeggs.com/opc3/
ReadWorks is an online resource of reading passages and lesson plans for students of all levels K-12. https://www.readworks.org/
Sam and Dave Dig a Hole – Mac Barnett Author read Aloud Daily 3 PM EST–Instagram (Affiliate Link) Buy books on Amazon
Scoot Pad Adaptive curriculum in ELA for Grades K-8 https://www.scootpad.com/
Scribd – 30 days free
Sesame Street Games allows you to sign up for a free account for even more games and videos you can access anytime, anywhere. https://www.sesamestreet.org/games (affiliate link) Buy the books and toys on Amazon
Seussville Read, play games, and hang out with Dr. Seuss https://www.seussville.com/ (affiliate link) Buy the books on Amazon
Tara Lazar will read a book daily LIVE at 11 am central time and will talk about writing tips and other fun stuff. Here's the channel: https://www.youtube.com/channel/UC_e9wBEdWSZBf7xaJadl7dg
The Language Sprout Facebook page is offering a unique opportunity for families everywhere. Each day they will be offering FREE story times, activities, and games in Spanish, French, Mandarin, English, Portuguese for kids 0 – 103!
The Shurley English program for grades K-8 provides a clear, logical, and concrete approach to language arts. https://www.shurley.com/?583c10bfdbd326ba170d07128742
Spelling City is free right now with code VSCFree90 https://www.spellingcity.com/
Spelling Training 1-4 grade Includes online spelling practice and games. https://www.spellingtraining.com/
Starfall Phonics program emphasizes exploration, play, and positive reinforcement. It encourages kids to become confident and self-motivated. It is widely used https://www.starfall.com/h/
Storyline Online – kids' books read by famous people Storylineonline.net
Teachers Pay Teachers free resources https://www.teacherspayteachers.com/Browse/Search:language%20arts/Order:Price-Asc
The Dot Peter H. Reynolds, author of 'The Dot' (and many more) will read aloud at 12:00 noon (Eastern time) each day on Facebook. He's also given teachers permission to read his books aloud on social media platforms while they are teaching their students from a distance. https://www.facebook.com/PeterHamiltonReynolds (affiliate link) Buy The Dot on Amazon
Grover reads The Monster at the End of this Book (affiliate link) Buy the books on Amazon
The Story Starter Randomly generates 356,300,262,144 story starters https://thestorystarter.com/
TokyBook audio read aloud of Little House in the Big Woods (affiliate link) Buy the books on Amazon
Valerie Tutson is a gifted story teller who is doing a Facebook Live story every day at 10:30 a.m. CST. Reader comment: "We just watched and we all LOVED it. it was interactive and glorious." https://tinyurl.com/vjo99dl
Virtual Book Club (teens 13-17) hosted by Museum of History & Holocaust Education–must register for free
"Virtual Preschool" Daily circle time lessons, song, game, and story… all are welcome! Weekdays (live video) at 11:00 AM EDT at Play to Learn Preschool, event link https://www.facebook.com/PlayToLearnPS/posts/1481128188727660
Vooks – animated storybooks – 1 year free
Walkabouts username TeacherFree and the password walkabouts https://getwalkabouts.com/
We Are Teachers blog list of author read alouds
Where the Wild Things Are Read Aloud Christopher Walken (Affiliate Link) Buy the book on Amazon
Wonderopolis Website of wonder & curiosity