When we choose to be present, we say yes to the gift of right now
Have you lived the struggle of staying present in your home?
I sure have. I know how so many moms feel. I've lived those days when the exhaustion sets in, selfishness wins, and distractions take over. Especially the distractions.
And don't we live in a world full of time-wasting distractions?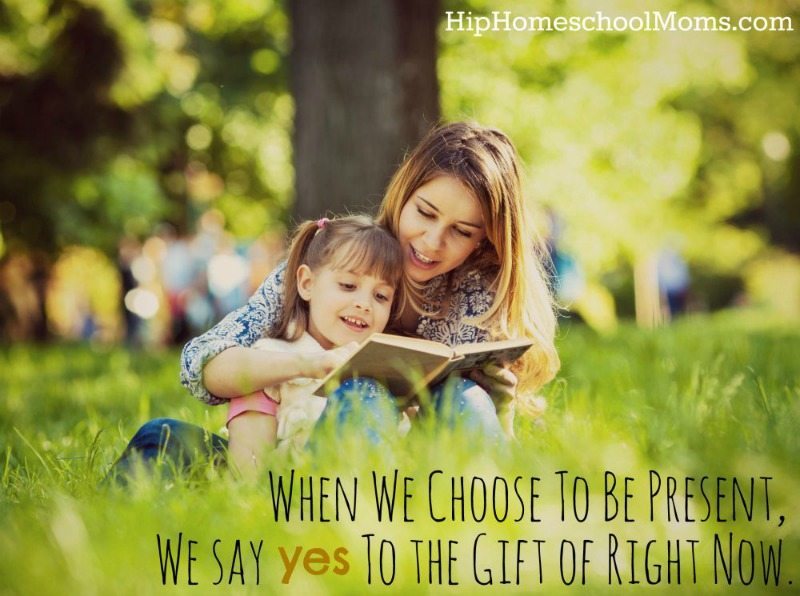 Part of the reason I long so deeply to be more "unplugged" is so I can 'plug in' to what matters. Because our culture urges us to live in fast-forward, blasting through the days. The laundry, the sports team, the dinner, the play date, the appointments, the cleaning, the this, the that, the phone, the email, the Facebook… always something to do and something to check.
I wonder though, when we're taking our last breaths here on earth, what will we reflect upon? And we're all going to get there. We'll all come to the end.
What will be our regrets? I'm sure we won't wish we'd cleaned more toilets or signed the kids up for more sports teams. Or checked more text messages, or uploaded more images.
When I come to my end, I pray I'll think of the days I was fully and totally present. Open to God's wonder. In the moment. Bonded to the hearts around me. Because to be present means to enter in. To walk towards and then dwell in what God has for us at that very moment in time. That heart, that soul, that person, that child right there longing for all of me.
Oh, and homeschooling is so all encompassing. Isn't it? I mean, be 'all here' for THIS many hours every day? Yes. That's the high calling. And it's hard. No doubt!
Because when we choose to be present, we say yes to the gift of right now.
We live in such a distracted, disconnected world. A world that beckons us to ignore now and surrender to that distraction. A world that tells us it isn't a big deal to fail to plug in to our children. To find something else to do instead of reading one more book, playing one more game, or going for one more walk.
When we choose a text message or an email over our children's longing heart – in that moment, we choose to check out. And in that moment, we just might miss something huge.
Every moment, we decide. We choose to be relationally present or we choose to turn away. In a world of beeps and bings and messages and constant contact and distractions blaring in our faces, we choose.
We are not victims of technology and culture, we are adults. Living alive and awake to what is around us OUTSIDE of these screens is a counter-cultural choice. We decide what our lives look like and how our family, children, and friends will relate to and remember us.
We are empowered to be the author of our relationships by how we choose to live every single day.
So, friends, let's choose to be present and embrace a life lived in hopes of no regrets.