Printable Easter Story Trivia Game
Easter is such an important holiday in our home, if not THE most important. It's crucial for our children to know and understand why we celebrate this occasion. It's not all about the Easter bunny and Easter eggs. It's the special time of year when we celebrate our Lord Jesus Christ and what He did on the cross for us.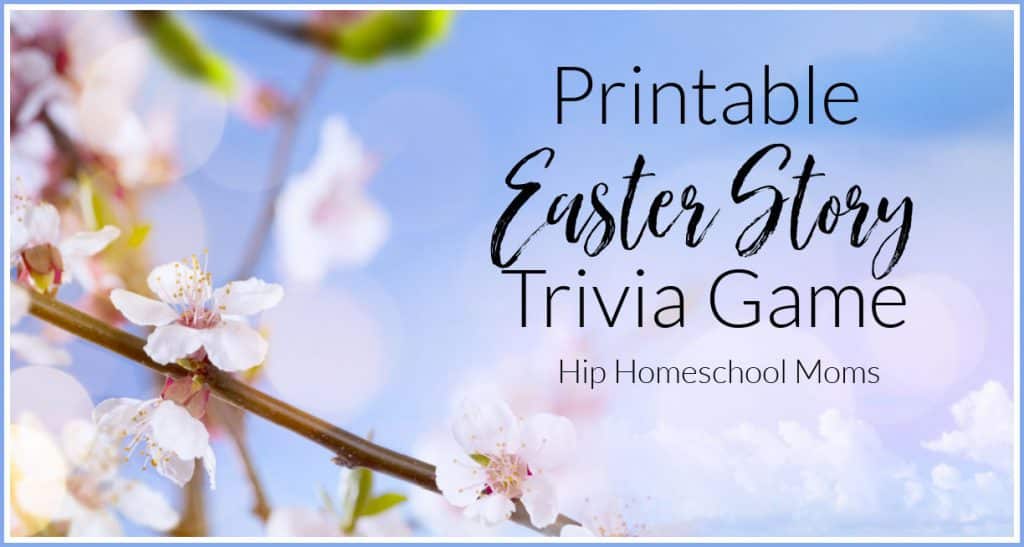 Yes, my kids hunt for Easter eggs and eagerly dig through their Easter baskets on Easter morning, but we like to keep those activities and all our festivities during this time of year focused on Christ. We fill our eggs with scriptures and items representative of the Easter story; we fill our baskets with Bibles, Bible storybooks, and devotionals (okay, and some candy); and we enjoy making Christ-centered craft projects.
One way I like to really get the kids to dig into the Easter story is to play an Easter story trivia game.
Several years ago for Easter, I put together an Easter Story Jeopardy-style trivia game for our Junior Church class to play. Back then I simply wrote it all out on index cards. This year I've decided to spruce it up a bit and share it with all of you.
Simply print out the game, cut it out, and then either pin all the pieces to a cork board or tape them to a door or wall (check to make sure you won't peel the paint first).
The game has 5 categories – People, Places, Numbers, Crucifixion, and Hodge Podge, with 6 questions in each category. The questions increase in difficulty as the point value increases, allowing for even the littlest family members to play (so save the easier ones for them – hint, hint).
The question and answer (in smaller type and upside down) are on the back of each card along with a scripture reference.
If you are a Jeopardy fan, you may be disappointed that I didn't write the 'questions' in the form of an answer and vice versa, but that format can be hard for younger children to grasp, so I just stuck with the regular Q & A format.


When I made the game I just printed it out on paper, but if you'd like the game to last longer, you should consider printing it out on card stock and perhaps laminating it as well. To print the game from front to back, print out pages 2-11 and then put the paper back in your printer and print pages 12-21. Since printers vary, and if you are unsure which way to put the paper back in to print on the opposite side, you might have to play around and experiment to get it to print from front to back.
I hope you and your family enjoy playing this Easter Story trivia game, and I hope it helps you to keep your focus on Christ this Easter season. Have a blessed Easter.
What things do you and your family do to have a Christ-centered Easter holiday?