Oak Meadow curriculum
Hot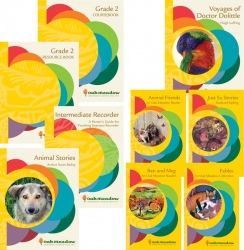 Purchase from
Exclusive Discount Code
* Limited to the first 20 customers.
Oak Meadow provides flexible, progressive homeschooling curriculum for students in K-12. Our student-centered, nature-based approach allows families to set their own natural rhythm of learning and encourages creativity, critical thinking, and intellectual development through hands-on activities and interdisciplinary projects.
Homeschooling with the Oak Meadow curriculum ensures that you are providing your child with a well-rounded and academically complete education that also promotes the balanced development of your child. When you purchase our curriculum materials, you receive everything you need to homeschool your child for an entire school year. Each course includes 36 weekly lesson plans across all subject areas, including a variety of assignments, activities, readings, a teacher manual, and any supplementary materials required for that course. You may also choose to order only the elements you are interested in. Oak Meadow also offers a distance learning school.
User reviews
I've used Oak Meadow for two years in a row now. It's great in the sense that you can buy all the main subjects together as a set. However, I thought the Science course could use a little extra help. For instance, Scientific Methods were summed up in about half a page. I felt it should have been longer. I wasn't sure my children would remember all the necessary terminology with such small focus on it.
Pros
It's a complete curriculum with all of the main courses covered.
Cons
The lessons are short. It's also very costly.
Do you recommend?
Yes, for a beginner
I found Oak Meadow just before our 4th grade year and decided to give it a try. In hind sight I should have used the 3rd grade level as we weren't familiar with the curriculum. I decided not to because 3rd grade covers ancients and we had already done that. 4th grade level moves into independent learning and the syllabus is written to the student which I really liked, but it is heavy of writing which my son did not have very much experience with (and he doesn't like to write) so this was a struggle. I love that the curriculum uses a lot of nature study in many subjects and includes hands on activities and long term projects. It does not require additional work, but you can easily add in other activities if you want to such as subject related lapbooks. There is not a "checklist" type system, the syllabus is organized by week with all of that weeks activities listed by subject and you have to organize what should be completed each day. The math book is purchased separately so you can alter the level of math based on skill level and not grade.
Pros
Transition to independent work, Reggio feel, art/nature study included, independent math levels
Cons
Heavy on parent involvement
Fantastic curriculum that will get you out into nature with your children and get you all learning together. Super engaging, super interactive.
Pros
Experiential, Interactive, FUN
Oak Meadow offers a wonderful natural approach to a great secular third grade curriculum. The curriculum is well rounded covering English, Social Studies, Math, Science, Art, and Music. I felt there was plenty of instruction in the syllabus to help guide me through our first year of homeschooling. I loved how the Social Studies lessons were presented in a storytelling fashion and my children loved the folk tales used for English. Math was guided, but the parent were expected to create all the problems for the children. I made use of online worksheet generators or dice and card games. The grammar and math seemed a bit slow for my over-achiever, but the curriculum is written with flexibility in mind and we simply pushed forward in those areas. Overall, I was thoroughly pleased with every aspect of this curriculum and will be continuing on for 4th grade.
Cons
Can seem slow at times
Do you recommend?
Most certainly!
Oak Meadow is a Waldorfian/Montessori-based curriculum that provides a holistic education for children grades pre-K through 12th. I have used the curriculums for grades pre-K through 3rd to homeschool my two children, and find them to suite their learning styles (visual-spatial and kinesthetic), while also appealing to my type A, left brain teaching style. After each year, testing shows my children to be average or above average in most subjects. However, reading and math are lacking in the early years (I hear it picks up in 4th grade), so I've had to supplement with other materials.
Pros
Holistic, easy to use
Cons
Not strong in reading or math in early years
Oak Meadow has been wonderful for us for four years. It is a fantastic core curriculum, where I occasionally supplement in my children's particular strong points. I love its integrated format and the children look forward to learning. Also, it fits our slower, relaxed pace that we try to encourage in the home.
Pros
Easy to use, very heart-centric
Do you recommend?
Absolutely.
We fell in love with Oak Meadow from day one and entering our second year now, the feeling hasn't changed. The whole child focus speaks to a child's soul in a way no other curriculum does. The focus on nature allows them to experience the world around them on a new level. We can't wait to see what this year brings!
Pros
all in one, ease of use, secular, whole child focus
My children gave blossomed with this curriculum-- all on their own schedules, in their own time . This curriculum allows children to be individuals and encourages a love of the natural world.
Pros
This is a great way to begin homeschooling. It eases new homeschooling parents and young children into a routine. It is hands on and allows a lot of time and space for outdoor learning.
Cons
If you are a homeschooling family looking for a rigorous structured curriculum-- this is not the one for you !!
I think the con of moving slowly was entirely intentional. This curriculum is focused on allowing children to be children. If you are looking to push your kid ahead academically, I do not believe this is the program for you. My daughter adored this program and I had a lot of fun with her while using it. She still brings me the curriculum, saying she wishes she were still in kindergarten and wants to do more of her current classes like Oak Meadow did. I cannot say how it would have gone in further years. I had an injury that prevents me from doing too much of the hands-on and outdoor activities which were essential to the courses. Otherwise, I'd have loved to continue using it.
I do not think this curriculum would meet the state standards for what is expected of a kindergarten student. For example, children here are expected to count by 10s to 100 before the end of the year. This course only went from one to 10.
This is a fun, engaging, no pressure sort of curriculum. There is very little preparation required, making it supremely easy for the adults involved.
A wonderfully creative approach to learning the subject matter. Great math games and rhymes that I'm sure were more commonplace in schools decades ago. It really helps the parent with ideas on how to teach. I loved the flow of the curriculum and it seemed pretty well-suited to the age level. The only thing I wished for was more practice and review for things like math and grammar. I spent A LOT of my own time making up math problems and grammar exercises. Perhaps there could be an online OM source with extra practice specific for each grade and lesson that OM families could login and print off? That option would've made this curriculum absolutely fantastic! Also, I found that following the curriculum involved a lot of time with me being with the student constantly. If I had only one child, I would prefer that but I have four homeschooling and a baby. I needed some more self-directed days, so I had to supplement my curriculum with other curriculum. And at the price of the OM curriculum, I had really hoped not to have to do that!
Cons
not really self-directed, not enough exercises written out
i love this curriculum, it is such a beautiful collection of stories and simple unfoldment, developmentally spot on and just a pile of fun. 1st 2nd and 3rd grade were fabulous, looking forward to fourth.
Pros
very good match developmentally, open
Cons
cover doesnt hold up on the syllabus
Do you recommend?
YES! love love love the meadow
I felt the 9th grade curriculum was easy to follow and the assignments were interesting and varied. My teen was, unfortunately, not a good fit for home school, but OM's curriculum had no bearing on that, and I will be using OM for my 3 year old's preschool curriculum.
Loved the social studies, science, art and math. The first trimester of language arts was wonderful, but the second and third was a bit rushed for my child. This may not be the case for another child. But OM reminded us to go at my child's pace and we just worked at a difference pace. There was joy in not feeling like we had to follow along perfectly. Thank you OM!
We loved this curriculum. At first I was skeptical because Waldorf has a reputation for not starting reading early enough but they start comprehension way early on and I found it to be more effective than traditional methods of teaching how to read. My children love to read! Can't recommend this enough .
We are using Oak Meadow Kindergarten for our 6 year old. She loves the stories (largely Beatrix Potter for kindergarten), and especially all of the beautiful art work she gets to do. It is a wholesome curriculum that allows kids to be kids. :)
Pros
Ease of use, enjoyable, gentle yet thorough
Cons
It would be easier if the health book was part of the normal curriculum instead of in a separate book
This is a great program that respects the wonders of childhood and introduces children to academic concepts in a developmentally appropriate manner. This program is especially wonderful for children with learning disabilities who need more time to absorb what they are learning. The pace is gentle, and the subject matter and activities keep my child's interest. I also really like how there is a distance learning option, which we may use later on for transcript purposes.

The only potential down side to this program is that it does not align to current public school standards. Literacy and math concepts aren't really covered until the first grade, which (while developmentally appropriate) is a bit behind current school standards. So, if your child is transitioning from public school to OM they might find the pace too slow and become bored with the content (or they might appreciate the relief hehe). I am told that if you sign up for the distance learning program that they will tailor the program to fit your child's academic needs, but I can't vouch for that since we have yet to attempt this.
Pros
Ease of use, enjoyable, perfect for children with learning disabilities
Cons
Does not aling with current standards, some children may find the pace of the first few years too slow.
We started using Oak Meadow this past January with our daughter and we absolutely love it! It definitely keeps her interested in everything. A nice slow pace...such a wonderful creative aspect to it! Highly recommend it!
Pros
Easy to use, keeps my daughter interested
Do you recommend?
Definitely!
(Updated: August 03, 2015)
We absolutely LOVE OM curriculum and recommend it to home schooling friends all the time. It has made our entire life richer an more connected. Very happy to have found it.
Cons
my daughter loved it so much that we had to adjust our schedule to be year round instead of a long summer break. :)
Do you recommend?
all the time!
I was introduced to Oak Meadow many years ago by a friend. It is a wonderful, wholesome curriculum that has encouraged my kids to learn outside the box and made them interested in the world!! Only curriculum that you need! Thanks Oak Meadow!
Pros
Easy to use, fantastic ideas, keeps kids interested,
After trying to piece together my own version of curriculum for years, I finally decided to order Oak Meadow last year for my 1st and 5th graders. I had always admired their gentle, secular curriculum from afar but was scared away by the price. You truly get what you pay for, it is well worth every penny. I thought at first I might feel trapped, so to speak, in buying an all-encompassing curriculum, and perhaps I would have if I'd picked something else. But Oak Meadow allows freedom to branch out a little, to delve deeper (or shallower) if desired. I can't say enough good things about Oak Meadow, and I encourage you to give it a try.
Pros
gentle yet thorough, has everything you need
Do you recommend?
Yes, highly
View all user reviews