Handwriting Without Tears Print Version
Handwriting Without Tears Print Version
Hot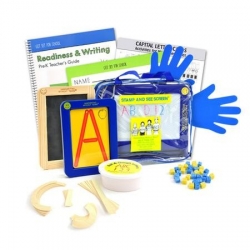 Handwriting without Tears aims to make legible and fluent handwriting an automatic, mastered skill. Simple for home educators to use, lessons take only 15 minutes a day. The main objective for students is to achieve goals, not to finish a set number of pages.
You can purchase a student and teacher book or a complete kit.
Volumes for the print version include:
Pre-Kindergarten: Children learn joyfully with the multisensory readiness activities in My First School Book. Children of different abilities develop and practice crucial readiness and pre-writing skills.
Kindergarten: Lessons teach capitals, lowercase letters, and numbers. Activities form good handwriting habits and develop strong writers.
First grade: Lessons emphasize the correct use of lowercase letters in words and sentences.  Activity pages combine handwriting instruction with other language arts lessons.
Second grade:  Learn & Check helps teachers and students check letter, word, and sentence skills. Activity pages combine handwriting instruction with punctuation, paragraph, poem, and language arts activities for practice.
Note:  Third through Fifth grade curriculum are also available, but are only in cursive.
User reviews
I tried this after many recommended but I really don't get the appeal. The workbooks are so short and so dry and flimsy. They were always coming apart and pages falling out! My kids dreaded writing with these so I finally gave it up and went with a different programs that they are much more happy with. The guides for writing seem adequate just the overall books are not great to me.
Do you recommend?
Maybe for some people
We have had great experience with HWT, and after using the handwriting curriculum that came with our full-grade curriculum this year will be going back to HWT next year. The relatively short, effective lessons and practice each day works much better for our family.
Pros
Developmentally appropriate
People generally rave about this program. However, my experience with my children wasn't that great. For some reason my children just didn't like it. It was Writing With Tears for us. It seems like a nice program. I especially like the write, dry, try, so much so I even downloaded the app. While I liked this program, my children did not. We only used it because it was the required writing program we had to use when we did online public school. One thing I personally didn't like was the style. I don't like the "ball and stick" (for a lack of better term) method writing. I prefer the smoother one struck for of letter writing. I think it is more developmentally appropriate and helps with future cursive writing.
My kids are now 7th and 9th graders, but when they were younger we loved this program. There are several tactile components that were exceptional such as the play dough and building the letters with the wooden pieces. It is amazing to to see that all the letters of the alphabet can be built using combinations of four different wooden pieces: big line, little line, big curve, little curve. The music CD was a great audio component. My kids will still break out singing "Where do you start the letters? At the top!" as well as the Mat Man song. My kids remember Mat Man with fond memories. Having a multi-sensory approach was helpful in teaching my three kids close in age (twins and a younger sibling who does most of her school with her older siblings). We were able to work with our different learning styles while using the same program together.
Do you recommend?
Recommend very highly
(Updated: August 01, 2015)
We learned about this program through her OT, they introduced her to Mat Man and we thought we would give the workbooks a try. I did not purchase the teacher's manual or any extras, and don't feel I am missing anything by not having it. We do have a small chalkboard and use that along with the workbook. You can also create spelling worksheets for free on their site using the font in the workbooks which I will be using in the future.
Pros
Straightforward and fun to use