Handwriting Without Tears Cursive version
Handwriting Without Tears Cursive version
Hot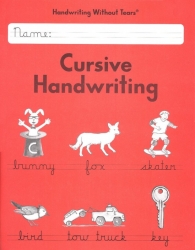 This program includes unique ideas for helping children learn to write their letters and numbers without frustration, tips for the left-handed child, discussion on why it is important to teach capitals first and why standard handwriting paper just confuses children. The author even has remedies for the common mistakes children make, such as letter reversals, floating letters, etc.
The cursive program is for grades 3-5.
A print version is also available for grades PreK - 2.
User reviews
I really appreciate HWT Cursive. This program was easy to follow and really helped me to guide my children through the basics of cursive writing.
This curriculum is easy to use from a teacher and student point of view. The approach is laid out well and each letter is taught little by little without overwhelming the child. Plenty of practice is given on each set of pages for each letter. On each page, words are slowly formed with the new and previously taught letter. I look forward to advancing in the curriculum with my child and watching his cursive writing ability grow!
Pros
Easy to use and doesn't overwhelm the student
This program is very easy to use and has helped my daughter learn cursive. She loves being able to write her signature.
We have used this for several years after trying other similar handwriting programs. We saw immediate improvements, and our kids love to use this! It is a "just right" amount of practice each day.

I loved how much practice was in each book, and the clear illustrations
We love HWT! It teaches handwriting in a developmentally appropriate way, without the stress and anxiety that another handwriting curriculum produced in my child. We are definitely switching back after trying something different last year.
This is a wonderful product for kids who struggle with handwriting or just anyone looking to improve their child's handwriting skills .
Pros
Awesome Product very easy to use no pressure for student
Do you recommend?
Yes Yes Yes
Great low pressure handwriting curriculum. My daughter used it and did quite well. However, she is a kinesthetic learner so we used this with a handwriting therapist. You could also supplement with Youtube videos. If your child is more of a visual learner, this would be your best bet for learning cursive.
I wish we had had this from K and up
My child did so well
I love this whole line !

My biggest issue was
MORE
6th and higher
We used this same book twice


Pros
easy to use MY FAVORITE
Cons
stops too early I needed more
Do you recommend?
yes - I love love love this whole curriculum
This was super easy to use. It didn't take long to teach and I saw an improvement in my son's handwriting right away. I would definitely recommend it.
I was pleasantly surprised at how quickly my son picked up cursive with this book! The lessons are simple and he is really enjoying writing in cursive.
The writing style was different than what my girls were used to; however, it does try to make handwriting more interesting.
My son has learned to write in cursive with ease.
This was my favorite handwriting curriculum to teach. It made it easy for my right handed children to learn even with me being a lefty. The workbook for children is engaging without being distracting to children who are highly visual and easily distracted by a lot of pictures and color. My son had beautiful handwriting after using this curriculum.
Pros
Can be used by any parent regardless of prior experience teaching handwriting
Cons
Must use teacher's instruction and prepare ahead for the lessons- not open and go
We love love love HWOT! I have been using this for my kids since the K level. Not to brag, but my kids' handwriting is quite exceptional and I owe that to this curriculum. The cursive is just as well thought out as the printing books. My oldest is growing confident in her cursive writing thanks to this.
Pros
Well structured, excellent method of teaching
Do you recommend?
Yes, without a doubt!
Like all of the Handwriting with Tears products, this is well thought out and done in a step by step process. When we used this we started the morning saying the little phrases(up like a jet plane etc), modeling the letter and it's connections on the small blackboard. Then the children would do the assigned pages and I would circle anything on the page that could be neater or where the connection was wrong. It worked beautifully! It helps to occaisonally show them a document written in cursive so they have to interpret the writing. We had a poster of the Constitution they were always trying to read. Highly Recommend!
Pros
step by step easy to use
My 10 year old was able to learn cursive easily with this program. He worked in the student book on his own and quickly mastered cursive.
(Updated: August 01, 2015)
I needed something easy to help my boys with cursive writing. I've got one child with fine motor issues and another one who had never been taught cursive. I purchased workbooks and had them go through the books doing one lesson each day. Because letter formation is simple, this was a great program for my son with fine motor problems (although his handwriting still needs lots of work), and my other son is picking up cursive very well. I did not purchase teacher's guides or any other materials.