Apologia Exploring Creation with General Science
Apologia Exploring Creation with General Science
Hot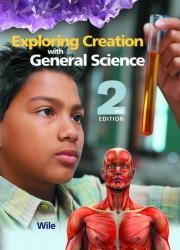 Designed to be a student's first systematic introduction to the sciences, Exploring Creation with General Science, 2nd Ed. explores topics such as the scientific method, designing experiments, simple machines, geology, archaeology, biology, anatomy and other disciplines, providing a wide range of scientific exposure. Hands-on experiments are included throughout, giving students practical experience as they discover the principles behind the science! Looking at the world from a creationist position, topics are all presented with an eye towards God's role in everyday life.
This second edition includes updates on relevant topics as well as stylistic changes. The primary function of the appendix (discovered in 2006) has now been included, as have higher-quality drawings and more colorful illustrations. Online resources for advanced students and a review appendix have also been included in this 2nd edition. This kit contains both the student textbook and test/answer key booklet. Grade 7, but may be used with younger/older students as parents see fit.
User reviews
After using this curriculum your children will have a solid knowledge of the sciences.
Pros
Biblical worldview, in-depth material
I recommend this if your child learns well from textbook learning. If they do not, I would try a different curriculum.
Pros
thorough coverage of subject
Cons
unsuitable for non-textbook learners
The Advanced Science I used with my now 20, 16, and 14 yr olds and they all agree this was their favorite Apologia year. Once I discovered this Charlotte Mason type of curriculum, we have always used it. I have never been unhappy. I became even more happy since the introduction of the notebooks.
Cons
Takes some time in order to get everything done
Using this curriculum with twin boys in 7th grade this year. Love, love, love Apologia Science! We are discovering our amazing God everyday!
Do you recommend?
Highly Recommend!
This is an engaging science text written in first person. It's so informative and interesting to read. I love that the author included some science history to help the student understand science even better. The experiments are helpful in illustrating the concepts well. There are also so many supplemental resources available to help the student. We bought only the multimedia cd-rom, which is fantastic, but for those wanting more, it's available!
The curriculum was just fine. However, I like our science to be more interesting and engaging
Do you recommend?
yes, if your child learns fine from textbooks
very interesting we will be using it again and digging deeper into it and doing the notebook as well.
Pros
very detailed and great to use
This was a favorite for all my kids that used it. They especially liked the anatomy section. The notebook is a good addition. not hard at all, but definitely sparked interest in harder studies.
Pros
ease of use, engaging content
We have been using Apologia science for 5 years now and enjoy the ease of use and engaging experiments.
We love apologia science!! There are so many good experiments that help the concepts taught stick.
I love apologia science. I've used this book with all three of my children and they all loved it. It was very thorough, but easy to understand. The all loved the experiments.
Pros
Great introduction to junior high science
We love our apologia
I like that it covers the material well
Pros
great material well written
Do you recommend?
yes !!! best material
We are finishing this up. It was a rocky start but I had plenty of head ups to give grace and patience as my oldest learned how to work more independently and learn how to study. We purchased the lapbook set and lab kit, both helped her organization and follow through. Excellent materials- she now wants to be a Paleontologist and work at Answers in Genesis! LOL
Pros
God centered, clearly organized
My daughter felt that Apologia made science easier and explained things well. The experiments help tie in the concepts and the study guides and summaries really drill the concepts. She was not a good test taker at first but has managed to get almost perfect scores on her test because of the study guides and summaries.
My 7th grade son loves this curriculum!
Pros
Loved the ease of use and all the lab experiments!
Cons
Not many that we've found other than length of textbook
Love how it covers from a Creationist viewpoint but also gives the views (and refutes opposing views) of evolutionists. It has been 5 years since we used this and we are still referring back to some of the lessons learned.
Great first serious science class for high school prep. They cover a lot of subject matter and I love the way everything is taught through a biblical world view while also teaching secular views and scientific evidence that supports/discredits every view.
I used this book with a STEM minded 6th grader and a humanities based 7th grader. I really, really like Jay Wile's blog, his talks at homeschool conventions, the little Reasonable Faith book he published, and just everything I've heard about him as a person. He knows homeschoolers well and you can feel his appreciation and encouragement for them when you hear him speak. His blog could easily be required reading for Christian teens (his Reasonable Faith is for my teens).

Onto the General Science text specifically.

We liked that they could work together, and the experiments were simple to execute. It was one book instead of a jillion parts and an expensive lab kit.

We didn't like that science suddenly became a slog to get through. It went from discovering amazing things about the world around us to vocabulary cards, studying for tests, and slogging through fat chapters of verbose text.

We did not finish the book and I will not use it with my younger children. I just don't see a valid reason to make a 7th or 8th grader work through a textbook just as fat and as much work as a highschool one with far less depth.
Pros
written for homeschoolers, mostly uses common household items for experiments
Cons
super wordy, dry, my way or the highway
Do you recommend?
Not really
I've used this several times with different children. I love the fact that it has lots of hands on experiments to peek the students interest while teaching them about the subject matter. My children love Apologia science.
I liked the amount of information and comprehensive coverage of the subject, but the book and lessons were pretty dry and my daughter found it "boring". The experiments were fun but some of them seemed a little too simple for the level we were using it at (8th grade) .
Pros
Good coverage of information
View all user reviews