Life of Fred Beginning Reader series
Life of Fred Beginning Reader series
Hot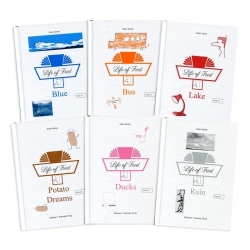 This is a set of the first 6 books of the Life of Fred for the Beginning Reader Series. This set includes: Blue, Bus, Lake, Potato Dreams, and Rain. This delightful romp for young beginning readers unfolds as Fred (age 4) and Kingie (his doll) go on an exciting adventure. These storybooks also teach colors, shapes, the word "stop," and how to make mashed potatoes. A must-have for any Fred fan. Each book has 32 pages.
User reviews
I bought these to help encourage my eldest who enjoyed the Life of Fred, but was not a fluent reader. I was disappointed that the readers were full of sight words. It is not clear what level these beginning readers are for, but even the first book has all sorts of difficult vocab like the contraction "can't" and the multi-syllabic word "ready" which made my daughter not want to continue the series. We are successfully using an OG-based phonemic reading program and these books are not compatible since they are full of very advanced phonograms.
Also, my struggling reader was frustrated by the wonky layout. Things like text changing from blue and large to small and black, occasionally omitted punctuation, and speech bubbles are rather confusing for emergent readers!
As much as my children adore Fred (in the math series), I don't think my children would want to read these stories again and again when they are able to read them independently.
Pros
sturdy books, funny Fred
Cons
difficult reading for emergent readers
Do you recommend?
For super Fred fans, but not for beginning readers
My daughter enjoyed reading these, and I liked that she was reading. There would sometimes be a spot with a speech bubble she would skip over. I am not sure if they really improved her reading.
Pros
My daughter enjoyed them
Cons
They sometimes have a speech bubble when someone is talking
We really like Life of Fred books! We can't get enough of the humor in the books. They are so enjoyable to read and keep the students engaged! We also love the wide coverage of topics that are taught and appreciate the way it is presented.
Pros
Entertaining to read and learn at the same time!
I LOVE Fred. This is what an education should be like. Math without tears for the the uncertain kid and giggles from the advanced one. Amazed that one curriculim can work so well for two kids with very different needs.
Pros
Its fun for both parent and kids and they are engaged!
We are enjoying LOF (math) elementary series. We love LOF and are hoping to purchase the readers before too long. I have seen major improvements in both of my girl 12 (7th) and 13 (3rd grade many learning disabilities) in math. My 13yr old struggles in every subject so I am hoping we can get the reader set and see some improvements there. We celebrate our 1yr anniversary HS in October. It has been a blessing HS my girls and I can't wait to see the many improvements ahead.
I ordered the first book for my five year old and she begs for Fred! I don't know how it works, I just know she responds well to lit based and hands on learning and she has learned a lot while enjoying a story. I honestly didn't expect her to like it as much as she does.
Pros
Living book, lit based.
I bought two of these books for my then 6th and 4th grade boys to supplement their math curriculums. The deal was we would do them together by spending time reading them aloud. Both my boys enjoyed these books so much that I constantly found them reading them independently. They are engaging and effective for teaching math concepts in a very concrete way which I think prepared them well for higher levels of math.
I think these would work well for kids that are reluctant in math for they are so engaging.
Pros
Funny, engaging and effective.
Cons
Expensive as a supplement.
I bought this from Educents since it was free shipping for all three sets for my kids ages 4, 6, and 7 years old with the intent to work with my two eldest kids and reuse it when my five year old gets a bit older. This is by far the best reading book I've ever purchased for my kids and because Fred's stories are relatable, my kids are engaged in the story. They talk about his adventures with his doll Kingie as they solve problems you would encounter in real life and as I read along with them, I nod in agreement like, "yeah, this can happen."

The real value is that the next book has references from the previous so it's not just one book and you're done which gets my kids to keep reading for the next book.

I would highly recommend homeschooling parents to use the Life of Fred series with other worksheets they can find online or homeschool curriculums. I use some reading comprehension activity worksheets with my kids to do some reading analysis per book and make an effort to ask what Fred is up to currently instead of asking how much they've read that day. Homeschooling tip: let them read it to you to work on their speech!

Anthony
Pros
Well made hardcover, fun stories that are relatable, builds the story from the previous book
Cons
Best if used with other reading worksheets