Kids' Smartwatch Combines Fun & Function
One of the reasons I chose to homeschool was to allow my children to follow their individual interests and passions as well as to encourage them to grow in their strengths. We learned early that several of them excel at the fine arts. This is one of my weaknesses, except for dance, but I'll leave that up to the pros. We have found an amazing fine arts center, but that means that my youngest is not under my immediate care for 4-5 hours each day while she attends dance and art classes. When I was introduced to the Tick Talk 3 smart watch, I was immediately intrigued by the functions offered on it that could assist us in keeping her safe. The GPS function was the most important to me and is the best function on the smart watch in my opinion, my daughter would probably say the best thing is that it is fun. This kids' smartwatch combines fun and function and we are both happy with the results!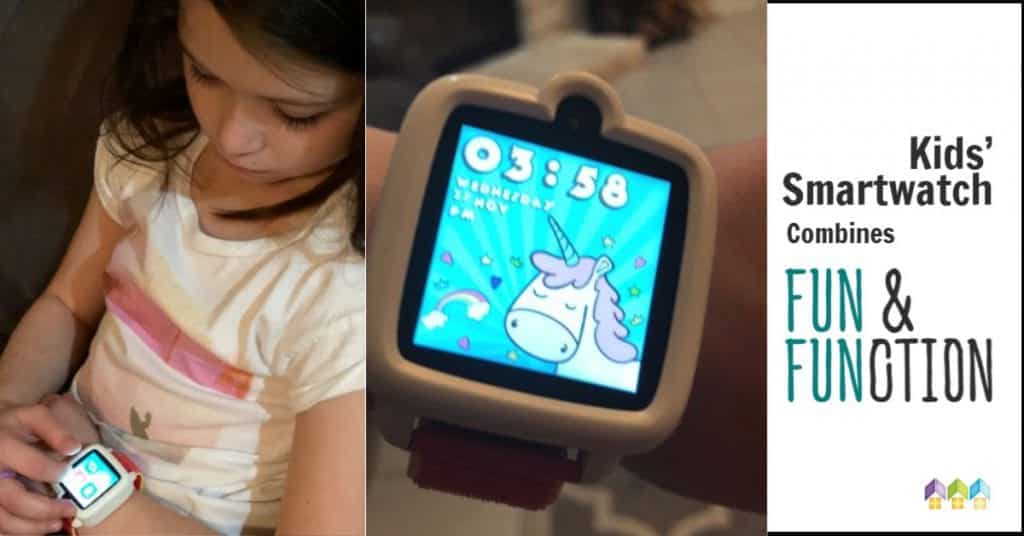 What is Tick Talk 3? It's a smart watch for kids. With the Tick Talk 3, a child does not have to have a smart phone or a phone of any kind. The watch is a self-contained GPS system that includes the ability to text, group chat, and make/receive phone calls. The parent does need a smart phone to download the free app to track the watch and utilize the other features, but the Tick Talk 3 works with both iPhone and Android Smartphones. It requires minimal setup, and the user setup videos are extremely thorough. They walk through exactly how to set it up.
[mks_pullquote align="left" width="800″ size="20″ bg_color="#9ac8d6″ txt_color="#545454″]NOTE: For information about their Black Friday discount and a special discount just for our Hip Homeschool Moms audience, scroll to the bottom of this article![/mks_pullquote]
As I said, my favorite function on this smart watch is the GPS function. I don't want my smaller children to have a phone or iPod yet, but being able to locate my kids for peace of mind and to make sure they're safe is easy with the Tick Talk 3. I also love that I can turn on a firewall and the ONLY phone calls and text messages that will come through on the watch will be from those in the contacts of the smart watch.
The creators of the Tick Talk 3 have set up the watch and the app with an administrator. Since I am home with my daughter most of the time, we set the admin up as me, however, it can be whoever you designate. While you can add up to 50 contacts in the smart watch, the admin has to approve each person who sets up the watch to pair with the app. This means that even if my youngest figured out her number for the watch and gave it to someone else, that person would not be able to reach her on the Tick Talk 3 without my approval. Texting can also only be done through the app.
Another function I really like is the reminders. I set up things like bring laundry down and make bed as reminders, and I was able to set the time and how often it repeats. This helps tremendously when she says, "You didn't tell me that." I plan on adding in reminders to prep her dance stuff, bring her Bible to church on Sundays, etc. Eventually we will add in school tasks when she's a little older.
I can also set up group chats with various contacts. We don't plan on having many contacts because I have explained that this is a tool to help keep her safe and organized, but I can set up a group chat with my oldest still at home, my youngest, and myself. This allows us to communicate that my oldest will be picking her up instead of me, or that my oldest will be bringing her something she forgot, etc. I can see everything as the admin, but others like my husband only need to see chats that he directly needs to engage with.
The smart watch also allows for video chat that you can leave disabled or enable to use. The phone can take photos and send emojis also. At first, I didn't really think this was necessary, but as we used the Tick Talk 3, I looked at these functions positively. I don't want others to know this is a GPS watch, or that my child can call me or even call 911 if needed. Because the Tick Talk 3 has these other functions, it appears as more of a fun watch to those who aren't aware of its full capabilities. The Tick Talk 3 can call anyone in the contacts, but by holding down one of the side buttons, the watch can automatically call the SOS contact which I set up as me. In addition to this feature, by pushing the side buttons a certain number of times, the smart watch can even call 911. You will have to determine whether this is something you want your child to be aware of as a function.
The Tick Talk 3 is available in a white and black model, and there are a variety of flexible bands available to choose from. There are also options to personalize the wallpaper, home screen, and lock screen, which my youngest figured out very quickly on her own. There is a calculator feature which is helpful when we work on life skills at the grocery store and out and about. There is also a stop watch feature which we've used to race one another on daily chores, a calendar, and even quick buttons for Mom and Dad so that the child doesn't have to go to contacts to search. This is helpful when you have the dial pad for the phone turned off as we do, so that a random person is not accidentally called. Children can friend others with the same watch, but I don't see us using this at this age.
There are a few things about the watch that would be considered negative, but they're not serious issues. First, the smart watch doesn't have a huge amount of memory to hold info, but once the newness wears off, I don't think it will be an issue for us. Second, when we were first setting up the watch and checking all the functions, we were on it a lot more than typical use, and the watch was getting quite warm. I was not comfortable with this being long term although the user guide does reference it. While testing the watch and using it over the past week, we have only had issues during set up, the initial charge, and the first day or two when my youngest was using the watch a lot. As long as it's not an ongoing problem, I'm not worried about it. Third, the battery life doesn't last very long in comparison to a fit bit, ipod or smart phone; however, it wasn't hard to get in the habit of charging the watch nightly as we do our other technology. The Tick Talk 3 development team has been able to increase the battery life with earlier updates of the app, and I'm encouraged that this is something they are working on and will be able to improve over time.
'There are lots of things I love about the watch. The Tick Talk 3 app is free to download and is user friendly. If you have more than one child, you can pair and sync multiple watches. You have control over the smart watch from the app and can add reminders, contacts, etc. from the app itself. As the parent administrator, you can also add a 'do not disturb' time on the smart watch where only emergency phone calls and texts will be sent and received. This is great during class times or if your child is in school or another appointment where he or she shouldn't be disturbed. The Tick Talk 3 app is available for both IOS and Android phones. My husband has an Android, I have an iPhone, and the functionality has been seamless for both.
I can definitely recommend the Tick Talk 3 and I do find it helpful and beneficial for our family. I do want to mention that I received the Tick Talk 3 free with the expectation that I would give a thorough and honest review.
Black Friday Sale & More
For information about how to buy a Tick Talk 3, click this link.
From Thanksgiving Day through 11:59 p.m. on Cyber Monday (November 28-December 2, 2019):
Buy the Tick Talk 3 and save $30
Buy the band and save $5
Buy both the Tick Talk 3 and the band and save $35!
SPECIAL OFFER JUST FOR FRIENDS OF HIP HOMESCHOOL MOMS: TickTalk is offering you a free band on top of their Black Friday deal. If you want to take advantage of this deal, place your order between now and December 31, 2019, and simply shoot them an email to get reimbursed for your purchase price of the extra band. They are running multiple deals between now and the end of the year, so take advantage of this free offer! You should see your refund back in your account in 2 business days.
TO GET YOUR FREE BAND:
Dear TickTalk Team,
I am requesting a refund on my purchase of the TickTalk band. Please see my Order #_____.
I am using the code: HIPHOMESCHOOL
Jamie is a veteran homeschool mom of two. She has a passion for encouraging moms in all walks of life and a heart for new homeschool moms. She is beginning her 12th year of homeschooling and has a love for Jesus, coffee, and the quest for an organized home. She is a non-recovering type A and enjoys chauffeuring her kids to all their activities and downtime with her husband of 18 years. You can find her sharing her semi-crazy life on Facebook.