Using Libib to Manage Your Home Library
In this final installment I'll be examining Libib.com and offering some advice on which tool I recommend overall to manage your home library. Let's start things off with an overview of Libib.
Just like Goodreads and LibraryThing, Libib offers users a way to simply catalog their home libraries for free. The two elements that make Libib rise above either of the previously mentioned tools is its design and ease of use.
Personally, I found the look of Libib more appealing than either Goodreads or LibraryThing, and its simple interface makes adding books fast and easy.
Libib has all the features you'd expect from a home book cataloging tool: Catalog you home library (books, movies, & video games) for free.
Companion app available for Android and iOS
Publish your collections on a personal page
Import your collect using a .CSV file
Keep notes and tag books in your library
Libib really focuses on simplicity and ease of use. Scanning books into Libib with an app is quick and easy. I effortlessly scanned 6 books into Libib in about 1 minute. I didn't have to confirm the title of the books or go through any extra steps. I just scanned the UPC code and they were added and I was prompted to add another or stop scanning. Although the process was fast, the lack of confirmation left me questioning whether or not the books had even been added, and upon reviewing my library I found one was missing (I had scanned 7 books). It was easy enough to add it via an ISBN search. The app does indicate if the book was successfully added, but the message is small and easy to overlook and doesn't appear different than the successfully matched message except for the text.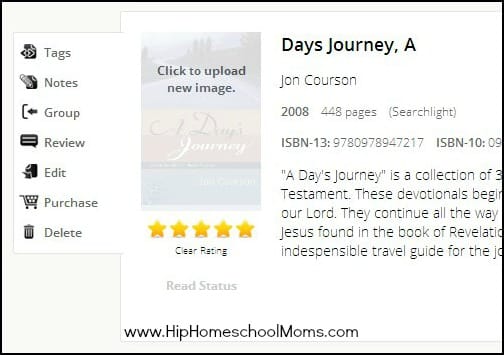 Common tasks are easily accessed by hovering your mouse over the book's cover image. From there you get a pop-up with many of the features available in most common home library software. You can rate, review, group, and tag books. Even editing a book's description can be done without having to go to a new page. This makes maintaining your library very simple and easy to accomplish. This simple design is what I think gives it a leg up on Goodreads and LibraryThing. It's not cluttered, and you're not distracted by feeds and updates from other users.
So which is the best? Honestly, it depends on what you're looking for. If you want a simple, easy-to-use, and attractive tool, go with Libib. Want to share your reviews and updates and make friends related to the books you read? Goodreads will be your best bet. If you have a small library and want to avoid the Amazon ecosystem but don't mind paying for for added space, the best choice is LibraryThing. You really can't go wrong with any of these products.
Which is your favorite and why? Share your thoughts in the comments.
John Wilkerson has been married to Lisa for 15 years, and they have 7 children. All of them are homeschooled and keep them busy but very happy. When he's not solving technical problems at a local private college during the day or podcasting and blogging at night, John likes to pursue his other current "hobbies" which include social media, martial arts, and coaching soccer. If you'd like to connect with John online visit the contact page on his website, The Wired Homeschool.