15 Winter Field Trip Ideas
Sometime toward the end of January, the walls can start to close in on a homeschooler who lives in a true "winter climate." The kids want to run and jump. Mom wants to go somewhere, anywhere, other than the kitchen or living room. It's a precursor to Spring Fever. But where to go? Field trip opportunities can be slim in the cold winter months.
If you're not up for organizing your own field trip, try finding groups to join. A good place to start is your local co-op or umbrella organization. you can also search Facebook for homeschool or moms' groups in your area! These types of groups usually have monthly outings, at least.
Also, if you truly do not want to brave the winter weather, organize a "field trip" to your house. Invite friends to come enjoy an afternoon of arts and crafts. It's not so much what you do, beating the winter doldrums is the goal. Opening your home could be a blessing to not just your family, but others as well.
To help kick start your planning, I've compiled a great list of 15 winter field trip ideas to get you thinking about what outings you can experience in your area. So go! Put on the winter coats (and gloves, hats, boots, and scarves) and take a field trip. Better yet, take a field trip to a warm indoor destination (Does Starbucks have indoor playgrounds yet??) and enjoy! The rewards will be worth the effort! Be sure to commemorate the outing by taking lots of photos.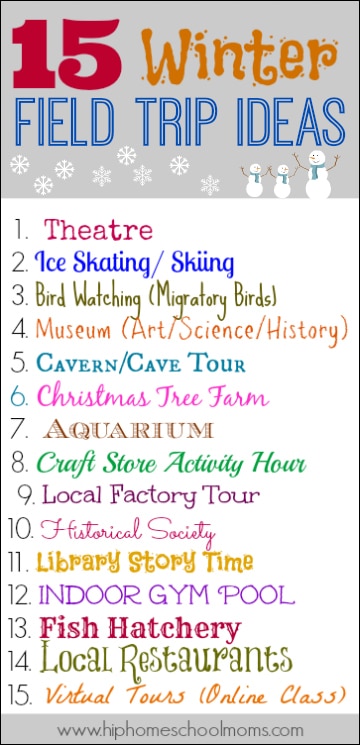 What are your favorite winter field trip destinations? If you live in a warm locale, what field trip would you most like to take if you lived in a winter wonderland? Have you taken a winter field trip lately? Tell us all about it in the comments below!