Kids in the Kitchen: Cooking in Your Homeschool is about much more than simple kitchen math and home economics. There are many benefits in having your kids spend time in the kitchen.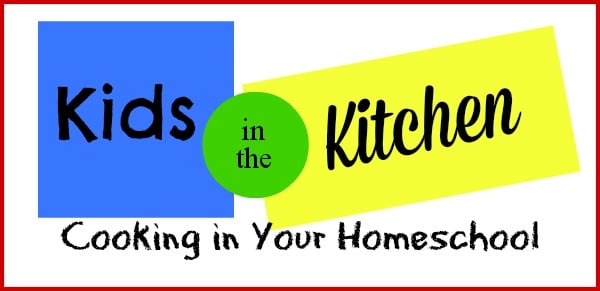 Some of the more obvious educational benefits include kitchen math and science, weights and measurements, home economics, and life skills. Having the family gather in the kitchen to cook together also makes for great family time. The children can learn about good nutrition and balanced meals, and they seem to eat better and try new foods when they have helped prepare them.
Consider exploring geography and even history in your family kitchen!
In our study of Mexico, for instance, we read about the country. We looked it up on the map, created a paper flag, and discussed the major goods and services. We saw pictures of the Mayan ruins and discussed other aspects of the culture–including the food. We learned that the original enchilada, a street food from Mexico, was simply tortillas dipped in sauce and eaten without fillings.
You can read more about the history of enchiladas here. The Maya used to dip the tortillas in grease and stack them in layers with cheese and salsa. So we invented our very own "Enchilada Casserole" and headed to the kitchen to complete our school day and prepare dinner in the process!
During our kitchen time, we discuss what we've learned about the country as we cook foods from that country. Although we want it to be as authentic as possible – I try not to get too hung up on the little things. If I cannot find a certain ingredient or have a family member who does not like a certain kind of food, we will tweak it to fit our family's dietary needs.
The important thing is to get a feel for that country's food, to review what we have learned, and to enjoy our time in the kitchen together learning new skills and expanding our horizons.
What do you do to get your children involved in the kitchen? Do you incorporate time in the kitchen into your homeschool?
Enchilada Casserole
Ingredients
corn tortillas
4 banana peppers
2 can Ro-tel (mild)
sour cream
2½ cups grated cheese
6-8 small tomatoes
1 can diced tomatoes with lime & cilantro
guacamole
1 large onion
½ jar of Pace salsa (chili verde)
2 cups chicken broth
pico de-gallo (fresh, uncooked salad made from chopped tomato, onions, and chilis)
lettuce
Instructions
Recruit the kiddos to help out by chopping tomatoes, onions, and peppers and by shredding chicken and grating cheese.
In a large skillet or big pot, add 2 tbsp of canola oil and turn on the heat. As soon as the oil is hot, add 2 tbsp of flour and stir until mixed well with no lumps.
Add 2 cups of chicken broth and stir until mixed.
Add both cans of Ro-tel tomatoes and the half jar of Pace salsa.
Mix well and then set aside on low heat.
Heat more canola oil and quickly dip the tortillas. Then flip them and remove from oil. You don't want them to get crispy. (This process only takes about 30 seconds total.)
Place tortillas on paper towels to soak up the extra oil.
In a skillet, place a small amount of oil and your chopped onions and peppers. Cook until veggies are translucent. Add shredded chicken and stir.
Dip cooked tortillas into the enchilada sauce you already made.Be sure to cover both sides of each tortilla.
After the tortillas are covered with sauce, place a single layer of tortillas in the bottom of a casserole dish.
On top of the tortillas, add a layer of the chicken/onion/pepper mixture.
Add a layer of cheese on top of that.
Continue layering in that order--tortillas, chicken mixture, and cheese (about 2 more layers).
Bake at 350 until cheese is melted and bubbly. (About 15 to 20 minutes.)
Put a big chunk of casserole on your plate on top of chopped lettuce & tomato.
Add sour cream, guacamole, or whatever else tickles your fancy.
Most importantly--enjoy your time cooking with your kids in your homeschool!