Inexpensive Wrapping Paper Ideas
Wrapping Christmas gifts is something most of us do, yet many of us dislike the idea of buying expensive gift wrapping paper that will be used once and then thrown away! Why spend a fortune on wrapping paper and gift bags when you can use these fun and inexpensive wrapping paper ideas instead? And if you get the children involved in helping to use these creative ideas to wrap gifts, it turns into a great learning experience, family time, and time to let them use their creativity!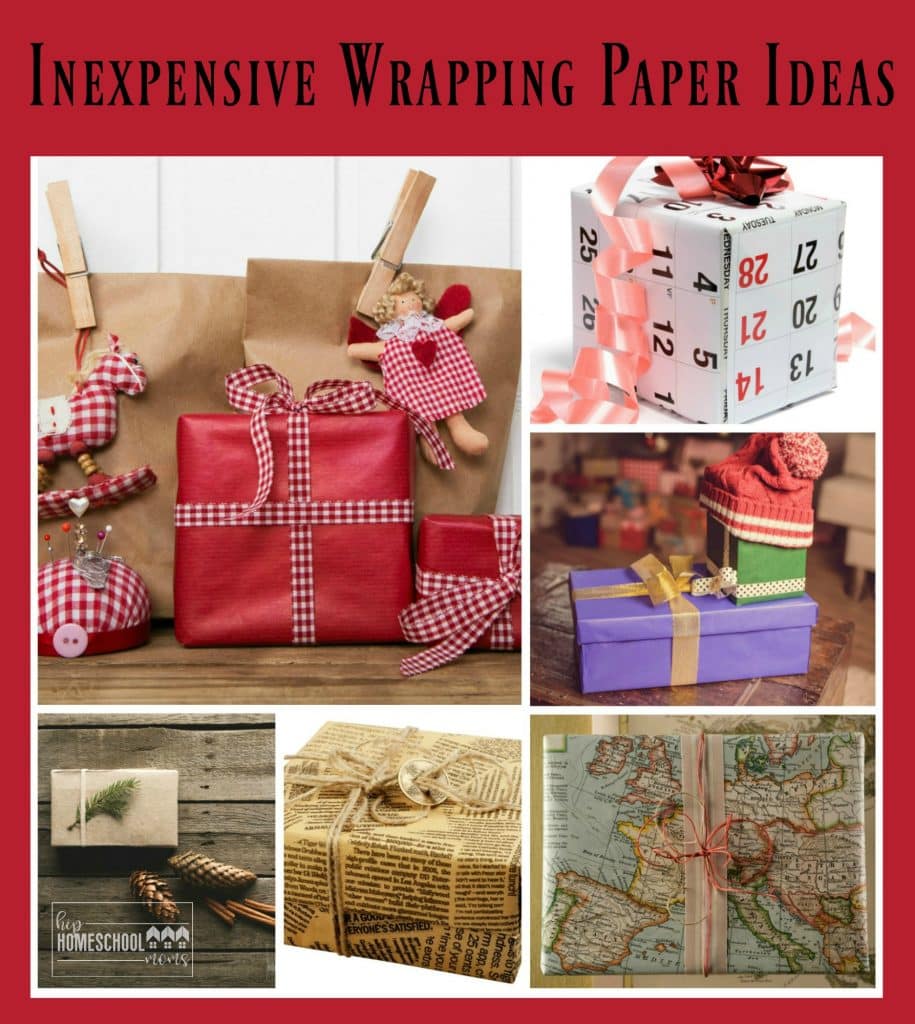 Wrapping Paper Ideas:
Newspaper
Have you ever thought about using plain old newspaper for wrapping gifts? There's no need to throw away those old newspapers when you're finished reading them. They can easily be used to create some lovely gift wrap! This article, 10 Stylish Wrapping Ideas Using Newspaper, includes ideas for using newspaper as Christmas gift wrap, but it also includes examples of newspaper gift wrapping for other occasions as well as using newspaper to create gift bags.
Craft Paper
You can easily use craft paper to make gift bags or gift wrapping paper. In fact, you can use craft paper alone to wrap gifts, or you can use newspaper or plain brown paper and embellish it with craft paper to dress it up! This is a great way to use up leftover craft paper that would otherwise be wasted.
If you have plain craft paper, have your children add stickers, ribbons, stamps, or even hand-prints to decorate. (What grandparent wouldn't love getting a gift wrapped in paper with his or her grandchildren's hand prints or foot prints all over it!?) Or if you enjoy painting, you can easily paint on a few pretty Christmas shapes or colors. (Try something simple like gold stars, green trees, white snowmen, etc.)
Old Maps
If you have old maps lying around–or even new ones that you don't want or need–they make perfect gift wrapping paper! Take a look at this article showing how to do it! The linked article isn't specifically sharing ideas for using maps as Christmas gift wrapping paper, but you'll see that the packages she wrapped with maps are pretty enough for this purpose!
Fabric Scraps
You may want to use scraps of fabric to add to regular Christmas wrapping paper for larger gifts, or you may have large enough pieces of fabric to use to wrap entire gifts–especially for small gifts! And don't worry if your fabric isn't holiday-themed. Even solid-colored scraps of fabric may be used to add some beauty and creativity to packages or bags.
Shirts, Blankets, or Scarves
Have you ever thought about using "wrapping paper" that's actually part of the gift? It's so much fun to use a cozy flannel shirt, a soft blanket, or a pretty, warm scarf to wrap a gift. And not only is the gift wrap not going to be wasted, but it can be enjoyed two ways–as pretty gift wrapping and as part of the gift!
Calendar Pages
This is another fun way to make use of something that might otherwise have been discarded. If you have calendars that are no longer being used, take the pages and use them as gift wrap! And what's even better is that you can use both the calendar pages and/or the photo pages. For larger gifts, you may want to tape together some pages to make one larger sheet of gift wrap. For smaller gifts, one calendar page may be enough.
Gift Bag Ideas:
Sometimes it's better or easier to wrap a gift in a bag rather than paper. Some oddly-shaped gifts just don't lend themselves to being wrapped with paper. In those cases, a gift bag may be a better choice! Here are some ideas for gift bags that you may not have considered.
Brown Paper Lunch Bags
Brown paper lunch bags can easily be used as gift bags! If you enjoy being crafty, you may want to embellish yours with paint, stickers, stencils, stamps, or ribbons. Bells or gift tags can help dress up your brown paper bag. You may even add pinecones or greenery from your yard!
If you have brown paper bags from the grocery store (some stores still use them–especially for bagging frozen foods), you may use them instead! And don't worry if they have the store logo printed on them. You can turn the bag inside-out, paint over the store logo, or add ribbons or other decorations to cover it up.
Recycled Clothing
I already mentioned using a flannel shirt to wrap a box, but it's easy to use recycled clothing in place of a gift bag too! If you have an old shirt or sweater that has a hole or stain and can't be worn any more, cut off a sleeve and use it to wrap a cylindrical-shaped gift or a stack of Christmas cookies.
Pillow Cases
You can use pillow cases as gift bags too! You may use a new pillowcase (part of the gift!) tied with ribbon, or you can use an old pillowcase that you've decorated, stamped, or painted with hand- or footprints.
Reusable Shopping Bags
This time of year you can probably find inexpensive reusable shopping bags that are printed with pretty holiday scenes or shapes! One year when my children were little, I found some super-cute holiday shopping bags at a local toy store for less than a dollar each. I used the shopping bags to do my shopping that day in the store, used them as fun gift wrap for my children's gifts, and continued to use them for years as tote bags. Those inexpensive shopping bags were put to good use many many times before they finally wore out!
Embellishments:
After you've wrapped your gifts, you may want to add some pretty embellishments! Below are some easy do-it-yourself ideas for ways to add a little extra beauty to your holiday gifts.
Ribbon Curls
Ribbon curls add some fun to holiday packages! And they're pretty and easy to make too. And the best part is that they don't have to be perfect or fancy. If you'd like to learn how to make your own ribbon curls, or if you want your children to make them, take a look at this WikiHow article with videos explaining and demonstrating how to do it. (*This information also shows and tells how to create more durable ribbon curls by using fabric starch, and it also tells how to use the oven to cure the curls. Please keep this in mind if you have children who might be tempted to try to use the oven on their own!)
Bows
If you'd like to make your own beautiful bows to decorate your gifts, take a look at this helpful video by Michael's Stores showing how to do it step by step.
Greenery and Doilies
You can also use things like doilies–you can find inexpensive ones at many dollar stores–or greenery from your yard to decorate gifts. Get creative and see what you can come up with!
Do you have any fun or creative ideas for wrapping gifts? We would love to hear your ideas! How do you involve your children in getting creative and using gift-wrapping as art or as fun family time?