We love being able to provide curriculum reviews that bring a variety of perspectives. Since we have such a large team of writers, we are able to bring you a well-rounded review with several families using the product. Each individual child and family have different needs, so our goal is to provide a review that might shed light on the unique nuances of the product that worked for each family.
Danielle has a math-minded 11-year-old.
She used the Light Blue Series (Level 5) with her son. To learn more about their experiences using Math Mammoth, keep reading!
Much to my continual frustration, I have a very analytical-thinking, math-minded middle son. Dev is 11 years old and bright enough to understand most math concepts in a very non-traditional, refuse-to-show-your-work-no-matter-how-much-mom-insists kind of way. I've been using the same math program for years with all three of my boys simply because it's what works for ME, not necessarily because it's what is best for them individually. When given the opportunity to review Math Mammoth's Light Blue Series – Level 5, I literally leaped at the chance to challenge my boy with a very different sort of math program.
While poking around the Math Mammoth website I was instantly struck by the versatility in options for ordering. You are able to choose from downloadable files, Grade Level CDs, or the more traditional printed workbooks. Both the downloadable and CD versions are available in bundled packages or single grade levels. Each and every version appeared to me to be more affordable across the board than any math option I'd considered before, a definite plus in my book!
After a few weeks of using the Math Mammoth program, I can confidently say both of us appreciated the practically self-teaching, well laid-out lessons with visual models and mental math that resonated with my boy's thought and reasoning processes. At the time of this writing, we've even gone back and filled in some pretty glaring gaps left by his current math program in the areas of the "Order of Operations" and "Graphing." I'm definitely going to keep Math Mammoth's Blue Series books (smaller, topic-focused books for extra practice and/or filling in gaps) when/if I come across other areas our current math program might be lacking.
Aside from a teaching style that aligns very well with the way my 5th grader learns, I wholeheartedly appreciated the abundance of practical and comprehensive word problems that can be found in this curriculum. It's a big-time pet peeve of mine when a math program drills facts and processes without relating to the student the whys of math concepts in real life situations. Math Mammoth's creator, Maria Miller, also provides an extensive list of level-appropriate games and helpful links at the beginning of each chapter as well as free assessment tests and a great variety of complimentary sample pages to download and try before you buy. I was honestly entirely impressed with just how many resources the author has made readily available.
With all the math curriculum options available to us as homeschool families, Math Mammoth is absolutely worthy of consideration. I'm truly bummed I didn't know more about this curriculum before my kids were nearly out of the middle grades!
Taryn's 7-year-old 1st grade son is a reluctant mathematician.
Here, Taryn shares information about how Math Mammoth worked for them.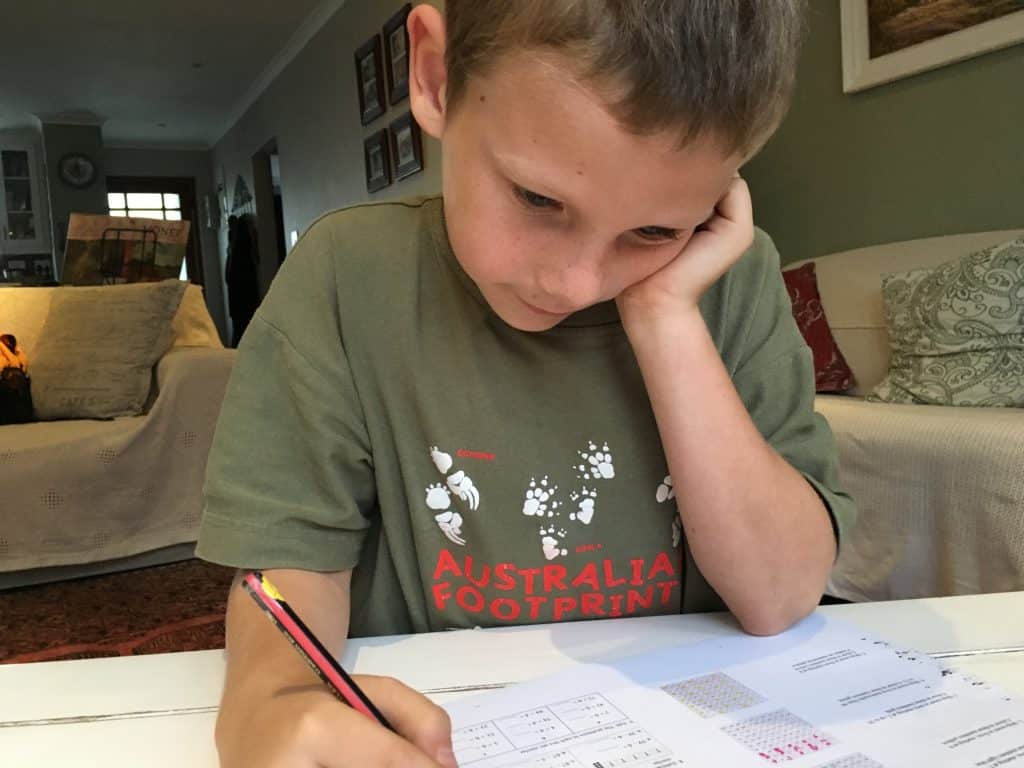 With Math being a subject my 7-year-old has approached with some reluctance these past few years, I was curious to see how he would respond to Math Mammoth. While we continued with our other program – another well-recognised mastery-based program with great results – we also began to introduce some Math Mammoth into our morning. My son loved it! He loved the simple building blocks of information and the number of activities, being not too much and not too little. He enjoyed the colorful images and responded well to the wording used to explain new concepts. I enjoyed the progression of steps and the mastery-based approach. I also appreciated the tone of the lessons. They're fun, interesting, and have a sense of warmth about them. It's easy to work through lessons without ever feeling like it is pedestrian and boring.
While Math Mammoth is advertised as being a program children can work on independently, my guy is not confident enough in his reading skills to be able to handle the volume of reading required to grasp the concepts on his own. Thankfully, he enjoys working alongside me closely, so it was not a problem to work together through the activities. But, if parents are looking for something younger children can work on more independently, then this program would not suffice. However, as the student progresses and becomes more independent, this program needs very little by way of reinforcement. Even for parents who struggle with math themselves, the author of Math Mammoth has provided a wealth of extra resources and material on the Math Mammoth website, free of charge.
All in all, Math Mammoth is a very affordable, thorough program that my 7-year-old son loved!
Jennifer's 7th grade son is very proficient at math.
He was able to complete his work independently.
A simple, affordable, and user-friendly math curriculum is what you get with Math Mammoth. Another plus is the author, Maria
Miller, has a master's in math, and minors in both physics and statistics. That combination produces a thorough and complete curriculum for children in first through seventh grades. Although we have previously used and been pleased with Math Mammoth curriculum, using it this time around was a totally new experience for us. For one, I now have a seventh grader (goodness) and we used physical products of that level. Math Mammoth is mastery-based and offers convenient downloads of all of its products. That is all we have ever used from the company. This time, it was a wonderful treat to have well-bound, physical books in hand to use!
My son was easily able to work through the material. Having already used the curriculum, he set his pace at two pages a day and completed the work with little assistance from me. Some of the topics covered in Math Mammoth Grade 7 are:
• introduction to basic algebra concepts
• integers and their operations
• solving one-step equations, including with negative numbers
• operations with negative rational numbers
• solving linear equations and writing equations for word problems
You can see all of the 7th grade level topics by clicking here.
Maria writes the curriculum for and to the student, so he or she is able to read the instructions and explanations and work through the material independently. This is something I love about the curriculum! In fact, this feature is evident in all grade levels in the complete curriculum. Plus, what seventh grader doesn't want to stretch and feel some independence in his work?
Additional Information:
If you're interested in the Internation Version of Math Mammoth, please click here to learn more. Grades 1-7 are available!
To find our more information about the curriculum, click here.
To find some FAQs about the Light Blue Series, click here.
If you're interested in purchasing any grade level of this curriculum, use these links:
For grade 1, use www.mathmammoth.com/complete/grade_1.php
For grade 2, use www.mathmammoth.com/complete/grade_2.php
For grade 3, use www.mathmammoth.com/complete/grade_3.php
And so on…
So whether you have a reluctant math learner or a student who excels at the subject, Math Mammoth is definitely a great math program to consider!