I Homeschool to Protect My Children from the World's Standards
I homeschool to protect my children from the world's standards. I just said that out loud… well, I typed it, and I'm sure I'll get some grief over it. But it is fact, and I know many of us homeschool for this very reason. So I'm going to just own it. I do shelter my children and try to protect them from the world's standards.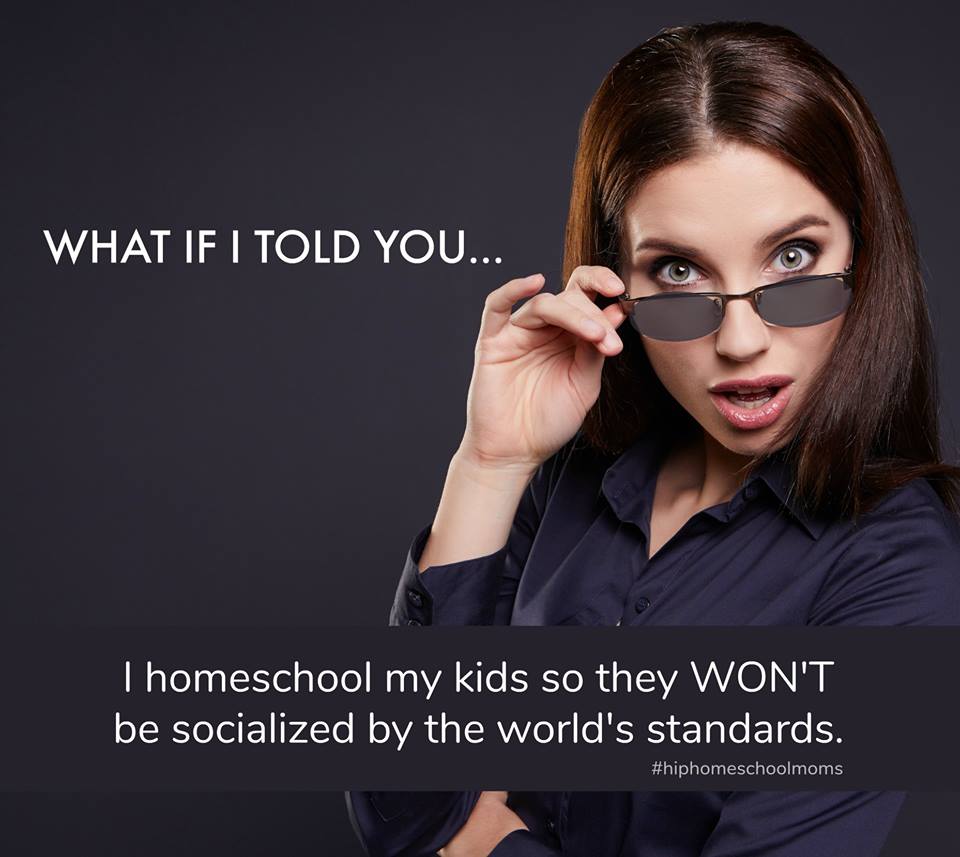 Public School Socialization
As homeschoolers, we constantly hear how our children won't be socialized. Well, I'll be honest, that is the entire point of why many of us homeschool. Okay, maybe not the ENTIRE point, but one of the big points.
I was raised in the public school system. And I know what I was exposed to and what I exposed others to, to be perfectly honest. I'll just keep it real … I'm protecting my boys from girls like I was.
Surprised?
Don't be. I have a history, and it is not one I'm terribly proud of. My mother didn't want another child… and it was obvious. I looked for love in all the wrong places. And made some huge mistakes. I would spend the night with one of my best friends so I could experience the thrill of sneaking out. And what did I do when I was out? Got in even more trouble.
So yes, I am protecting my children from what I personally experienced and all the public school system of socialization has to offer.
I don't want any part of that kind of socialization for my children.
If you are worried about socialization, there are so many ways to help your children make friends. Follow their interests. If they love soccer, join community soccer programs. If they love dance, enroll them in lessons. If they are creators, get them involved in maker and artistic communities locally. Honestly, we find the moms need socializing more than the children!! 🙂 You might consider joining us for one of our Homeschool Road Trips. 4 days/3 nights of homeschool education and adventures! Click here to see the ones we are currently accepting registrations for.
God Has a Sense of Humor, I'm Sure of It!
Let me share the irony, after my above confession. My oldest son is dating a girl from- wait for it –public school. And honestly, she is precious. Her mom is as fiercely protective as any mama bear I have ever seen. And, ironically, her brother is homeschooled. So please don't get me wrong… I don't dislike the kids in public schools or private schools. But there is plenty that I don't like about the public school system:
I don't like what they teach.
I don't like how they teach it.
I don't like what they use to teach.
I don't like the bullying.
I hate the fact that God is banned from their campuses.
I don't like what children are not just exposed to, but almost indoctrinated in…
Sex.
Drugs.
Drinking.
Rebellion.
No thanks.
My kids are not perfect but they are not dabbling in any of those, thank you. They are perfectly normal, partially sheltered, faithful homeschooled boys. And I am very proud of the young men they are becoming. If you asked them, I can guarantee you they would attribute some of that to being homeschooled. Some to their faith. And some to who they are and what they want to do with their lives and having the right priorities (most of the time).
So if anyone is making you feel guilty or second-guess your decision over this whole socialization conversation …
Don't give in.
Don't allow others to have any say or control over your parenting decisions.
Children are little for such a short while.
No, we can't shelter them their entire lives. We know they will one day grow up and be exposed to the onslaught of the world's standards. But that attack will come after we have given them a firm foundation. So teach them diligently, moms and dads. Give them the emotional and spiritual tools and a strong foundation in your faith that they will need to go out into this vast chaotic and lost world.
Give them what they need to help them navigate through the world's landmines, and then watch them thrive because they were properly prepared to make good decisions and to stand up for what they believe in. You won't regret the time you spent sheltering your children and giving them a firm foundation for living in and being a light to the world.
Is protecting your children from the world's standards one of your reasons for homschooling too? Share your reasons with me in a comment!