Massive List of Homeschool High School History Curriculum Options
One of the benefits of homeschooling high school (or homeschooling in general) for that matter, is the freedom to choose what and how your children will learn something. One of the ways to teach a subject is through a given curriculum. Through our years of homeschooling, I have come across many homeschool high school history curriculum options.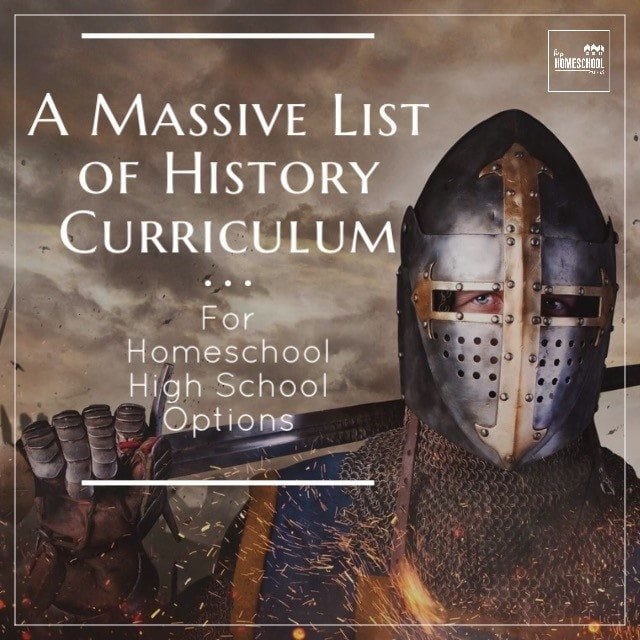 Homeschool High School History Curriculum Options
Exploring World History (1 year)
Exploring America (1 Year)
Exploring Government (1/2 year)
Exploring Economics (1/2 year)
Civics & World Geography (1 year)
World History (1 year)
American History (1 year)
Government & Economics (1 Year)
American History I & II (each 1 year)
World Geography (1 year)
World History (1 year)
Economics (1 year)
You can find all the Crash Course videos on YouTube. Plus there are many companion worksheets at Teachers Pay Teachers.
World History
World History 2
Economics
U.S. History
Each one of these courses is 1 year in length.
World Studies
American Republic
Cultural Geography
World History
Beautiful Feet is a curriculum based in rich literature with corresponding study guides to put it all together.
Early American & World History (for use with grades 7-9)
American History Through Literature (grades 5-8 & 9-12)
Medieval History Senior High (grades 10-12)
Modern U.S. and World History (grades 11-12)
Sonlight history carries numerous options that can be done in an order of your choosing and include:
American History
World History
Church History
20th Century
American Government
World Views
All American History – a complete year's curriculum for students in grades six to high school when combined with the Student Activity Book and Teacher's Guide.
The Mystery of History – adaptable for grades 4 & Up and is a four-volume series that presents world history in a chronological order.
North Star Geography – a year-long course for junior and high school students that covers geography skills, physical geography (lithosphere, hydrosphere, atmosphere, biosphere) and human geography (social structures, culture and heritage)
Horrible Rome and Egypt
Horrible Middle Ages
History of US: Prehistory-1776
History of US: 1776-1855
History of US: 1855-1900
History of US: 1900-Present
American Government
Current Events
Big History A
Big History B
Modern U.S. History through Movies
World History through Movies
Science and Societies in Science Fiction Movies
Advanced World History A
Advanced World History B
Advanced U.S. History A
Advanced U.S. History B (coming soon)
This program is called Hearts for Him Through High School and includes:
World Geography (ages 13-15; extending to grades 10-12 grade)
World History (ages 14-16; extending to grades 11-12)
U.S. History I (ages 15-17; extending to grade 12)
U.S. History II (ages 16-18)
Ancient History and Literature
World History and Literature
U.S. History to 1877
U.S. History 1877 to the Present
A deep and rich literature based history study. Companion resources can be bought through A Journey Through Learning.
Beginnings (Creation/Old Testament/Ancients/Egypt)
Ancient Greece
Ancient Rome
Middle Ages (500-1400)
Renaissance/Reformation/Exploration (1400-1600)
Age of Revolution I (US/Europe, 1600-1800)
Age of Revolution II (Us/Europe, 1800-1865)
Age of Revolution III (US/Europe, 1865-2000)
American History for Young Students I,II,III
Whether it's standing on the podium in Seneca Falls with the Suffragettes or riding on the first subway car beneath New York City in 1907, the books in Joy Hakim's A History of US series weave together exciting stories that bring American history to life.
Each books is designed for a year's worth of study with 34 weeks in all.
American History
British History
World History
This is a 12-part, 9-hour documentary-drama television miniseries that portrays more than 400 years of American history (with emphasis on how American creation of new technologies has had effects on the nation's history and, by implication, the world). It spans time from the successful English settlement of Jamestown beginning in 1607, through to the present day. The series recreates many historical events by using actors dressed in the style of the period and computer-generated special effects.
Omnibus is the classical Christian educational answer to history, theology, and literature.
The Omnibus III Secondary Books course complements the primary books course with 105 engaging lessons, providing a combined balance of history, theology and literature.
Completing Omnibus IV will provide the student a full credit in Ancient World History II, Doctrine and Theology IV, and Ancient Literature II.
Completing Omnibus V will provide the student a full credit in Medieval History II, Doctrine and Theology V, and Medieval and Reformational Literature II.
Completing Omnibus VI will provide the student a full credit in Modern U.S. and British History II, Doctrine and Theology VI, and Modern U.S. and British Literature II.
An award-winning homeschool curriculum: a plan of study that helps parents provide a Christian, classical education using a guided unit study approach, with the history of the world as the core organizational theme. From Grades K–12, all students cycle through world history every four years, with all ages studying the same slice of history each week, each at their own learning level. Detailed lesson plans and discussion outlines enable parents to be their children's primary teachers and mentors and shape their students' biblical worldviews.
Discovering the Ancient World 3500 – 500 B.C.
Expansion of Civilization 500 B.C. – A.D. 1500
Rise of Nations 1440 – 1860
Age of Revolution Semester 1 1850-1929
Age of Revolution Semester 2 1930-2010
American History
Ancient History – Classical
Ancient History – World
Civilization & Culture
Medieval History
Modern History – Europe
Modern History- World
Renaissance & Early Modern History
Military History
This curriculum is designed so that all your children can study the same time period and learn some things together while doing different grade appropriate activities. The Student Manual is designed for 5th through 12th grade. This is a book based curriculum. It is also a multi-disciplinary program which means – this curriculum doesn't just teach history, it includes a focus on the geography, music, architecture, art, literature, science etc. of the time period.
Ancient (Creation to Christ)
Middle (Roman Empire to the French Revolution)
Modern (Napoleon to the Korean War)
This series is video based. Full year courses include:
Ancient History
European History
American History
Asian History
American Government
23. Trail Guides
These Trail Guides are a family-friendly, multi-level geography curriculum guide for students in grades 3 through 12. With its trail markers (animal track icons) guiding your student along three different learning paths, this book can be used for more than one academic school year and works well if you have a number of students of varying abilities learning together. They provide lesson plans and assignments for a 36-week school year.
Economics
Nature of Government
Grade 9 – World Geography
Grade 10 – World History
Grade 11 – American History
Grade 12 – U.S. Civics
What would you add to this Homeschool High School History Curriculum List?
Other High School Related Articles