Have You Filled Your Plate?
I have been blessed with kids who like fruits and vegetables. That being said, it does not mean that they like all fruits and vegetables, nor does it imply that they always easily eat them! It is to say that compared to many children and parents around us, our children are on the upside of healthy eating habits. On any given day you can find my 5 year old wandering around munching on a bag of carrots, an apple, or even grapes. My 12 year old went from eating nothing but cucumbers and dip, to being obsessed with what she has deemed "Italian Salad", which is basically lettuce, cucumbers, croutons, radishes and onion, doused in olive oil and Italian Parmesan dressing. Then last year at this time, our children began picking apples off our lone apple tree in the yard, cutting them up, and using cinnamon and sugar to dip them in.
Having said all of this, our children (and myself) often don't hit the recommended servings of fruit and vegetables for the day. What are the recommended servings? They are basically the same as we knew them growing up, with a little bit different presentation.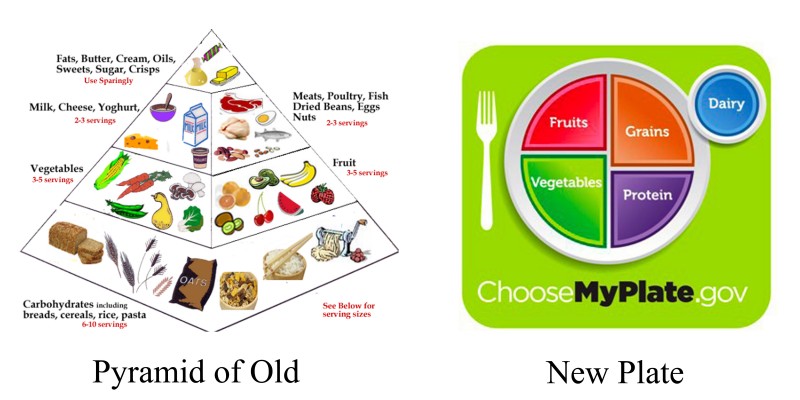 We all grew up memorizing the Food Pyramid as our model for healthy eating. Recently the USDA (United States Department of Agriculture) switched to a new symbol: a colorful plate called My Plate with similar messages of eating a variety of foods, eat less of some foods and more of others.
The pyramid of old has horizontal stripes to represent the five food groups plus oils. The plate features four sections (vegetables, fruits, grains, and protein) plus a side order of dairy in blue. The big message is that fruits and vegetables take up half the plate, with the vegetable portion being a little bigger than the fruit section.
Like the pyramid of old, the plate has also been divided so that the grain section is bigger than the protein section. Why? Because nutrition experts recommend you eat more grains than protein foods. You should also try to make "half your grains whole". Instead of filling your grain requirement with all refined grains such as white flour, white bread, and white rice, try switching to whole grains such as whole wheat flour, oatmeal, corn meal, and brown rice. A difference between the pyramid of old, and the new plate is that the plate recommends eating more vegetables than fruit. It used to be an even 2-3 servings for each, but now the USDA recommends eating more vegetables than fruits.
Now the question is, how do we get in more servings of vegetables for our children? I have two larger scale thoughts on this: the first is to do fun things with the vegetables, the second is to just hide them altogether!
Here are some ideas for making vegetables more fun and appealing for kids:
-Vegetables with low-fat dip
-Ants on a log (celery with peanut butter and raisins)
-Veggie pizza
-Hummus and veggies
-Veggie juice
-Make sweet potatoes into fries
-Use baby sized carrots, cucumbers, tomatoes etc.
As far as making them disappear altogether we have gotten into adding vegetable purees to many of our foods. If you prepare and freeze the purees ahead of time, then they are a quick and easy add to any food you are making.
Here are some examples:
-Add cauliflower puree to things like eggs, soups (potato,creamy chicken noodle), tuna and chicken salad, macaroni and cheese, bread
-Add carrot or sweet potato puree to things like french toast, pasta sauce, beef stew, muffins, sloppy joes
Jessica Seinfeld's book Deceptively Delicious is a fantastic resource with not just recipes, but tips on what kitchen utensils to stock, what food to keep in your pantry, how to puree different fruits and vegetables, as well as the nutritional value of them.