Teach Homeschool Art with Literature: Activities for Grandpa Green Book
One of the nicest things about homeschooling is being able to incorporate the things we love into our teaching and learning each day! Some of my favorite things are art and literature. It is a blessing to be able to do the two together, and it is wonderful to be able to share my love for both of these with my children.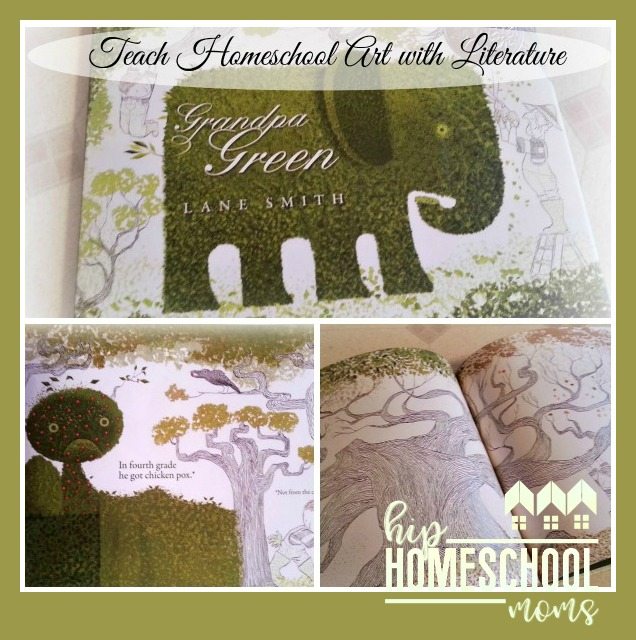 When I saw the book Grandpa Green
by Lane Smith I just fell in love. So much in love in fact that I had to revise my art lesson plans for the remainder of the year just to get this wonderful lesson added in time. It was the book's charm and gentle story that first intrigued me. But I have to admit that it was the fantastic illustrations that finally sold me in the end. I just could not resist such a holistic way of teaching art: through literature.
Grandpa Green Activities

Especially as a homeschooler, I know the value of teaching across subjects. You could teach a whole day's lessons just from this one book. Here I'll share more about teaching art with language arts. The art lesson covers some information I shared in a previous article about color harmonies and creating colorful characters. You can easily do the lessons with multiple ages, too. This could make up the lessons for a fun Art Day for the whole family, so let's get started!
Grandpa Green Language Arts
Read the book together. It's short and charming and can definitely be read a few times. Simply enjoy and talk about the book. It's the story of a boy's grandfather, Grandpa Green, and his relationship with him. It's told in front of the backdrop of the grandfather's garden topiaries. With each Edward Scissor-hands type creation of Grandpa Green's, you'll learn a bit more about him and come to admire him as much as the boy.
You can get our FREE Color Harmonies Workbook to help teach the color harmonies. No previous art experience required!
Do a little story analysis if you like, come up with spelling and vocabulary from the book. An important vocabulary word for this story would be horticulture. You could also give your children a copywork or dictation selection for writing right from the story. Make your selection with purpose that highlights something you want them to know or remember from the book.
Colorful Characters Project Tutorial
Grandpa Green Color & Line Activity:
What you will need for this Grandpa Green Activity:
Vocabulary for this lesson could be: color wheel • color harmonies • monochromatic • analogous • triadic • complementary color harmonies • line drawings and line as an element of art
Grandpa Green Story Telling Activity:
Once you make your own Colorful Characters they seem to take on lives of their own. Now you can use them to tell a story! You may want to have your children work together to write their own picture book in which a story similar to Grandpa Green's is told. Perhaps it could have a color theme or a theme that ties into color. Have your children identify the theme of their story. Will it be a monochromatic color story about their baby brother who cries a lot titled "Baby Blue"? Or perhaps a story using an analogous color palate of purple to red about their favorite berries titled "Violet's Berries"?
There is no end to what the colors or characters might inspire. The story can be autobiographical about a person they admire or a work of fiction. It can be about a person, thing, or idea. Have your child tell their story using the characters they have created. Most likely, the characters themselves will come to life and inspire a story. Add felt to the back of the Colorful Characters to create a felt board as the backdrop for the story telling experience. Consider having your children write or type their story after it's been told verbally once or twice.
Share your great teaching ideas for this book or a similar one. Leave a comment!