Big List of Sea Life Books
It will soon be summer, and for many of us, that means a trip to the beach! One of our favorite things to do at the beach is look for dolphins swimming in the water. We love to catch glimpses of them! It just looks like they're having so much fun out there! It's also fun to study about all the different kinds of creatures that live in the sea, and we've made it easy (and inexpensive!) for you and your children to do just that.
Below you'll find books and resources for doing a sea life study with your students. We've got a set of Sea Life Notebook Pages in our store, and we think you'll love them! You can use them for multiple age/grade levels. They can be used to study 38 animals and 1 plant, and a blank page is included if you'd like to add other sea-related animals to your study. You can use them for reports, unit studies, research projects, or in whatever other ways you choose. (There are suggested uses/ideas in the product information in the store, so be sure to take a look!)
We're also sharing in this article a big book list, and you should be able to find many of these books at your local library. And if you choose to make it a more in-depth or lengthy study, using Apologia's Swimming Creatures of the Fifth Day is an excellent way to do that! In fact, this textbook is perfect for a year-long study of sea life for the whole family (grades K-6) to use together!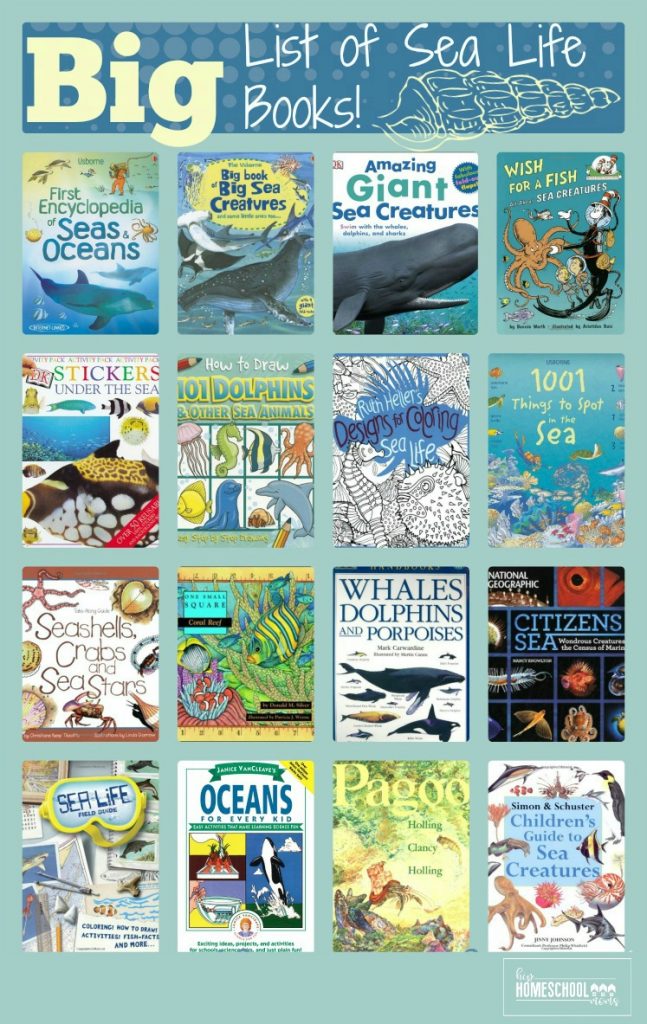 Here is a peek at the Sea Life Notebook Pages. But be sure to check them out in our shop too! (At the time of publication of this article, these pages are on sale for $1.99!)
$6.99Add to cart
But if you are looking for some wonderful living books for a Sea Life unit, look no further! I've created a wonderful list for you below! It was really hard for me to categorize them into age and grade levels (mainly because I like to use books of many levels in my homeschool, and I see the value in offering books at different levels for my child). But to make it easier for you to choose books, I have done my best to assign them to a level.
Early & Elementary Sea Life Book List
Ocean Life from A to Z Book and DVD (Readers Book & DVD)
1001 Things to Spot in the Sea
Wish for a Fish: All About Sea Creatures (Cat in the Hat's Learning Library)
The Usborne Big Book of Big Sea Creatures
Nudibranchs & Sea Slugs! Kids Book About Colorful Marine Life
Star of the Sea: A Day in the Life of a Starfish
Ocean Sunlight: How Tiny Plants Feed the Seas
Sea Creatures (Look Closer)
First Encyclopedia of Seas & Oceans (Usborne First Encyclopedia)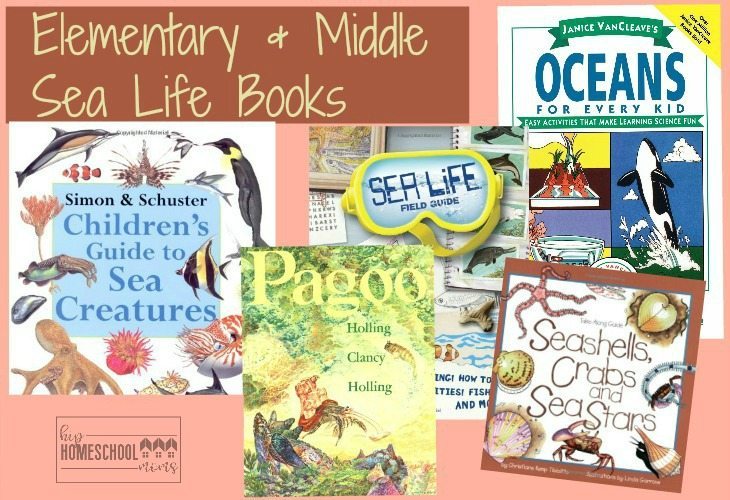 Elementary Through Middle School Sea Life Book List
Simon & Schuster Children's Guide to Sea Creatures
Seashells, Crabs, and Sea Stars: Take-Along Guide (Take Along Guides)
Sea Life Field Guide (Dover Science Books for Children)
Seashore (One Small Square)
Coral Reef (One Small Square)
Citizens of the Sea: Wondrous Creatures from the Census of Marine Life
Whales, Dolphins, and Porpoises
Janice VanCleave's Oceans for Every Kid (This book is full of ocean-related experiments and easy hands-on activities!)
Sea Fiction & Literature Selections (Middle and High School)
Call It Courage (Middle)
20,000 Leagues Under the Sea (Middle to High)
Moby Dick (High School)
The Pearl (High School)
The Old Man and the Sea (High School)
High School Sea Life Book List and Texts for Marine Biology
My first choice here would be Exploring Creation with Marine Biology (Apologia) hands down but there are numerous other out there. And to be honest for my family I would look no further. But if you are looking for something secular, I thought this Introduction To The Biology Of Marine Life
looked pretty good also, but I have never used it.
Art, Sticker Books, and More for Under the Sea
How to Draw 101 Dolphine & Other Sea Animals
Under the Sea (DK Stickers Activity Pack)
Sea Life (Ruth Heller's Designs for Coloring)
Art Forms from the Ocean: The Radiolarian Prints of Ernst Haeckel
Natural Curiosities: The Prints of Ernst Haeckel 2015 Boxed Posters Calendar: 12 Poster Calendars for 2015