The First Dog: Ice Age Activities
When I was teaching "living books" as a class for my homeschool co-op, I found a way to make it an art class too! As a result, I developed a homeschool art program, Art Around the Ancient World, in which I read a book for each civilization, discussed an art form from the time period and civilization, and then did a related project. The class loved it, and I did too! The following was our first unit about the ice age.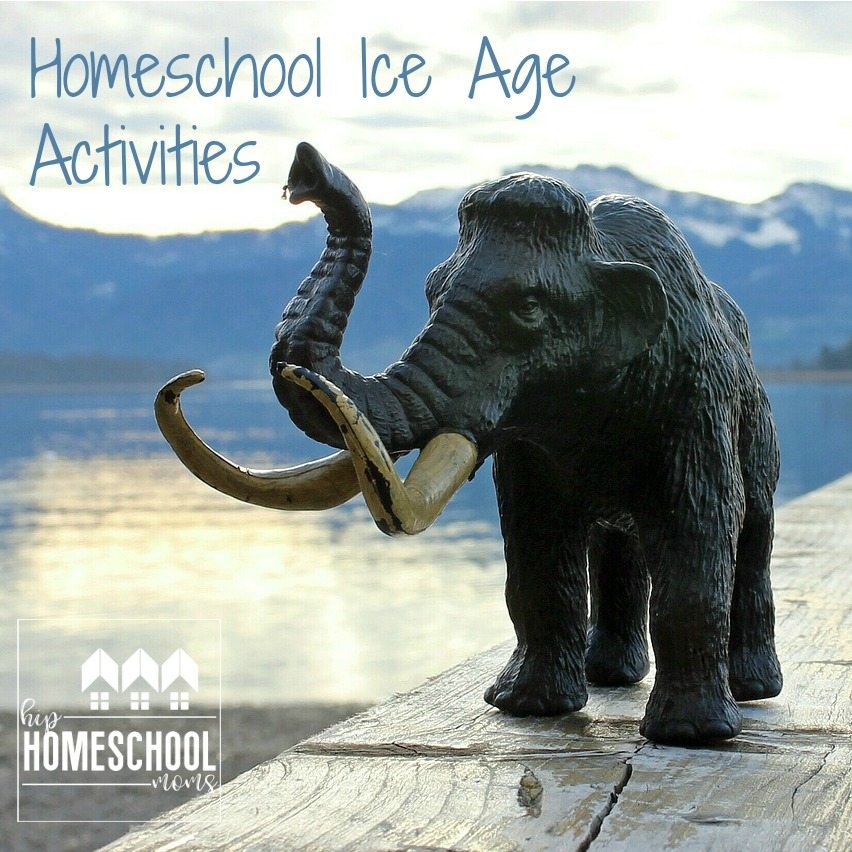 Homeschool Ice Age Activities
The first book we read was The First Dog
by Jan Brett. I totally fell in love with the simple and sweet approach of this story. It was the most perfect story to begin our program. Why? Because it was the classic conflict, climax, and resolution story. In fact, the story presents a pattern of repeated conflict.
Ice Age Activity #1: Discussing the Literary Elements of The First Dog.
The First Dog is the story of how the first dog came to be, the domestication that is, of the earliest member of the dog family. But it's even more the story of a "cave boy" named Kip who meets Paleowolf and finds mutual benefit. The boy provides the wolf with scraps of rhino rib while the wolf offers early warning of danger in return.
The language of this story is so well done. The repetition of lines and events each vary a little making it easy to follow as well as captivating. The repeated event is danger of attack by an animal of the time period, such as the mammoth. Each time the wolf first hears something, and then there is a warning of danger at which time Kip barely escapes from the dangerous ice age animal.
This book is the perfect introduction to prehistoric animals. Each time Kip barely escapes to reunite with the wolf. As a result, a new friendship emerges.
Ice Age Activity #2: Write Your Own Story
I used this story to inspire the children to write something with the "third time is a charm" pattern. There are three repeated conflicts. Each one varies a little–increasing in danger and building to a climax. The third conflict is the climax of the story, which eventually brings resolution. I loved the stories they came up with.
Ice Age Activity #3: Prehistory Art Project
Next, we looked at some cave paintings, stone carvings, and petroglyphs and then made our own ancient art similar to the type we have left today from the early hunters and gatherers. The First Dog has some excellent illustrations, and the pages are framed with cave paintings and animal carvings in stone–which I also pointed out to them as we read.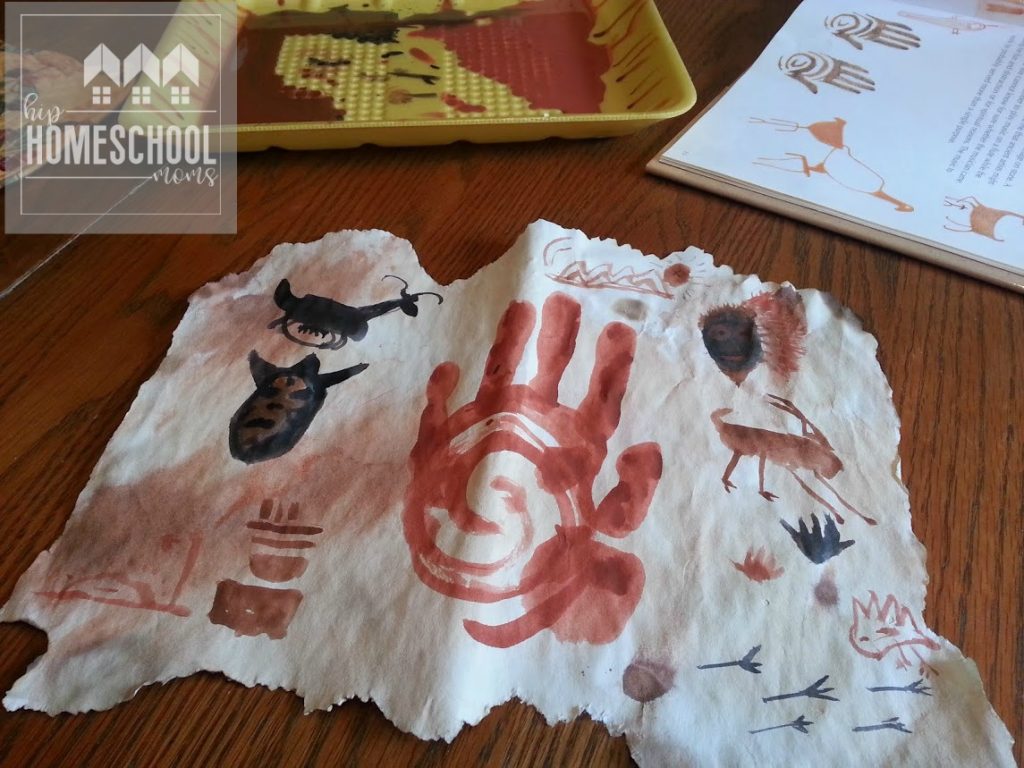 Children really love this project as it gives them a chance to explore what it might have been like to create cave art. They had a blast creating their own cave and rock art reproductions.
Ice Age Activity #4: Go on a Field Trip
Last, go on an amazing field trip. Ours was made possible at the Flint Hills Discovery Center which, at the time, had a wonderful traveling ice age exhibit. For your children or co-op, search online to see what's available in your local area or view some online exhibits if you can't take an in-real-life field trip! Click here to find the New York State Museum Ice Age exhibit. (NOTE: You will find references to evolution throughout this exhibit.)
Ice Age Activity #5: Discover Fossils
Any prehistory lesson is a great time to look at fossils and other types of preservation such as mummification. We discussed quite a bit about why and how we know these animals and people existed.
I found these fossils from a local nature center. First I used them for our "explorers table." Then I gave them out as incentives to write their stories. The kids absolutely loved them and thought they were so cool.
Ice Age Activity #6: Study the Ice Age Animals
Here is a list you can begin with. Below are the animals we learned about on our field trip. They are all North American animals that are now extinct:
You can use the Free Ice Age Animal Notebook Pages below for any animal and have your children record their research on it. Another option is to have them choose an animal they would like to learn about and write a little report on it. Some questions they could answer might be:
When did these animals live?
What did they eat?
How did they behave?
How do we know they existed?
Where and how were their remains found?
DOWNLOAD FREE ICE AGE PAGES NOW:
What Ice age activity would you add to this list?