The Joy of Being an Older Mom
While in the car on Easter morning, my husband and I were having a chat about life. The good moments, the tough moments, and how all those moments have worked together to form this life, this family, we love so much. We chatted about each of our children, what we love about them, and what drives us bonkers.
Then, Hubby made a passing remark about how it was funny that we have one child all grown up and getting married this fall, another still in a booster seat, and yet another in a car seat. 16 years span between our oldest and our youngest. I realized I've been given the chance to raise more children as an older, and hopefully wiser, mother. A do-over of sorts. I'm a second act mama.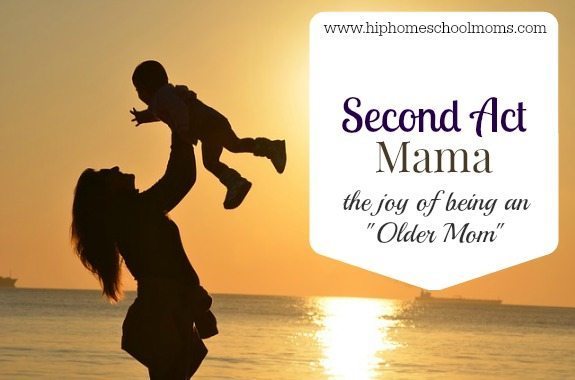 What's a second act mama? A mama who had children later in life for any reason. Whether she simply wanted to wait, had fertility issues early in life, had a surprise later pregnancy, adopted at what's considered an advanced age, etc. Whatever the reason, she became a mom, for the first time or all over again, at a later time than the norm according to society.
You know, it's funny the curveballs life will throw at you. How drastically different the life we plan is from the life we actually live.
I planned on having 5 children. I was going to have them all back to back in as few years as possible. Although that obviously didn't happen. We had one precious boy followed by a couple miscarriages, a few years of fear, and a few years raising other people's children.
Then, when we were ready to face our fears and try again, we were blessed with two more wonderful children. I had my last baby at the age of 33. Now I realize that's not terribly old. But considering that I had my first when I was a mere 17, you can imagine the differences betweem then and now.
Hubby and I had given up on having more children. We planned to be in the empty nest stage right now, relishing a quiet house and empty laundry hampers. However, life is a far (far!) cry from such peace. Instead, we have a loud house, overflowing laundry hampers, a van covered in crumbs, and somehow there are never enough clean spoons. Yet we love it!
Life, children, didn't come how or when we planned, but there is tremendous joy in this journey. I love being a second act mama.
Now don't get me wrong, some things about having children young are really fun. Like last week, when my soon to be daughter-in-law and I went to look at wedding dresses, and I was mistaken for a bride instead of the mother of groom. (It's okay to be jealous, ha!) And I am relishing those moments because I know by the time my 2 year old daughter gets married I may be mistaken for a grandmother. Ahem.
But there are other blessings that come with being a second act mama. Things more precious than vanity.
You may have less energy, buy you have more patience.
I'm not as keen to run around and jump on the playground equipment as I was with my first born. But I still love to go and do. And, my younger children get more time at the playground because I'm more patient. I try to relish "one more slide" or "push me on the swings again" because I know these years are fleeting.
You still don't have all the answers, but you have a lot more.
I really am smarter. I learned quite a bit in those in-between years. I've had more experiences, studied, and homeschooled my eldest. All this lead to a wiser version of me. Not to mention we're more stable, individually and as a couple. We know who we are and where we want to go as a team.
Less collagen, more laugh lines and wisdom highlights.
This has been difficult for me to accept as I liked being the "young mom." But there's just something about being the mature woman, instead of the young lady, that I truly relish. I've had many great experiences in this life, and I've earned every laugh line and gray hair…I mean wisdom highlights.
You see, my point is, there is joy. There is beauty. There is blessing in being a second act mama. It's just different.
There are some fun things we can't experience as older moms, but there are plenty of things we do get that younger moms don't. It's not better or worse. It's just…differently awesome.
So, second act mamas, let's embrace being "older moms" and wear that badge with pride! Let's show the youngsters what this mothering gig is all about!
Are you a second act mama? Shout out in the comments below!