Your Child Can Learn to Read in Just 4 Weeks!
I talk to so many moms who are interested in homeschooling but who are worried that they won't be able to teach their children to read. In fact, many moms who are already homeschooling worry that they're not doing a good job teaching their children to read or that their children will never be good readers or eager readers. If you're one of those moms, stop worrying! Even if you have a not-so-eager reader, you can do this! Reading Eggs can help you teach your child to read, and they can help your child learn to love reading too!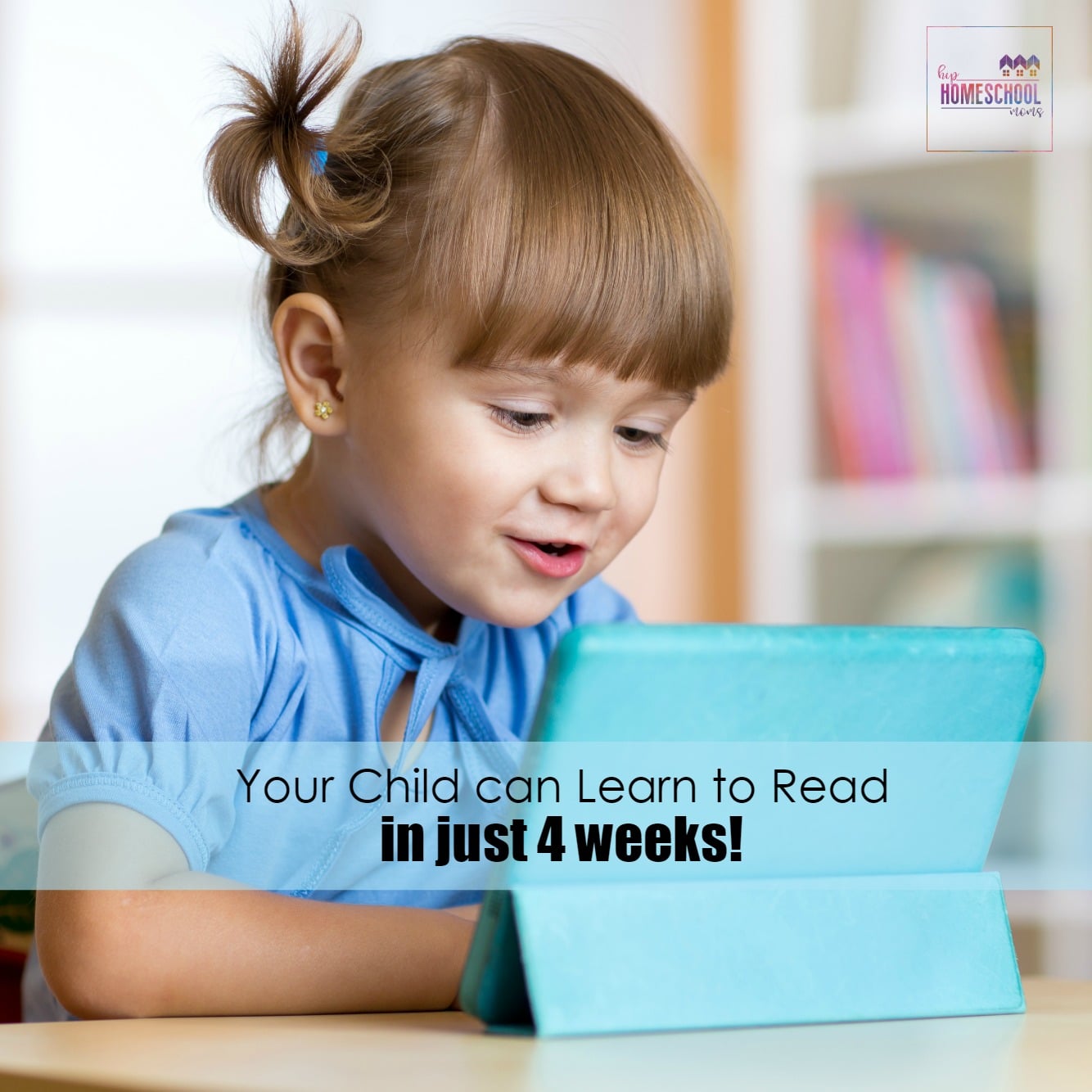 What Is Reading Eggs?
It's an online reading program that makes reading fun! It can be used with very young children (from about age 3) who are starting to develop early reading skills, early readers or those who are learning to read, or older students (up to about age 13) who need to improve their reading skills. It's very interactive and holds students' interest so they can enjoy the process of building or improving reading skills.
Reading Eggs offers:
Placement testing to be sure your child starts where he or she needs to start in order to be successful.
Guided lessons that adjust to your child's ability level and pace.
Activity sheets that go along with each lesson.
Over 2,000 online books! Each book ends with a comprehension test to be sure your child understood what he/she read.
Assessment reports for parents. You can easily see what your child has learned and follow your child's progress.
Reading Eggs works on any desktop, laptop, Apple device, or Android device.
A safe online environment!
An ad-free environment for your child.
In fact, 9 out of 10 parents noticed an improvement in their children's reading skills after using Reading Eggs!
To try out Reading Eggs for free for 4 weeks–no credit card required–click this link!
Want to know more?
Your students from the ages of about 3 to 4 will learn phonics and letter recognition. Those who are about age 5 will learn sight words and vocabulary. Students of ages 6 to 7 will add reading ebooks and improving spelling skills. And finally, students who are about ages 7 to 13 will work on improving reading comprehension and will even be able to play live games!
If you're not sure where to start or if Reading Eggs is right for your child, you can take advantage of a free 4-week trial offer. But be sure to claim your free trial right away since the offer ends on February 19, 2017. Once you've claimed your free trial, your child can take an assessment test, or you can simply have him/her start at the beginning. It's up to you!
You can claim your free trial any time between now and February 19, 2017!
Your student will enjoy these interactive guided lessons, fun rewards, motivational activities, ebooks, printable activity sheets, and more!
So go ahead and click this link to claim your free trial and get started using Reading Eggs! There is NO credit card required to claim your free trial!